In a $200 million unlocking event, Axie Infinity started releasing AXS tokens that had previously been confined to early investors and insiders.
One of the most well-known play-to-earn (P2E) crypto games is Axie Infinity (AXS/USD). The game uses its cryptocurrency, which is available in various markets.
The token unlocking event as a catalyst for growth
200 million dollars worth of AXS, or about 21.5 million units, have already started circulating and will continue to do so over the next few days. The development team, advisors, and early investors will each receive ten million tokens.
According to blockchain information, six individuals received a total of 785,334 AXS tokens, valued at $6.6 million at the time of writing, from a wallet with the label "Axie Infinity: Token Vesting."
According to TokenUnlock data, these recipients were listed as advisors and early investors in the mid-2020 private sale round.
Arca received 437,500 tokens worth $4 million in Axie Infinity, making it one of the institutional investors who purchased the cryptocurrency during a private sale. FTX received these cryptocurrency deposits according to information from Etherscan.
187,500 tokens worth $1.7 million were purchased by another early investor and transferred to Binance. As a result of this unlock, cryptocurrencies worth a total of $5.7 million were sent to exchanges; additional cryptocurrencies will be opened over the next days.
Should you buy Axie Infinity (AXS)?
On October 26, 2022, Axie Infinity (AXS) had a value of $9.317.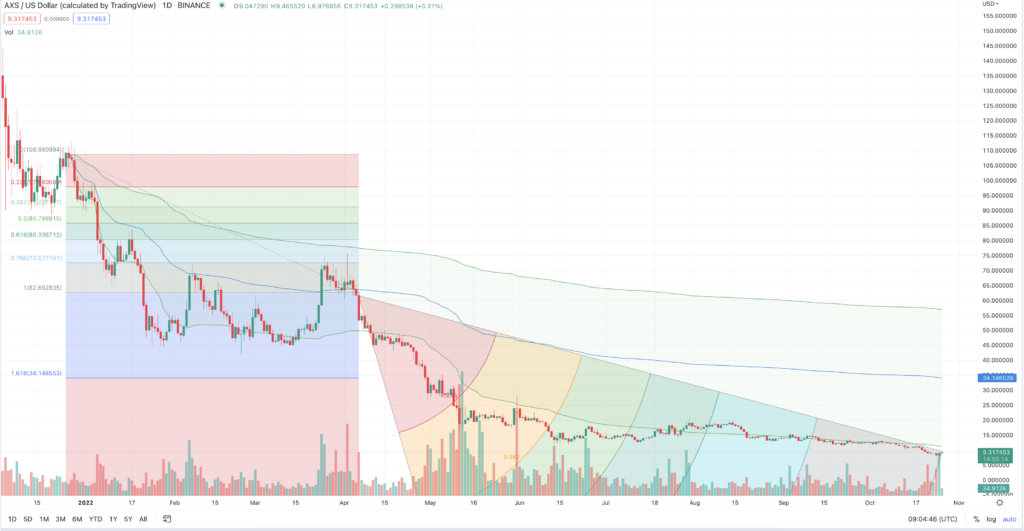 The Axie Infinity cryptocurrency reached its all-time high on November 6, 2021, when its value rose to $164.90. We can observe that the token was trading for $155.583 more at its ATH, an increase of 1,670%.
When looking at the cryptocurrency's seven-day performance, we can see that its low point was at $8.29, and its high point was at $10.53. This indicates a $2.24 change in value or a 27% difference.
AXS had a low point of $8.86 and a high point of $9.40 when comparing the last 24 hours. We see a $0.54, or 6%, difference between these two valuable points.
Investors could wish to purchase AXS in light of the possibility that it will increase to $11 by the end of October 2022.
Read More: