GameStop released its non-fungible token (NFT) marketplace, which is currently operational and based on ImmutableX (IMX/USD).
Furthermore, GameStop's NFT platform has been operating as a public beta since July. However, the official launch will have additional functions.
IMX is a Layer-2 scaling solution explicitly designed for NFTs built on top of Ethereum (ETH/USD).
The major objective is for customers to enjoy gas-free NFT minting and trading, massive scalability, and instant trading.
GameStop's NFT marketplace launch as a catalyst for growth
In the most recent cryptocurrency news, GameStop's NFT marketplace went live on October 31, 2022, giving consumers access to Web3 games, all of which are built on top of IMX.
This includes titles such as Gods Unchained, Guild of Guardians, and Illuvium.
Web3 developers may find it appealing to build for the platform because it enables the minting and trading of NFTs that are 1gas-free and carbon-neutral on the market.
The two platforms have collaborated on several projects, including announcing a $100 million award for Web3 developers and producers and integrating ImmutableX into the marketplace's wallet for simpler asset management.
We also discussed how introducing this cooperation increased IMX's value in a February article.
Should you buy ImmutableX (IMX)?
On November 1, 2022, ImmutableX (IMX) had a value of $0.586.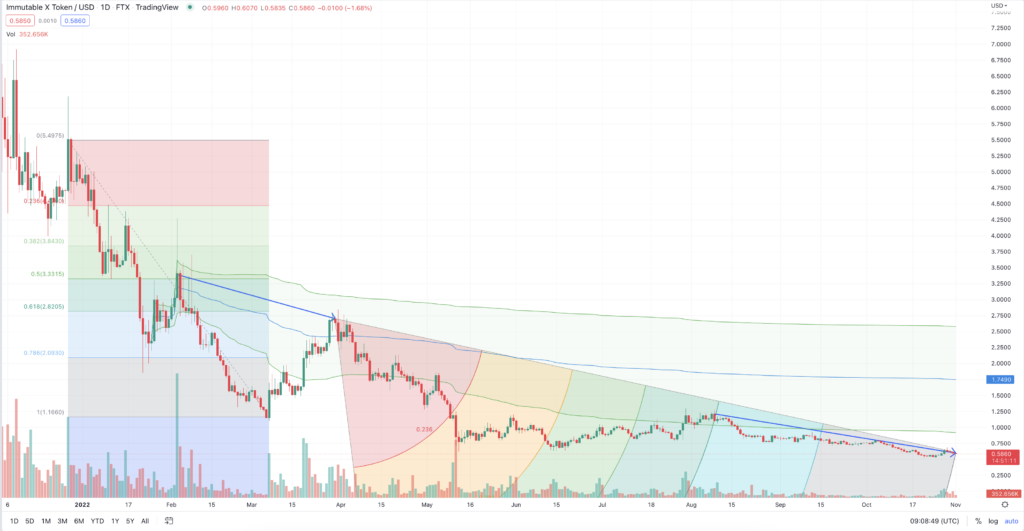 ImmutableX (IMX) reached its peak price of $9.52 on November 26, 2021. We can observe that the token was trading for $8.934 more, or by 1,524%, at its all-time high.
ImmutableX (IMX) had a seven-day performance that saw its low point at $0.532789 and its high point at $0.663622. Here, we may find a $0.130833 or 24% rise.
However, when looking at the cryptocurrency's 24-hour performance, the low and high points of its value were, respectively $0.573887 and $0.606539. Here, we can see that the cryptocurrency gained $0.032652, or 6%, in value.
With all of this in mind, buying IMX is a solid option, as it can reach a value of $0.7 by the end of November 2022.
Read More: