To give the protocol a higher yield at low risk, MakerDAO has started an investment where $500 million of the cash collateralizing the Dai (DAI/USD) stablecoin will be transferred to US Treasuries and corporate bonds.
The MakerDAO and the Maker Protocol, a decentralized organization and a software platform developed on top of Ethereum (ETH/USD), are governed by Maker (MKR/USD), the governance token of these two entities.
$500 million investment by MakerDAO
The MakerDAO, which manages the Maker Protocol, has begun moving $500 million of its stablecoin Dai collateral reserves to short-term US Treasuries and corporate bonds.
Following an executive vote by Maker token holders, the decentralized autonomous organization (DAO) agreed on October 6 to approve a pilot transaction of $1 million, with the remaining money being transferred after the community's approval.
In this case, 80% of the $500 million will be put into short-term US Treasury bonds.
A total of $240 million will be invested in the BlackRock 1-3 year US Treasury iShares exchange-traded fund (ETF), and $160 million will be allocated to the 0-1 year US Treasury iShares ETF.
The remaining $100 million will purchase investment-grade corporate bonds from the investment management company Baillie Gifford.
MKR coin owners once again decided the asset distribution.
This increases the attraction, demand, and usefulness of the MKR coin.
Should you buy Maker (MKR)?
On October 7, 2022, Maker (MKR) had a value of $844.61.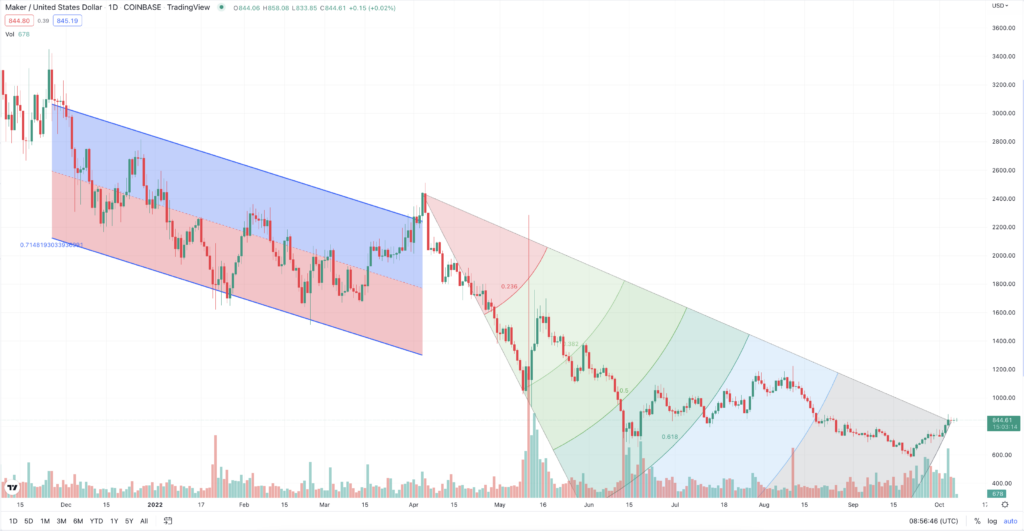 Maker's (MKR) value peaked at $6,292.31 on May 3, 2021, marking the cryptocurrency's all-time high. In other words, the value of the cryptocurrency was trading at a 645% greater level.
On the other hand, if we examine Maker's (MKR) performance throughout the previous week, we can see that its low point of value was $729.85, and its high end of value was $865.60.
Here we can see a $135.75 increase in value, or by 18%, which might signal a bullish run for the MKR cryptocurrency going forward.
Based on the 24-hour price movement, we can see that Maker (MKR) had its low point at $822.84, while its high end was at $855.48. This is an increase of $32.64 or by 4%.
The MKR cryptocurrency is growing and is most likely to keep doing so. Investors might wish to purchase MKR because it could increase to $900 by the end of October 2022.
More reading