Key Takeaways
The list includes the top 10 stocks that are expected to deliver the biggest year-over-year gains.
There are many great investment opportunities for investors looking for a small stock and a good quality company.
Dividends boost returns, by giving investors a share of a company's net income.
While dividend yield is valuable to know, it's important to research additional information about a company before investing in it.
Dividends boost returns, paying investors a piece of a company's net income.
Focusing on high-quality, dividend-paying stocks that can maintain payments in a volatile economy are essential.
Want to learn about stocks, cryptocurrencies, NFT and the metaverse? So, you are at the right place to learn about world famous and top stocks for January 2023. As 2022 has been one of the worst years in recent memory. In the markets stocks have been crushed. Big companies like Tesla, Apple, Amazon, and Facebook are down over 60% in a year. Now, look at some stocks that can be big winners in January 2023. Starting in January, get gold stocks, electric vehicles, car company stocks, companies near 52 week lows, companies that have dividends, oil and gas stocks and so many great ideas here. Great companies that are undervalued, underappreciated, underexposed are great opportunities to help you grow your portfolio exclusively. We hope you can start your 2023 right with our top 10 stocks for January 2023.
ALTAGAS LTD (ALA: TSX)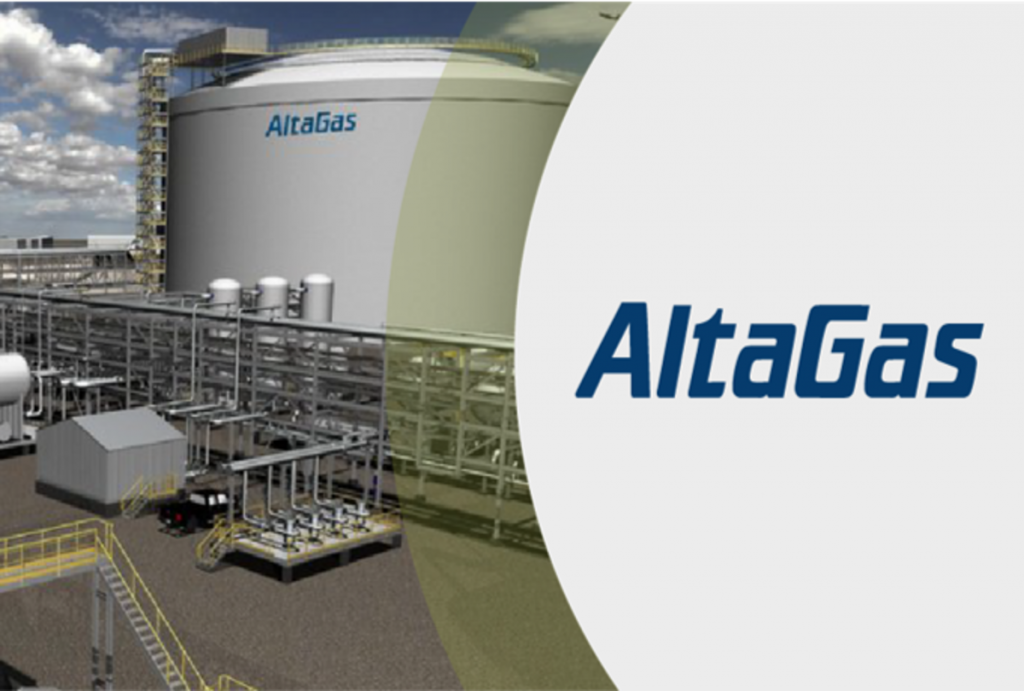 Sector: Utilities
Industry: Gas Distributors
Natural gas and natural gas liquids (NGLs) are connected to domestic and international markets by AltaGas Ltd., a North American energy infrastructure provider. Utilities, Midstream, and Corporate, and Other are the three divisions through which it operates. The utility segment provides services to its clients through owning regulated natural gas distribution utilities and regulated natural gas storage utilities in the United States. These utilities offer homes and businesses clean and reasonably priced natural gas. The utility segment includes storage facilities, contracts for interstate natural gas transportation and storage services, and the affiliated retail energy marketing business. Customers and markets are linked via the midstream segment from the wellhead to the tidewater and beyond.The gathering and extraction of natural gas, fractionation, and liquid handling are the three pillars of the midstream segment, including the two LPG export terminals owned by AltaGas. The Midstream division of AltaGas also consists of liquid storage capacity, domestic logistics, trucking and rail terminals, and the selling of natural gas and NGL. The corporate operations of AltaGas and a small portfolio of unsold power assets are included in the Corporate and Other section. David Wallace Cornhill started the business on April 1, 1994, and its headquarters are in Calgary, Canada.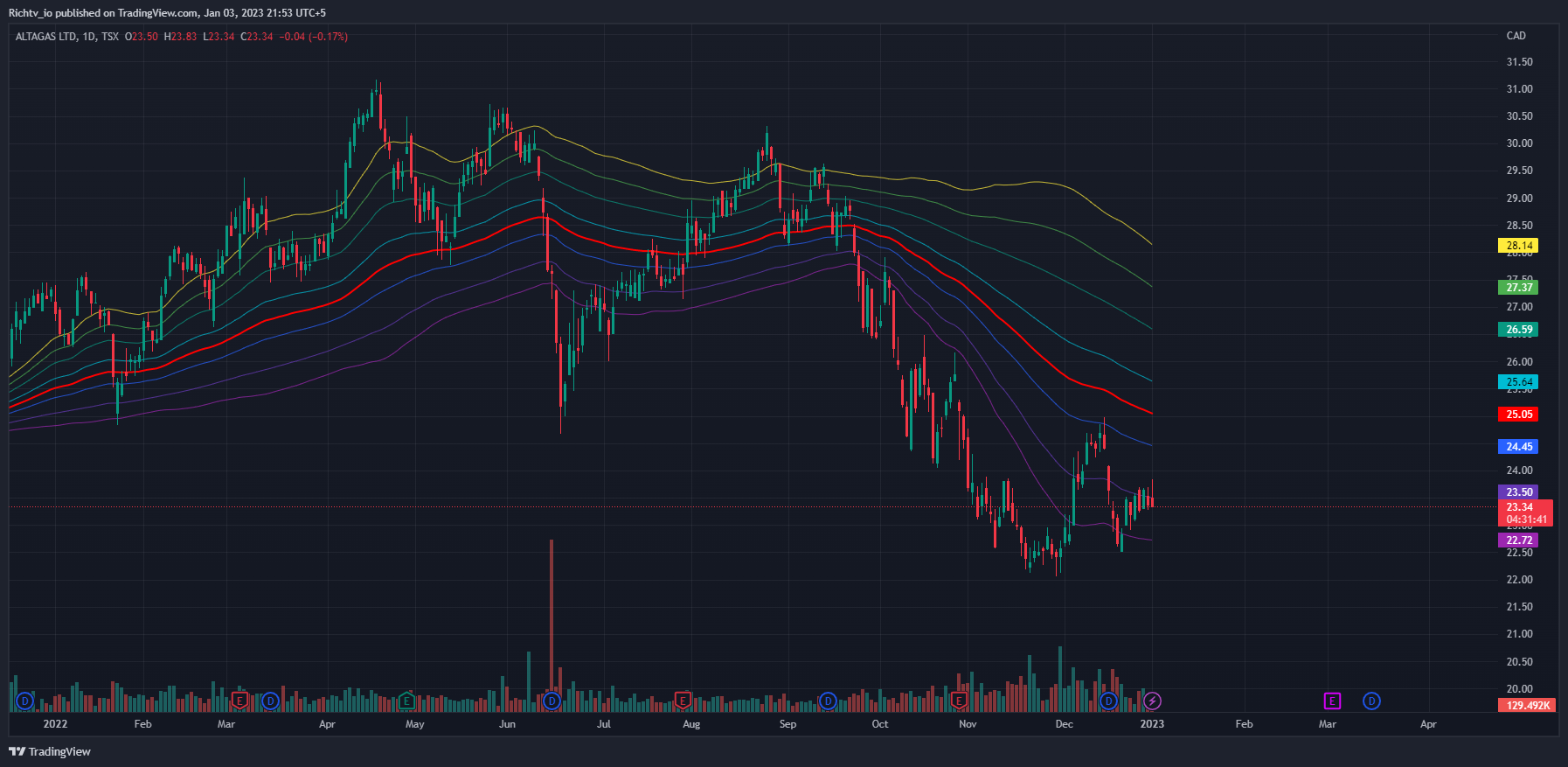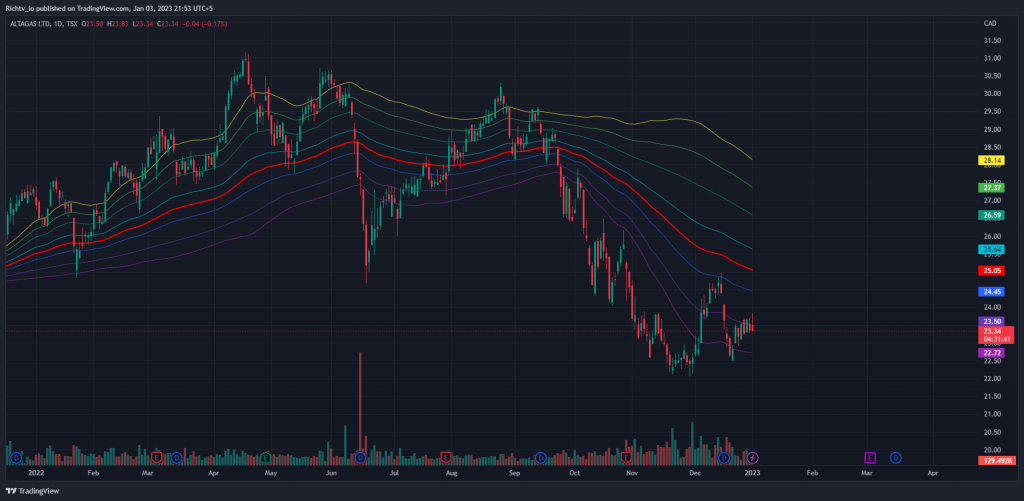 AltaGas is a great company to invest in since it delivers a 4.77% dividend yield and has significant upside potential. This stock is a great buy at the right price, which is under the purple line, and is currently trading at $23.00, close to the Fibonacci series' bottom. It's a desirable option for investors, especially since its industry is based on oil and gas, but in the current market, it requires considerable attention. Take advantage of this opportunity while it lasts because AltaGas' share price has historically ranged from $22 to $31.
NIKE, INC (NKE: NYSE)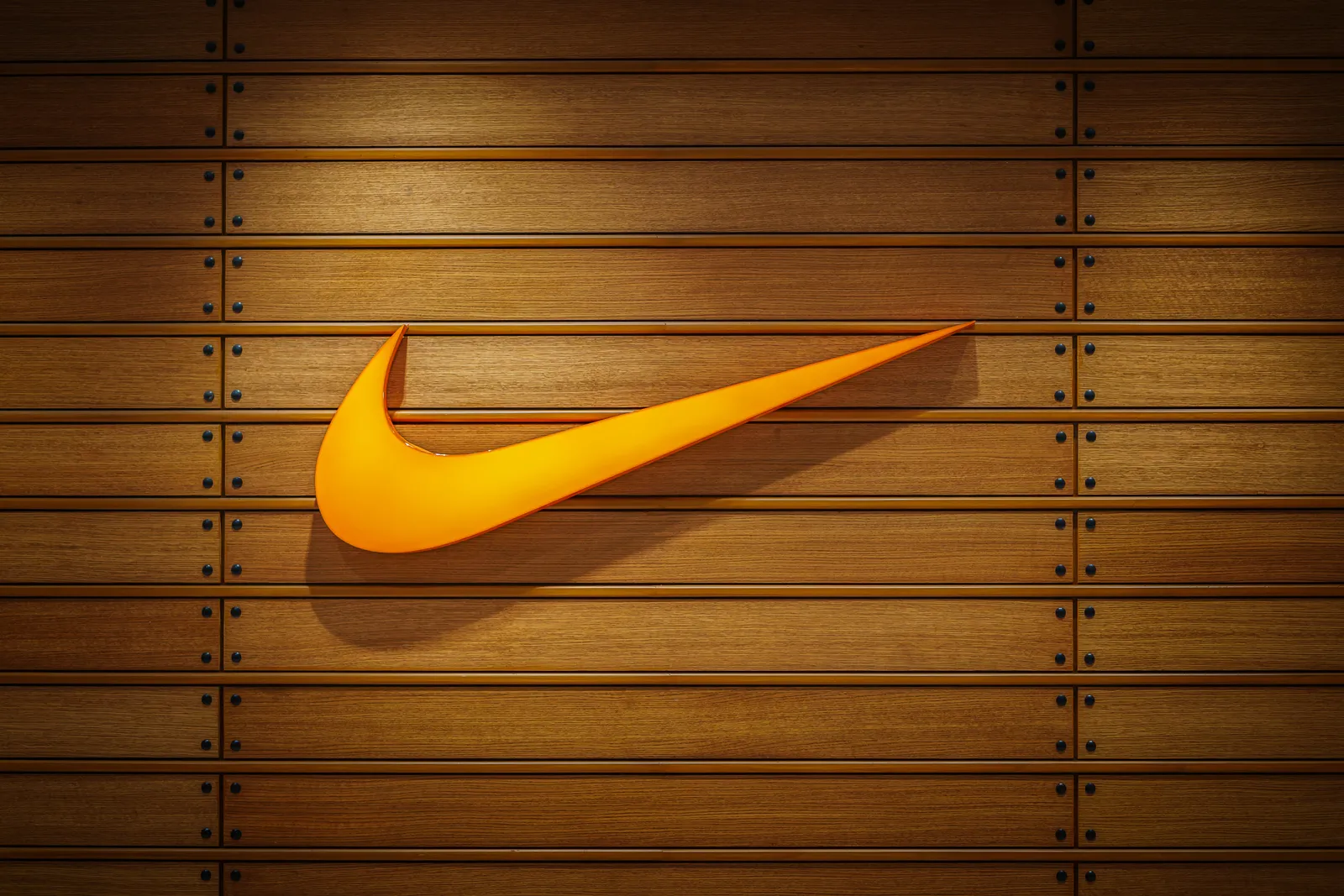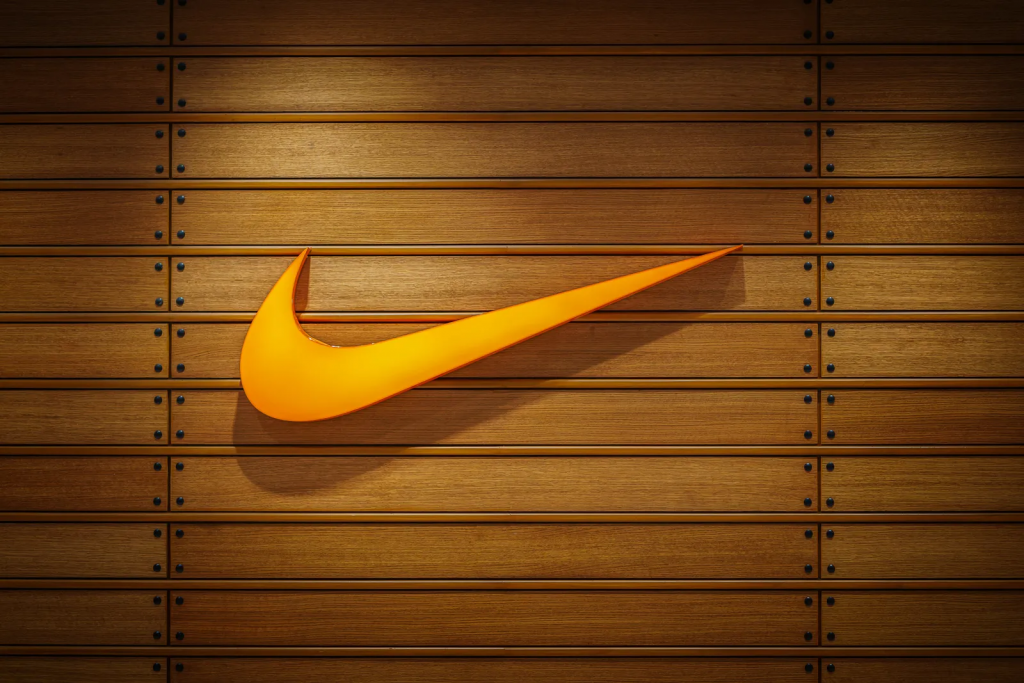 Sector: Consumer Non-Durables
Industry: Apparel/Footwear
Athletic footwear, clothes, accessories, equipment, and services are all products that NIKE, Inc. designs, develops, markets, and sells. It operates through the following divisions: Greater China, Asia Pacific, Latin America, Europe, Middle East & Africa, Converse, Global Brand Divisions, and Corporate. The design, development, marketing, and sales of athletic footwear, clothes, and equipment fall under North America, Europe, the Middle East, Africa, Greater China, Asia Pacific, and Latin America. Casual sneakers, clothing, and accessories are produced, marketed, licensed, and sold under the Converse brand. Unallocated general and administrative expenses are included in the Corporate section. The business was established on January 25, 1964, in Beaverton by William Jay Bowerman and Philip H. Knight.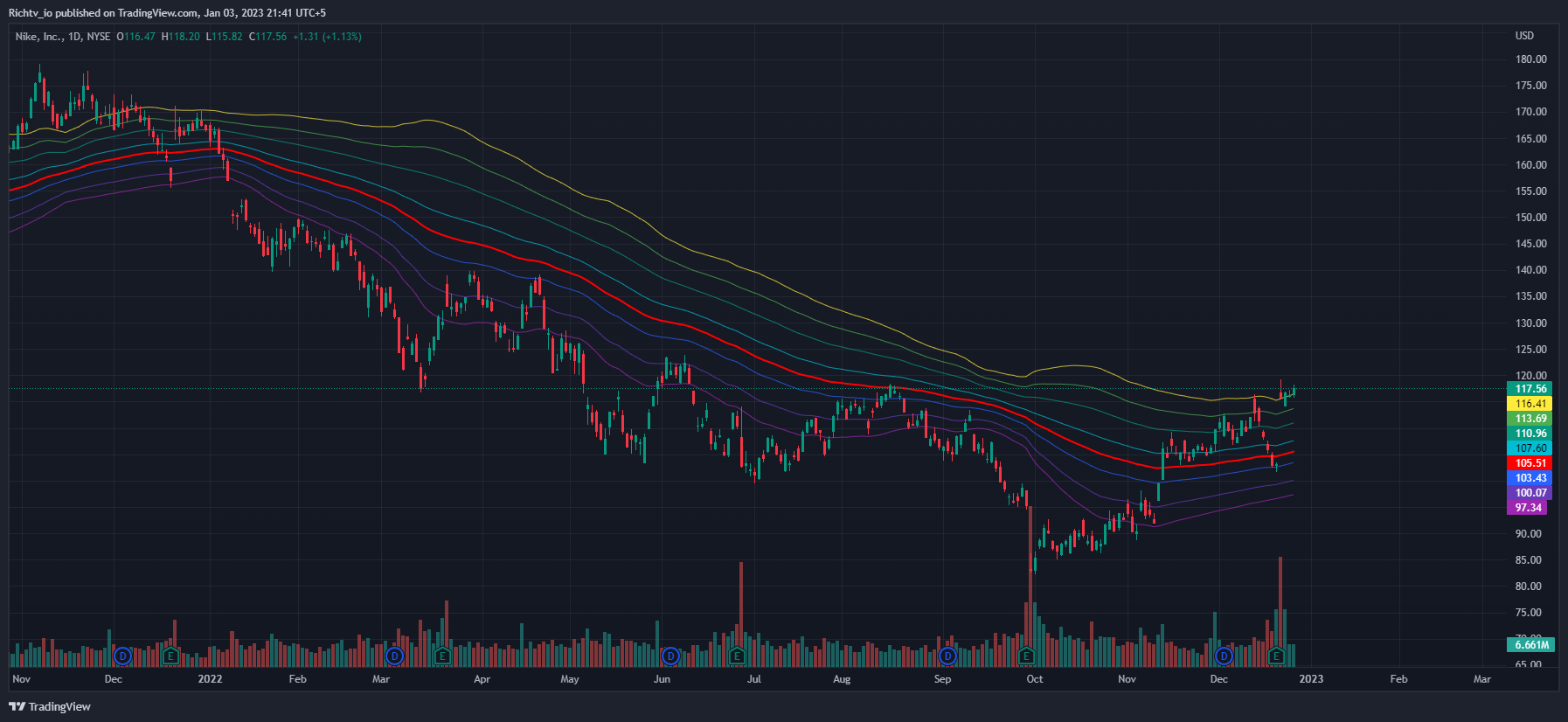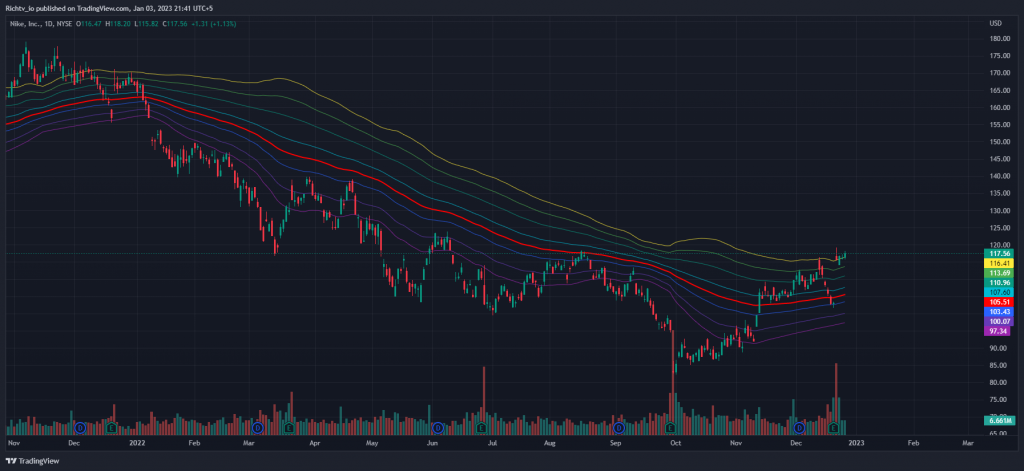 After a challenging year, Nike has produced a great report and is currently trading at $117. This year's high was $168, and its low was $80. There is a chance for those who invest in Nike that the corporation may once more achieve these historic highs.
For investors that believe in Nike's potential and promise, analysts have predicted that a trend reversal might cause its value to soar. It might be a good idea to join Nike at this point because its finances are improving.
CAMECO CORP (CCO: TSX)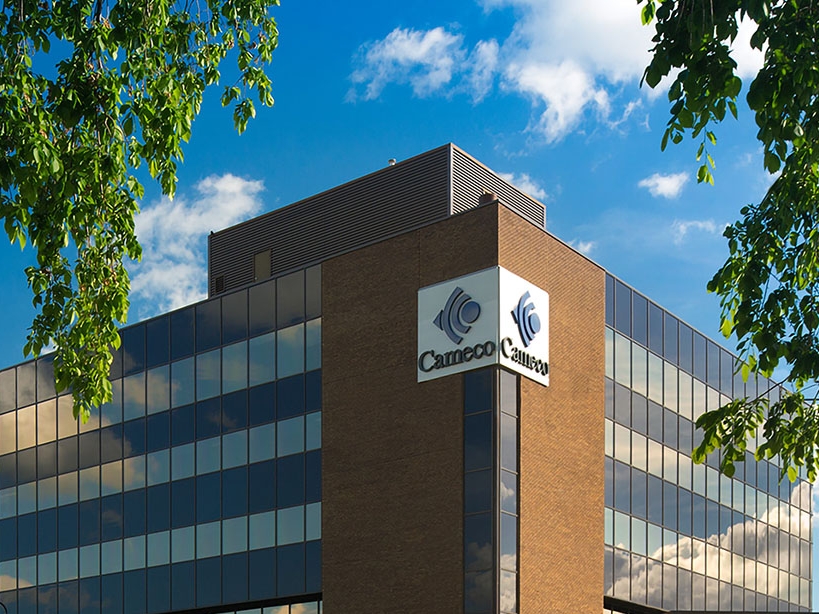 Sector: Non-Energy Minerals
Industry: Other Metals/Minerals
Uranium is a product that Cameco Corp. provides. Uranium and Fuel Services are its two main business segments. The uranium segment deals with uranium concentrate exploration, mining, milling, buying, and selling. The Fuel Services division performs uranium concentrate manufacture, conversion, and refinement, as well as the buying and selling conversion services. Canada's Saskatoon serves as the company's headquarters. It was established in 1988.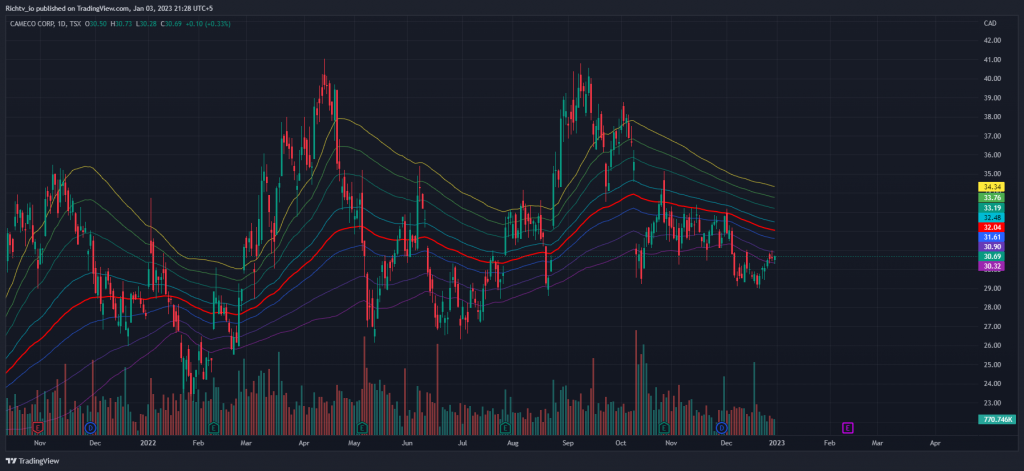 If you're seeking a reliable firm with a dividend yield, CCO Chemical, which is currently trading at $30, is a product worth considering. According to the graph, it had previously decreased to $23 and increased to $41 in Canada.
The Fibonacci at the bottom suggests that it might currently be in a buy zone. This could be a fantastic investment opportunity if you're seeking a high-quality firm with a small dividend yield.
NEWMONT CORPORATION (NEM: NYSE)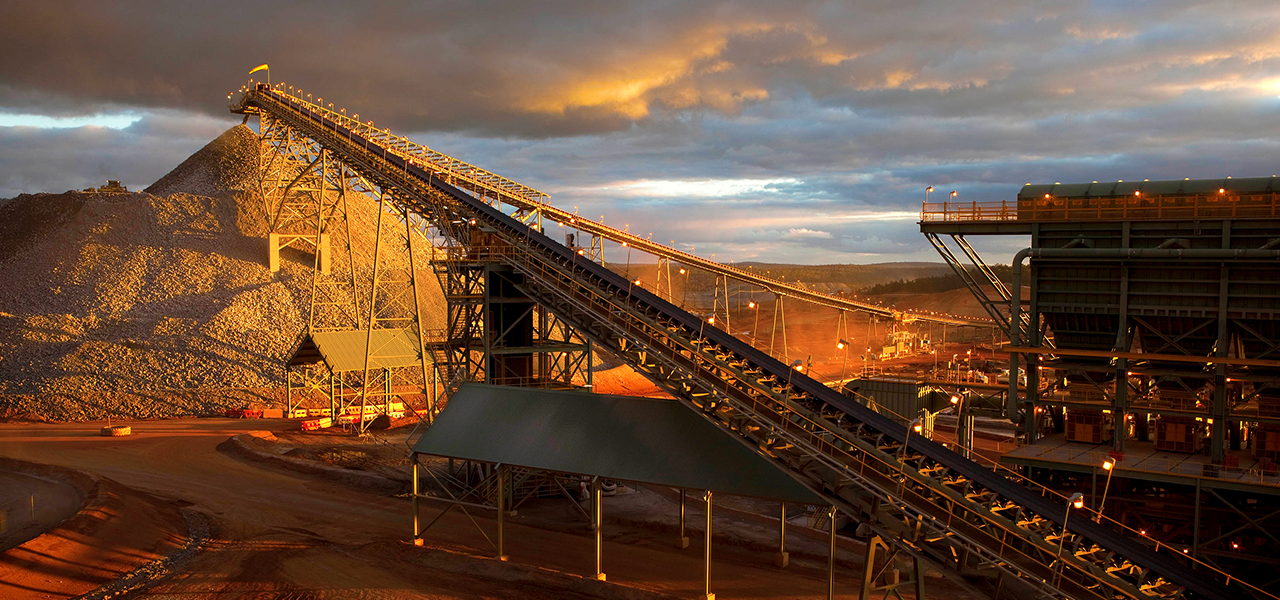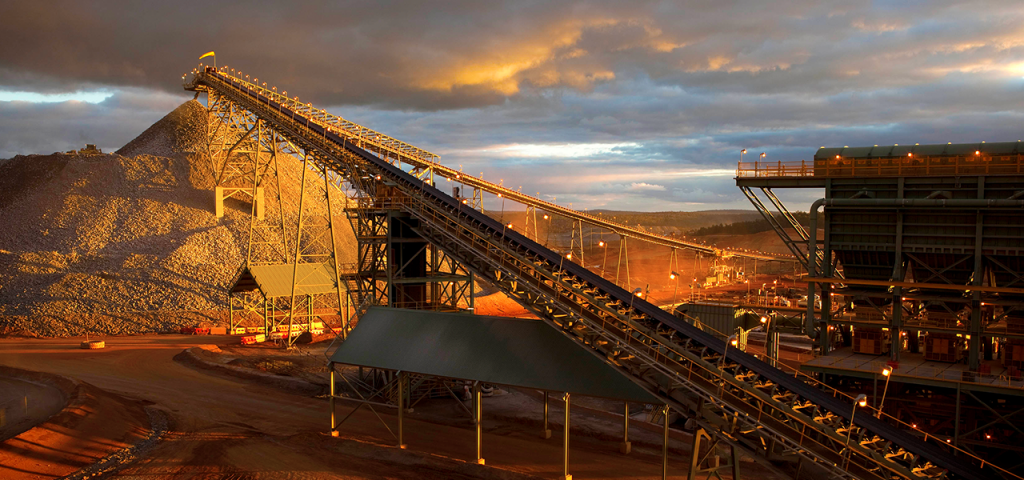 Sector: Non-Energy Minerals
Industry: Precious Metals
The company Newmont Corp. produces gold, explores for gold, buys gold assets, and mines metals, including copper, silver, lead, and zinc. North America, South America, Nevada, Australia, and Africa are the regions in which it works. Carlin, Phoenix, Twin Creeks, and Long Canyon in the state of Nevada, Cripple Creek, and Victor in the state of Colorado are the majority of the North American part. Yanacocha in Peru, Merian in Suriname, and Cerro Negro formed the South American portion. Boddington, Tanami, and Kalgoorlie are the segment's three most important Australian cities. Ghanaian cities Ahafo and Akyem made up the Africa segment. The company's headquarters are in Denver, Colorado, and it was established by William Boyce Thompson on May 2, 1921.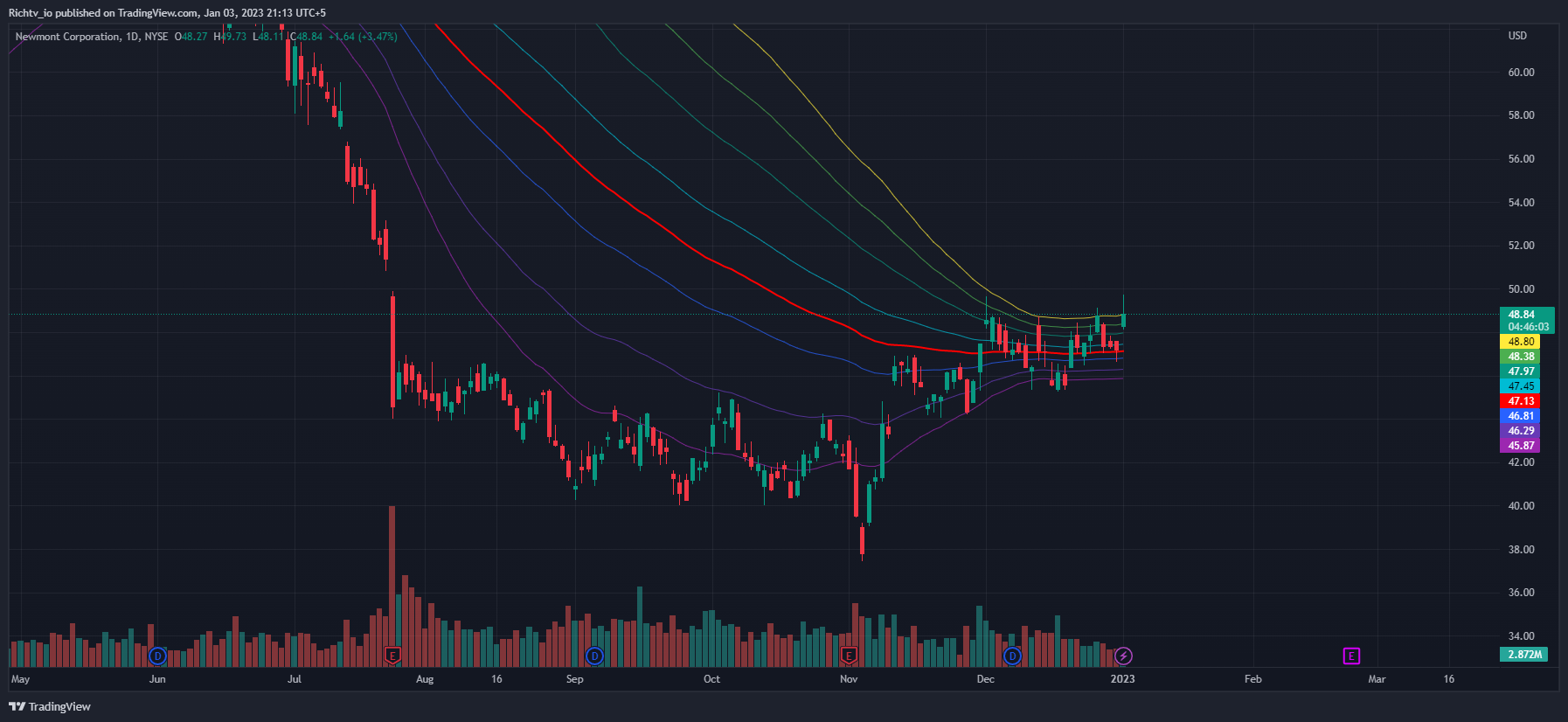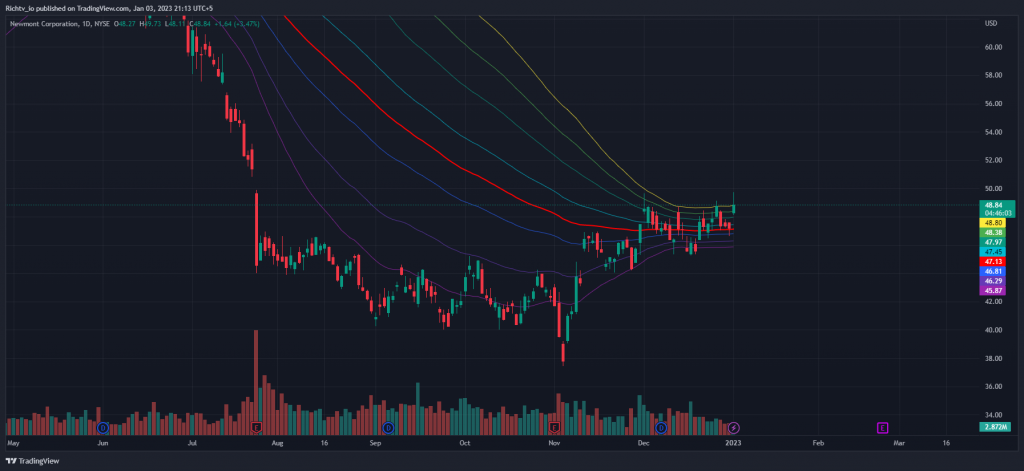 Especially for those who are interested in gold and mining stocks, Newmont Corp. is a great choice to add to your watch list. With a low of $37 last year and a high of nearly $80, the stock has already seen a remarkable range of highs and lows.
The stock is now trading at $48 at the time of writing. For investors searching for a steady return on their investment, Newmont Corp. also provides a strong 4.66% dividend yield in addition to this appealing price range. This mining giant has tremendous potential, and that any savvy investor should take it seriously.
ARC RESOURCES LTD (ARX: TSX)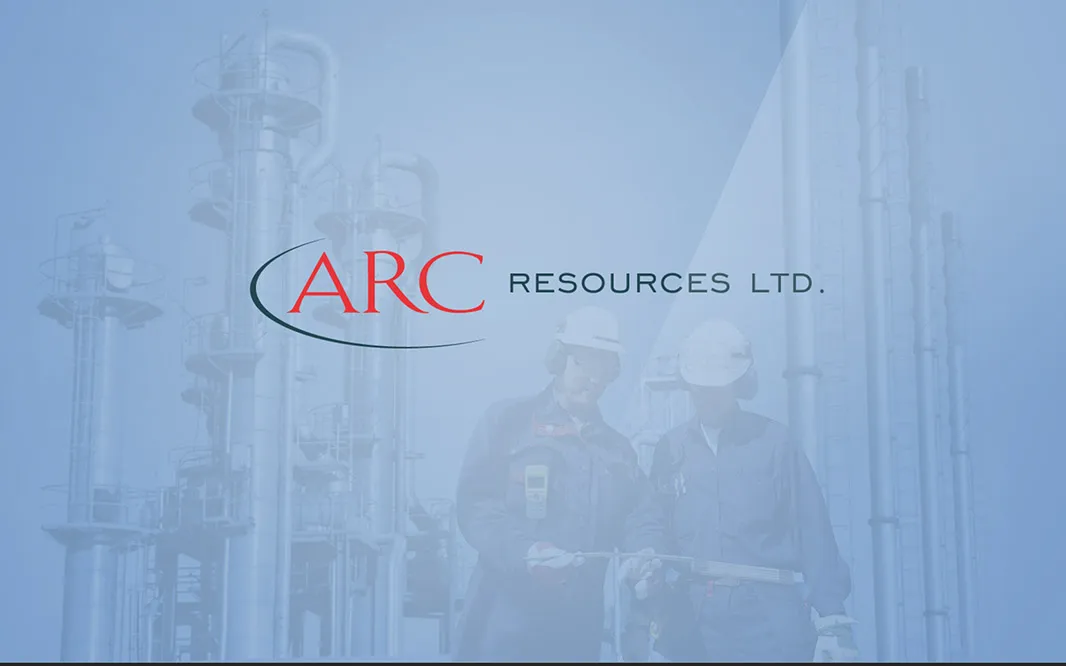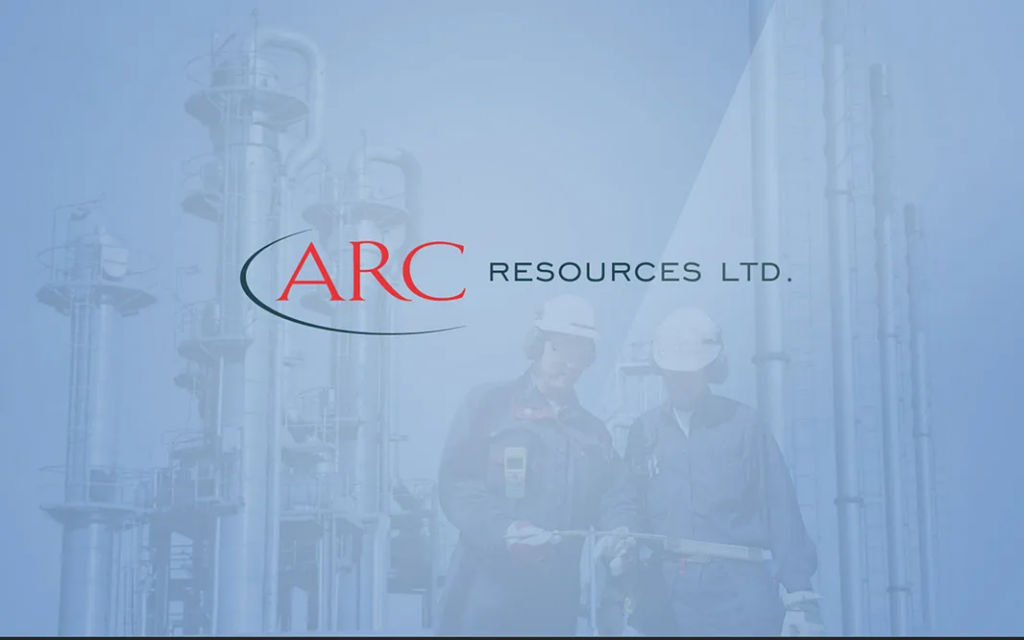 Sector: Energy Minerals
Industry: Oil & Gas Production
Exploration, development, and production of natural gas and crude oil are all activities carried out by ARC Resources Ltd. Its projects include the Pembina Cardium in Alberta and the Montney operations in northeast British Columbia. The business, which has its headquarters in Calgary, Canada, was established in 1996 by John Patrick Dielwart and Mac H. van Wielingen.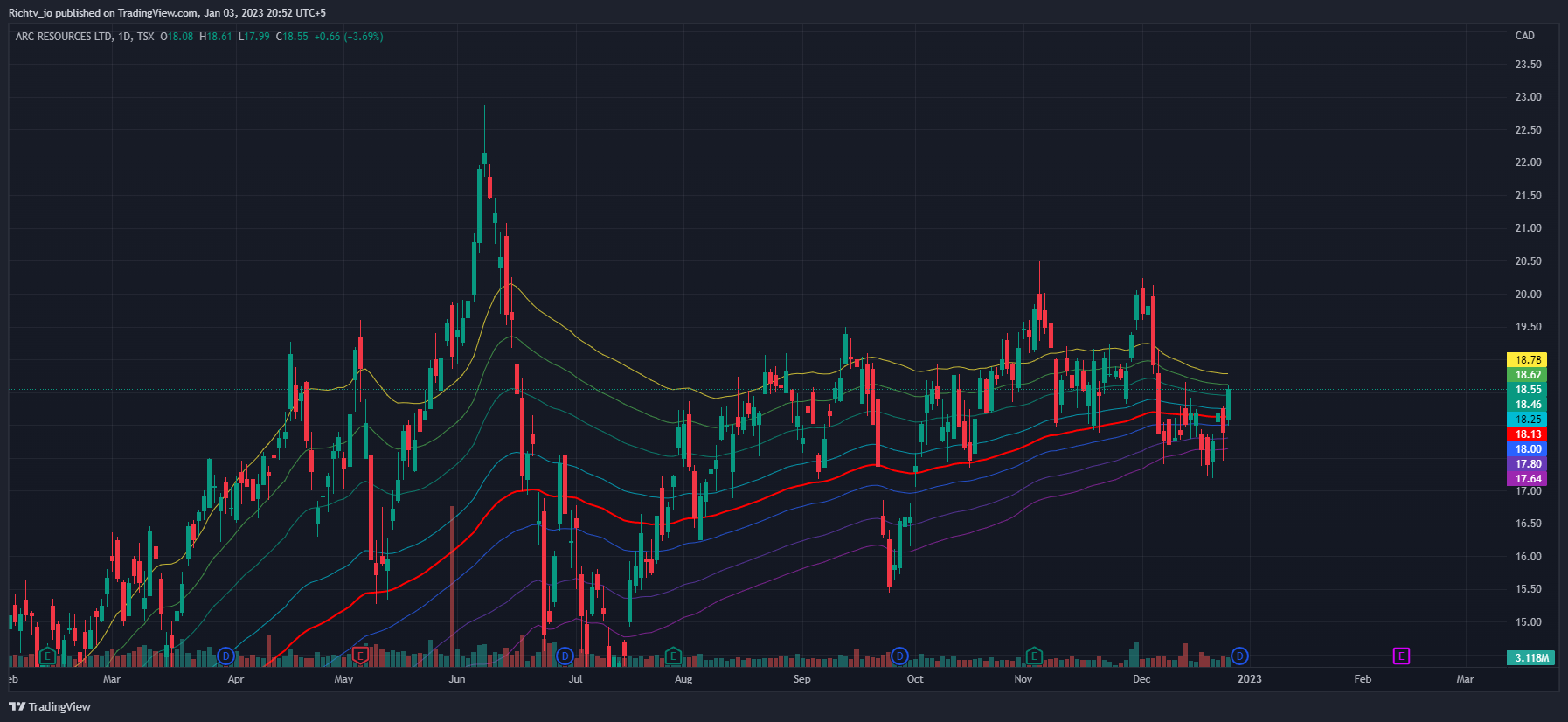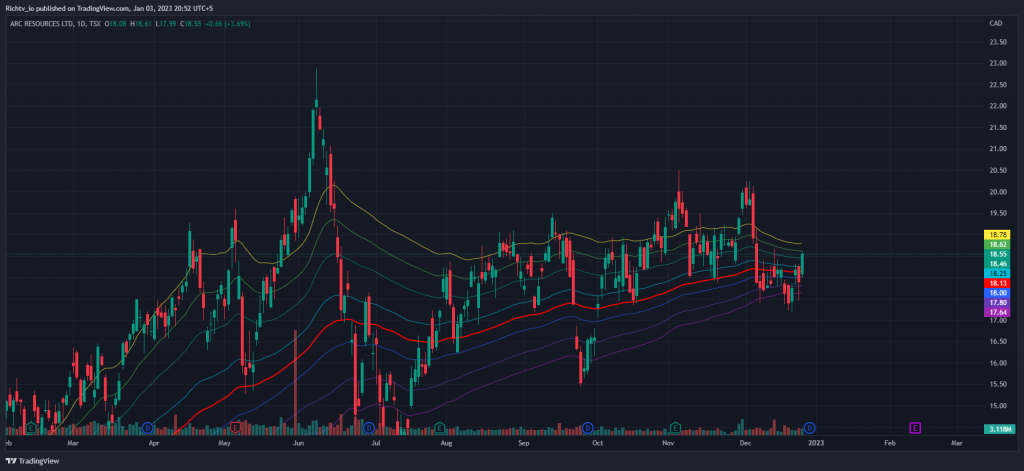 Investors are constantly looking for a reliable and successful firm due to the volatile market. The Canadian ARX arc resources are a fantastic option that needs greater attention and should be on everyone's watch list. With a strong dividend yield of 3.3%, it can produce good annual returns and protect against potential dangers related to stock market swings.
It is currently trading at $18.55, but it has been as low as $12 and as high as $22. It is also significant to note that this company has had consistent revenue for a considerable time, making it even more appealing to investors who value security and consistency.
AUGUSTA GOLD CORP (G: TXS)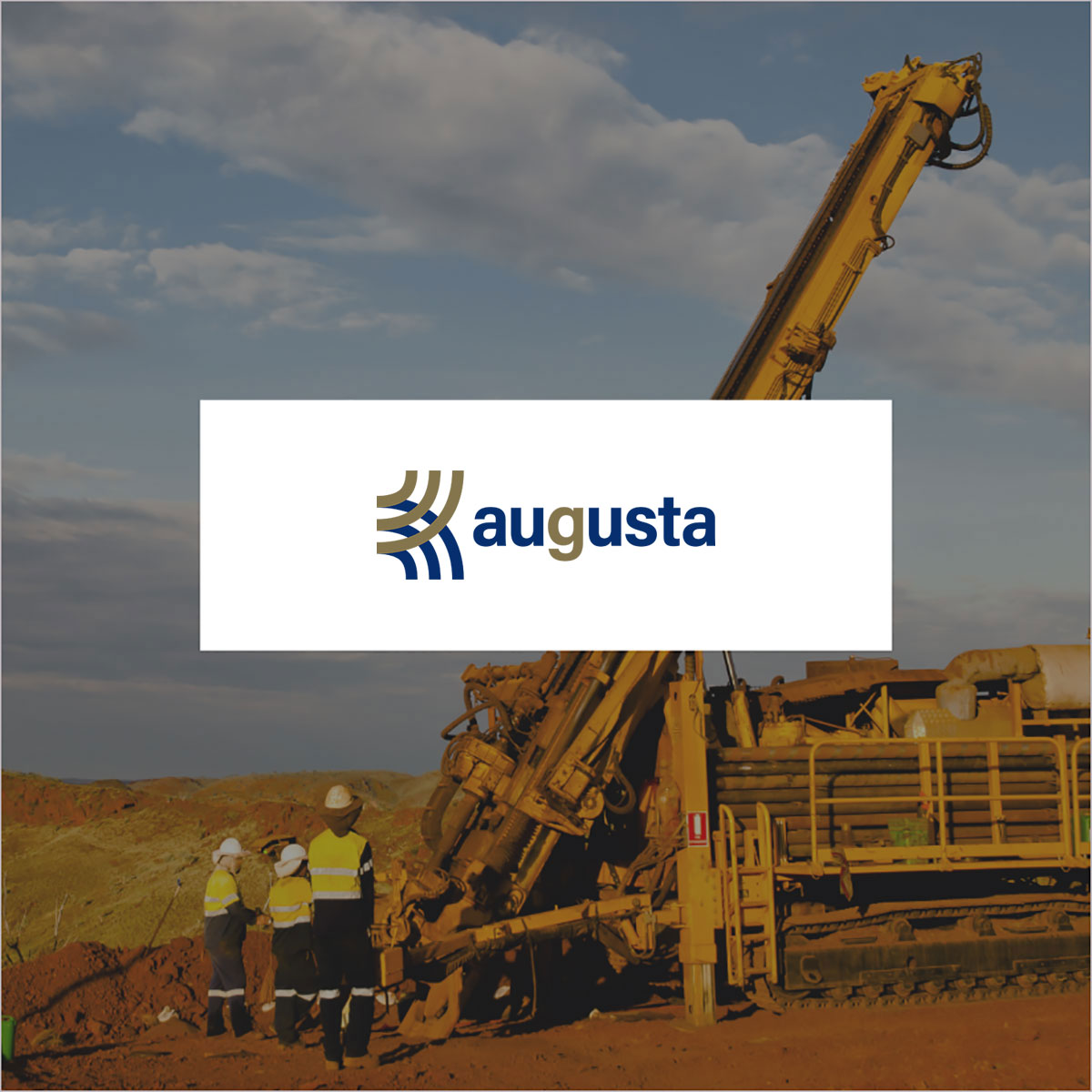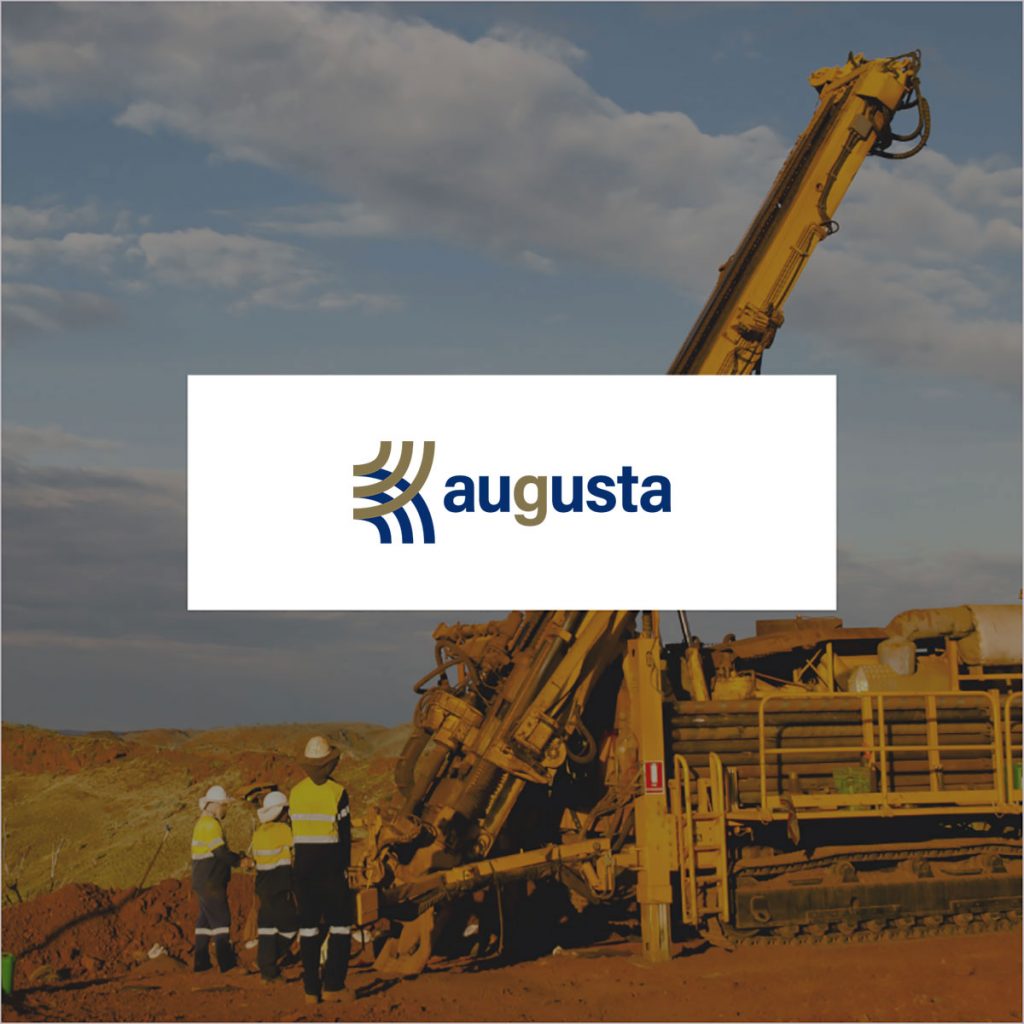 Sector: Non-Energy Minerals
Industry: Precious Metals
Augusta Gold Corp. is a firm in the exploratory stage that buys and explores mineral properties and is a stakeholder in the Bullfrog Gold project. On July 23, 2007, Andrea Schlectman established the business,which has its headquarters in Vancouver, Canada.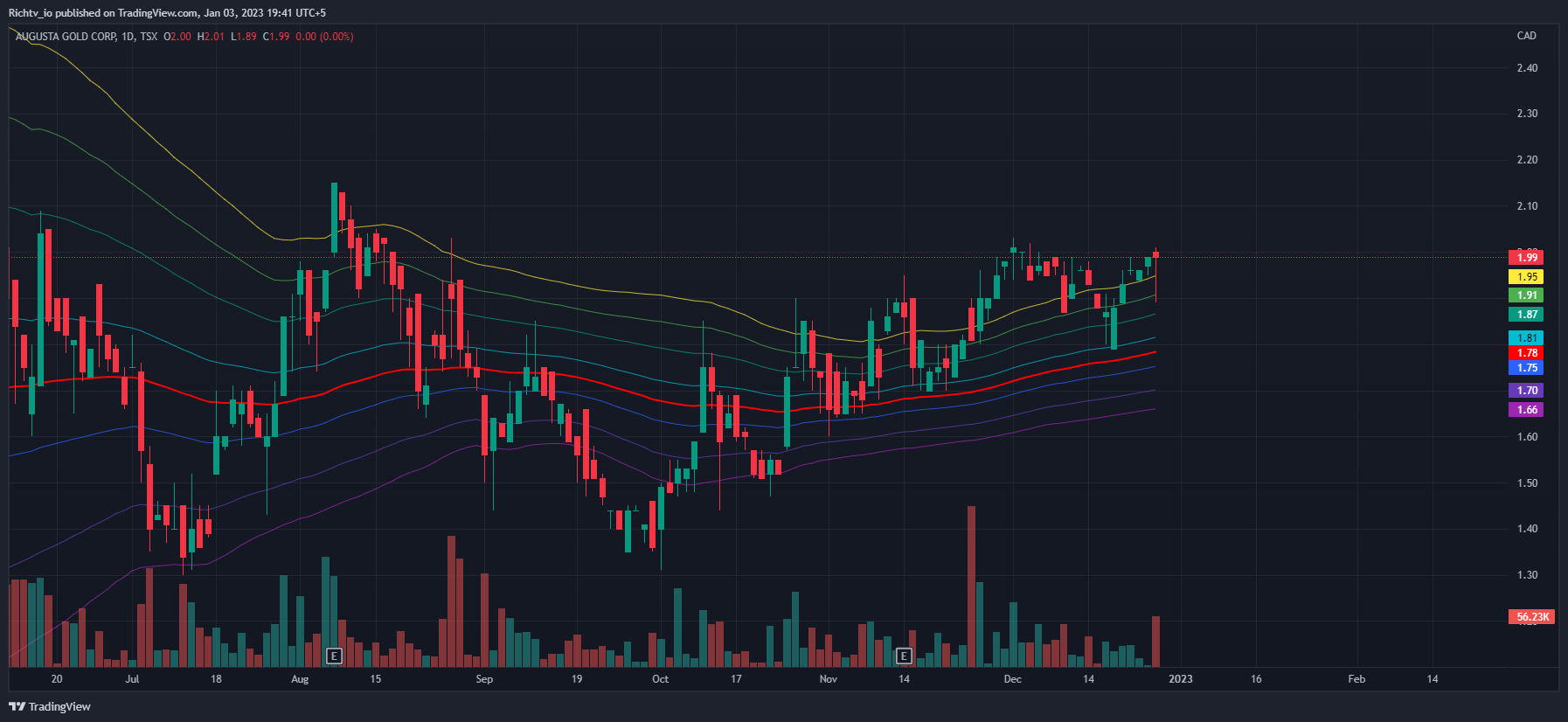 With a low of 89 cents and a high of $2.40, Augusta Gold's price has recently experienced significant variations. Despite the minimal volume, the momentum is still increasing, as it is currently trading at $1.99. Augusta Gold has been a solid option to explore, despite the possibility of some volatility soon.
NOVAGOLD RESOURCES INC (NG: TSX)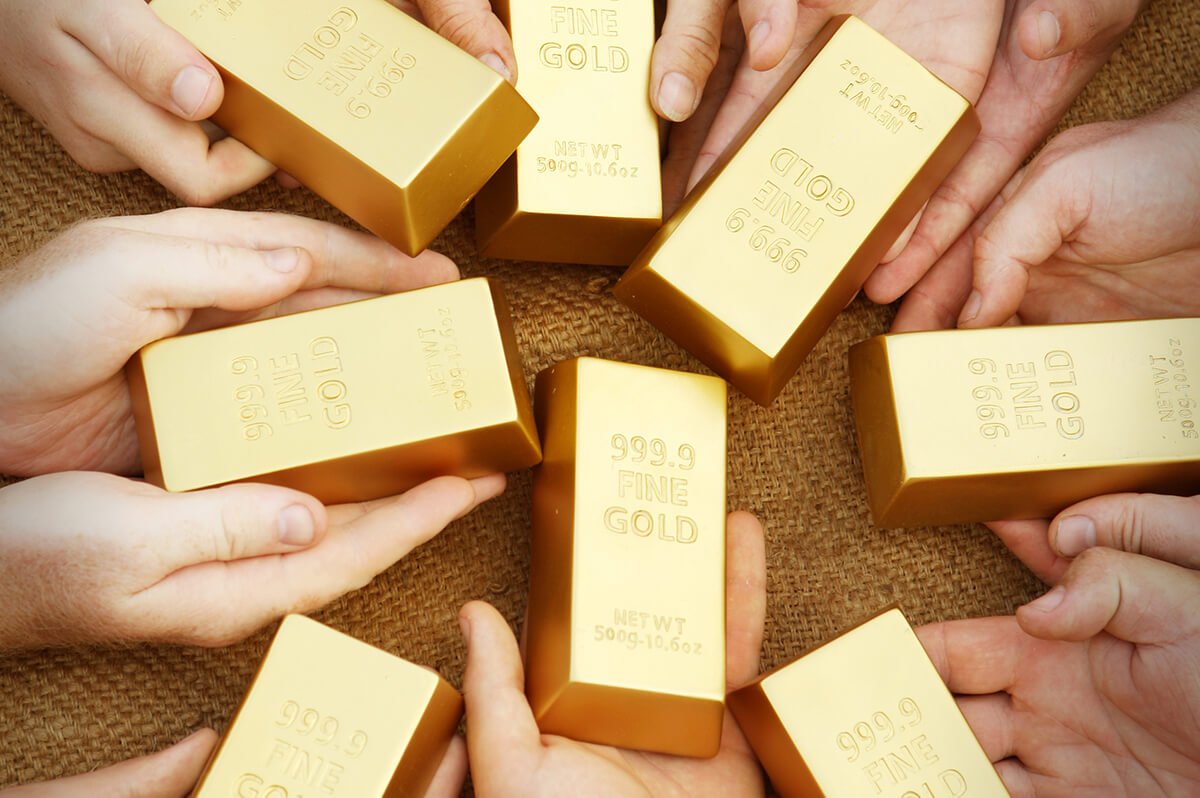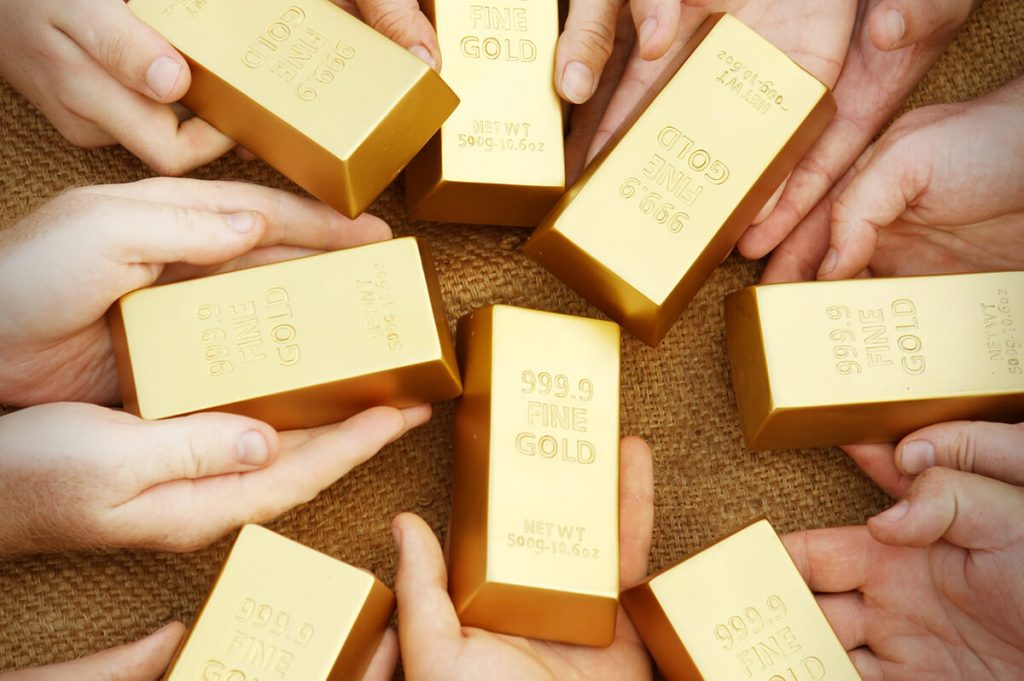 Sector: Non-Energy Minerals
Industry: Precious Metals
NovaGold Resources, Inc. is a mineral exploration company, which engages in the acquisition, exploration, and development of metal properties primarily located in Alaska and British Columbia. The Donlin Gold and Galore Creek projects are among its developments. The business was established on December 5, 1984, in Vancouver, Canada, by Gregory Shawn Johnson, John W. Chisholm, Macisaac G. Angus, Rick van Nieuwenhuyse, and Gerald James McConnell.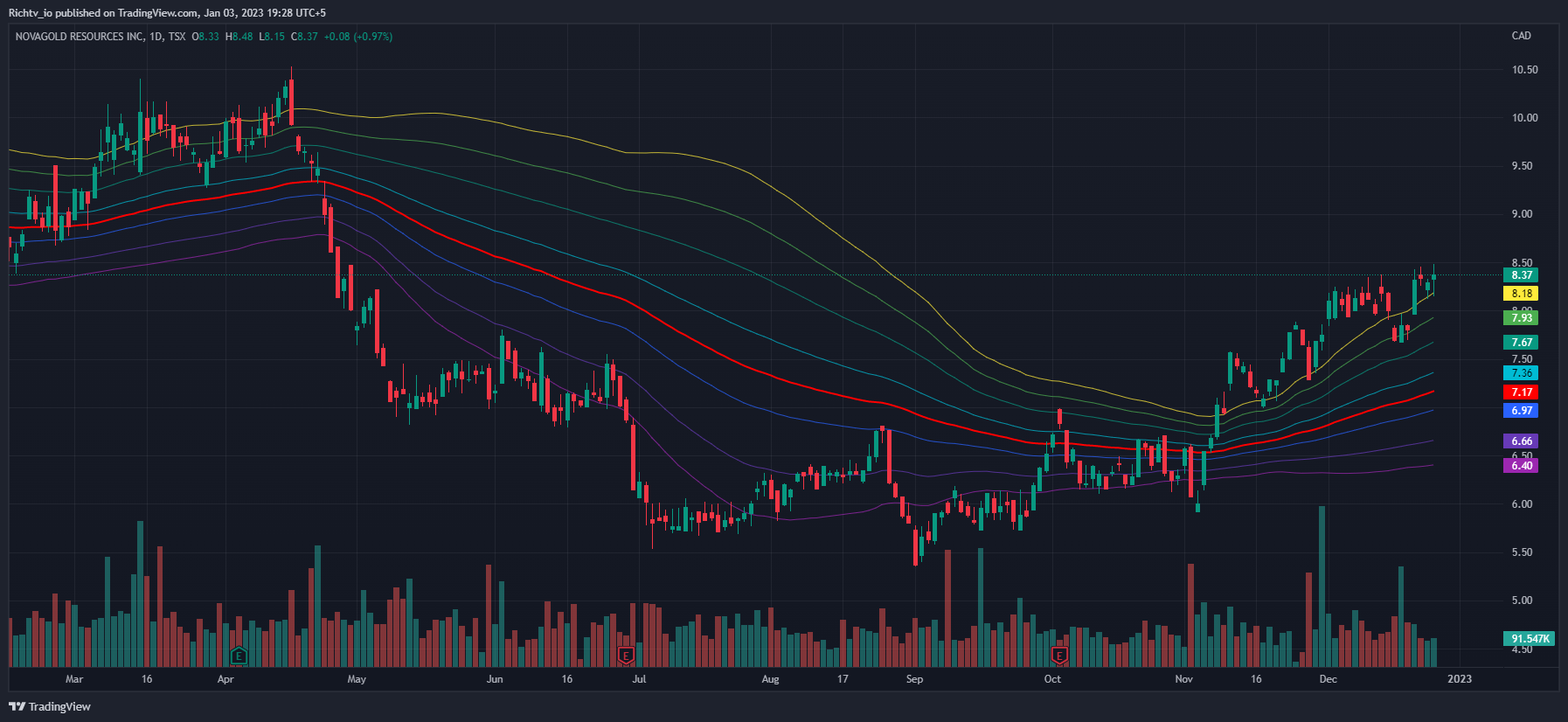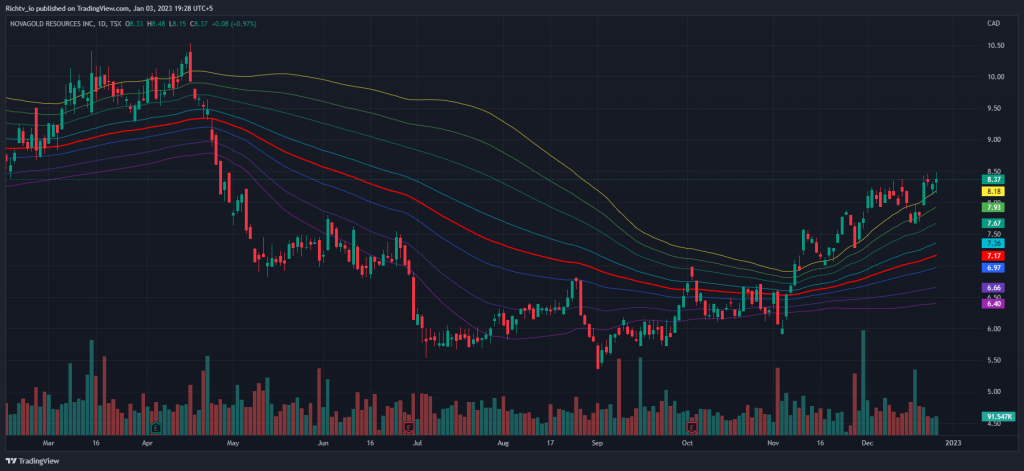 NovaGold Resources Ng has been gaining momentum in the gold market for possible steady growth. This is good news for NovaGold Resources Ng shareholders as the share price has ranged from $5 to a high of $10.50 during the past year.
Investors can be confident that prices currently $8.37 will rise further as gold prices continue to rise. The renowned Canadian gold business NovaGold Resources Ng is pleased to have properties in both Canada and Alaska.
IMAX CORPORATION (IMAX: NYSE)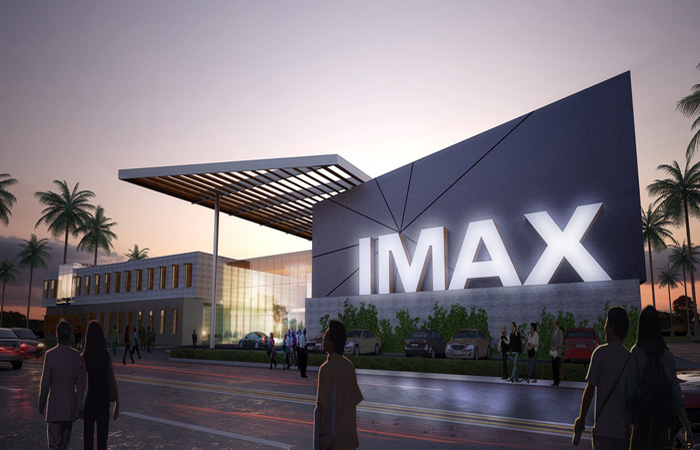 Sector: Consumer Durables
Industry: Electronics/Appliances
IMAX Corp. is an entertainment technology company, which engages in the business of motion picture technologies and presentations. The company's operations are divided into the following four business divisions: IMAX Technology Network; IMAX Technology Sales and Maintenance; New Business Initiatives; and Film Distribution and Post-Production. Box office results are represented by the IMAX Technology Network section, which also includes the IMAX DMR reportable sector, contingent rent from joint revenue sharing agreements, and IMAX systems segments. The selling and installation of theatre systems as well as maintenance services, particularly associated with IMAX Systems and Theater System Maintenance, are included in the IMAX Technology Sales and Maintenance section.The company's original content investments, virtual reality projects, IMAX Home Entertainment, and other business initiatives that are in the planning or start-up stages are all included in the New Business Initiatives segment's license and distribution fees. The Film Distribution and Post-Production segment distributes large-format movies and offers film content licensing services, especially for its institutional theatre partners. The company's headquarters are in Mississauga, Canada, and it was formed in 1967 by Graeme Ferguson, Roman Kroitor, Robert P. Kerr, and William Shaw.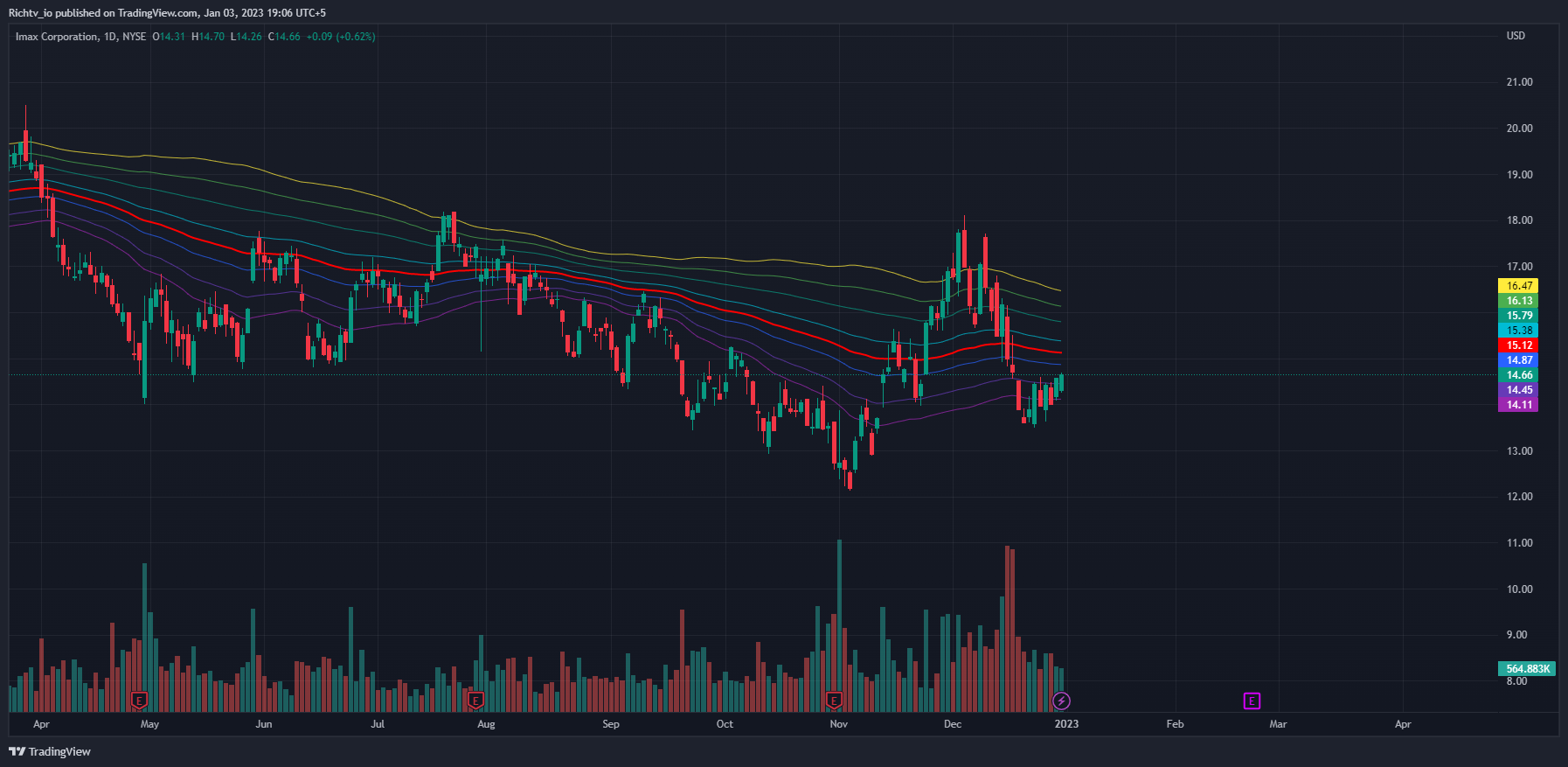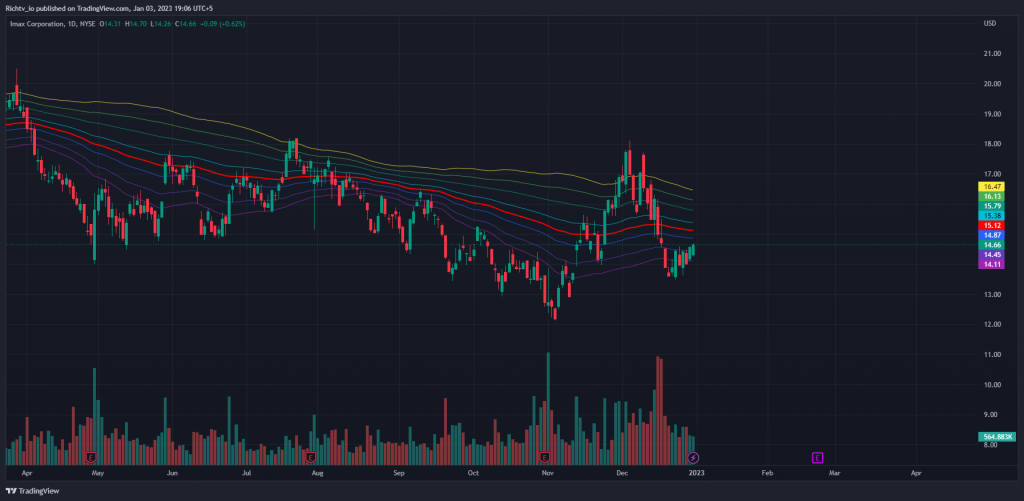 This year, the price of the IMAX Corporation shares has varies significantly, from lows of $12 to highs of over $20. The price is currently hovering around the $14 mark, which is close to the Fibonacci trend line's bottom. Consumers who are thinking about investing in the company's stock may want to take advantage of this opportunity because prices are now low and there are indications that the stock may rise to new heights shortly.
General Motors Company (GM: NYSE)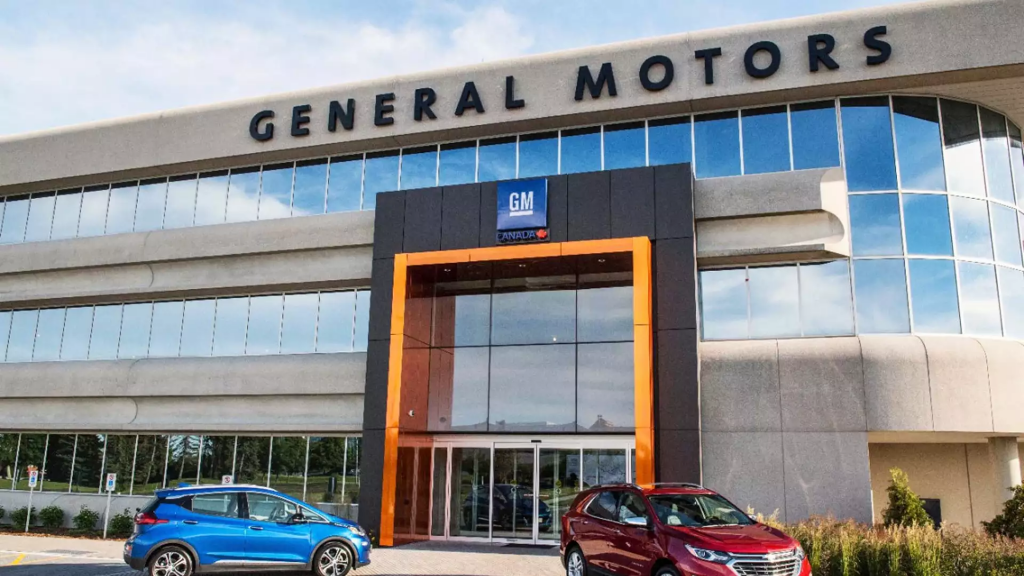 Sector: Consumer Durables
Industry: Motor Vehicles
General Motors Co. creates, produces, and sells vehicles, including cars, trucks, and auto parts. Through General Motors Financial Company, Inc., it also offers auto financing services. The company is divided into the following segments: Cruise, GM Financial, GM North America, and GM International. Under the names of the brands Chevrolet, Cadillac, Baojun, Buick, GMC, Holden, Jiefang, Wuling, Maven, and OnStar, the corporation sells automobiles. The company's headquarters are in Detroit, Michigan, and General Motors was established on September 16, 1908 by William C. Durant.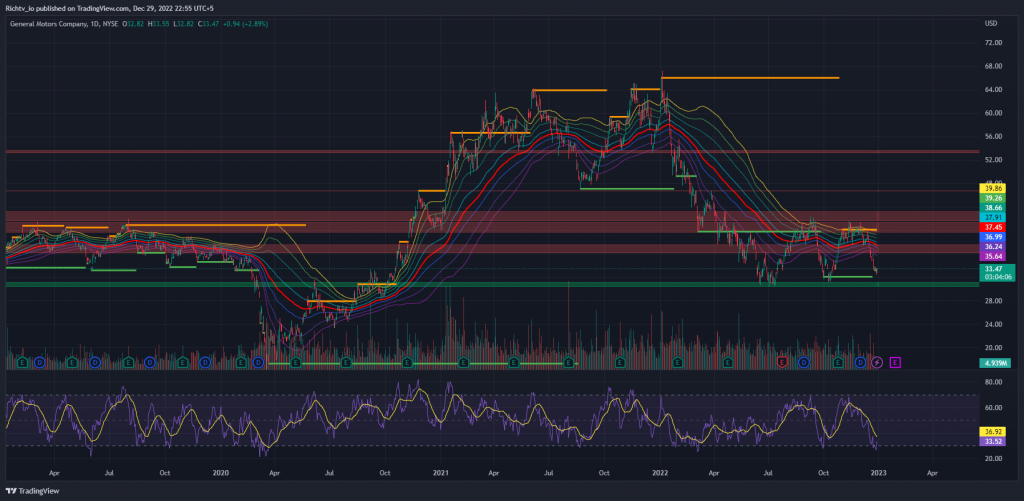 You can see the 52 week low for GM and two other automakers that are attempting to enter the electric vehicle market and have recently been destroyed, similar to other businesses in 2022. Now let's look at the chart. Look at the 52-week high of over $60 resting at $33, which is quite close to the bottom, the one-year low of $30.52. As a chart analyst, I believe that GM has a great potential right at the bottom. We're not saying it can't go even lower. In this market, anything is possible. However, only focusing on the chart analysis.
This company has a very low dividend yield of 1% and is significantly investing in electric vehicles. It is also incredibly undervalued, underrated, and underexposed. Even though the earnings per share are quite low, the price will go up. Everything is pointing to a bottom here, and as you can see from the RSI's reading of 33, it may even go lower.
Ford Motor Company (F: NYSE)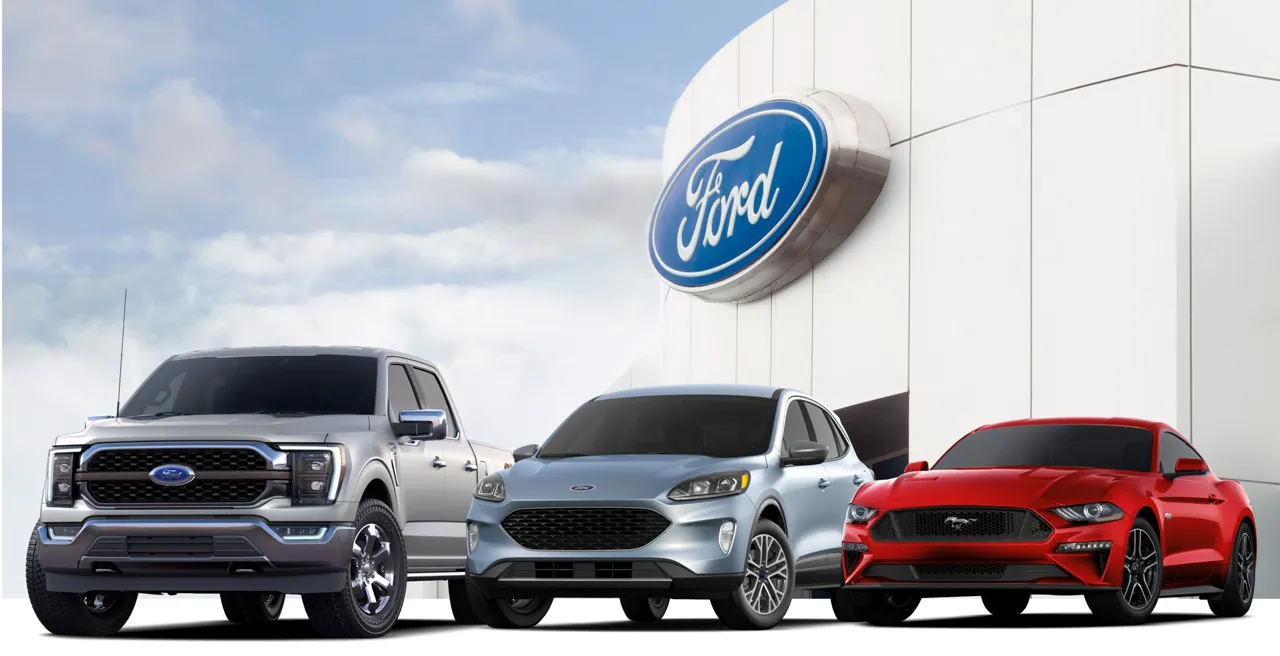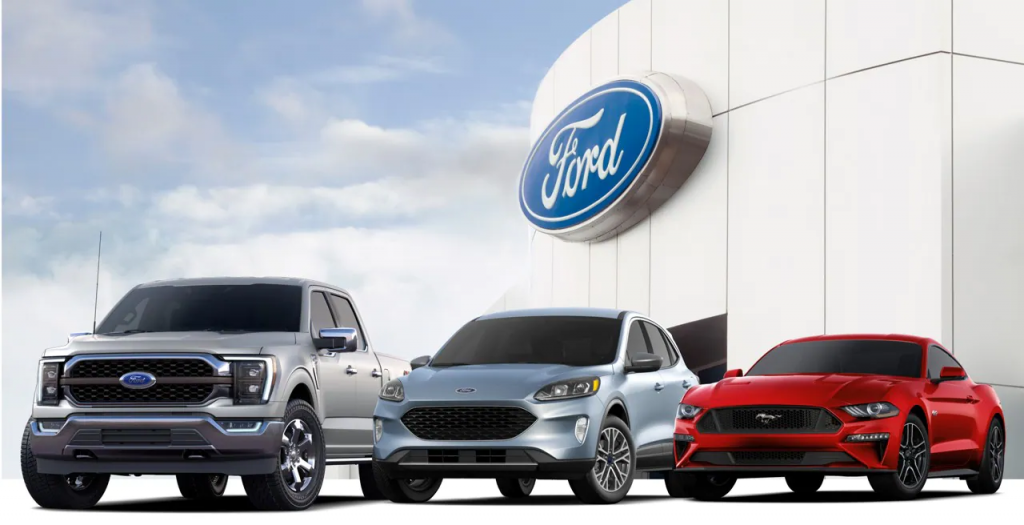 Sector: Consumer Durables
Industry: Motor Vehicles
The Ford Motor Company produces, sells, and distributes automobiles. The company operates through the following three divisions: Ford Credit, Mobility, and Automotive. Ford and Lincoln vehicles are developed, produced, marketed, and serviced by the automotive segment. The Ford Smart Mobility LLC and autonomous vehicle businesses are part of the mobility segment. Ford Credit business, which primarily consists of financing and leasing activities for vehicles, is included in the Ford Credit segment on a consolidated basis. Henry Ford established the business on June 16, 1903, and it has its corporate headquarters in Dearborn, Michigan.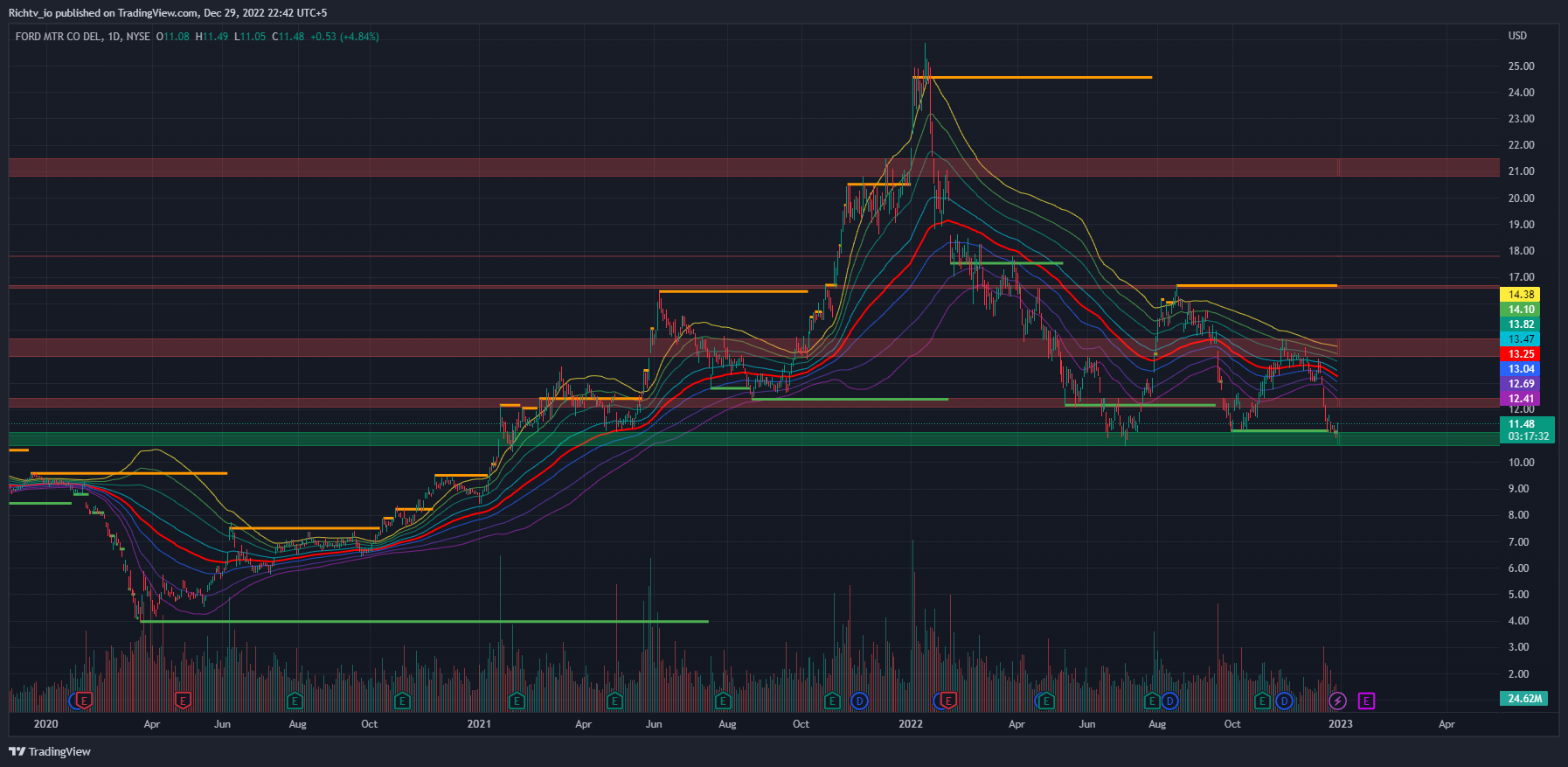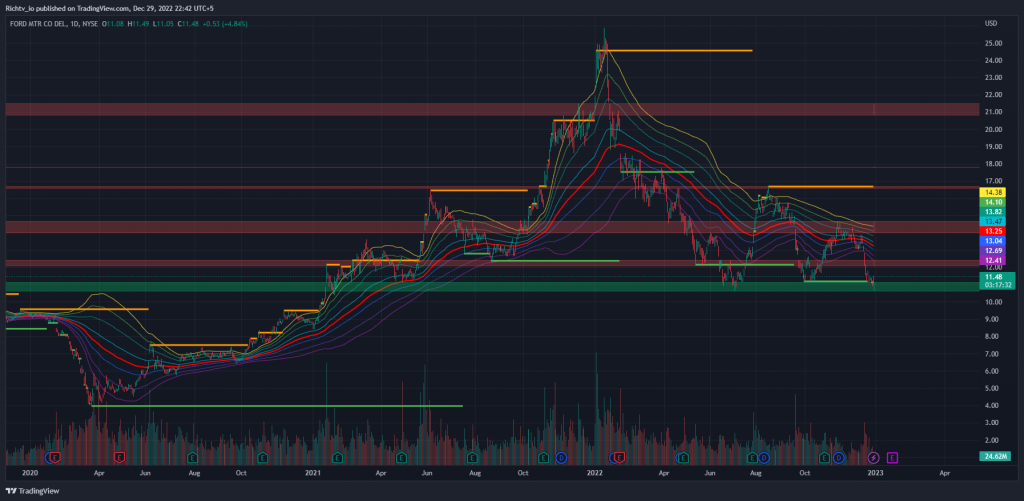 As you can see, it's close to the bottom; the 52-week low is $10.40. At this point, the price is $10.98. The 52-week high is substantially more than $20, or $23. As a result, we are trading right at the bottom of the Fibonacci zone. This is a great time to buy. This is just a trading concept. This is being unappreciated, undervalued, and underexposed. Therefore, this is a good time to buy a Ford. For more information, visit rich tv.io. You can get all the most recent news and find out more about Ford right there, adding to your watch list.