Investors' concerns over expenses and the aviation industry have contributed to a strong adverse trend in the share price of Rolls-Royce (LON: RR) during the past few months. The stock dropped to a low of 70.76p, just slightly higher than the 65p low for the entire year. Since reaching its peak in 2021, it has decreased by more than 52%.
What's the catalyst for RR?
In the fields of aviation, electricity, and defence, Rolls-Royce Holdings is a significant participant. The civil aerospace sector is the source of most of the company's earnings. The division earned more than 4.5 billion pounds in 2021, mainly from long-term servicing contracts. Over 3.36 billion pounds were made by the company's defence division, followed by 2.76 billion by its power systems division.
Even while all of Rolls-businesses Royce's see a robust comeback in 2021, the company's share price has struggled. For instance, the travel and tourist sectors are getting close to their pre-pandemic levels. As a result, maintaining current jets generates significant money for the corporation.
However, despite the ongoing Ukrainian crisis, its defence industry has performed reasonably well. As a result, as nations continue to increase their defence spending, demand for its products is growing. Analysts predict that it will perform well in the months to come.
Analysts predict that the business will grow as demand for its products increases due to the global energy crisis. For instance, the company is requesting permission to construct tiny nuclear reactors in the UK.
The strong US dollar is another factor that could boost the price of Rolls-Royce stock. This year, the dollar has increased by more than 20%. This is significant because Rolls-Royce does most of its operations in US dollars despite reporting in the British pound.
The company has a chance of winning a significant Bell V-280 helicopter contract. The business might choose between $8 and $10 billion if this occurs.
Rolls-Royce share price forecast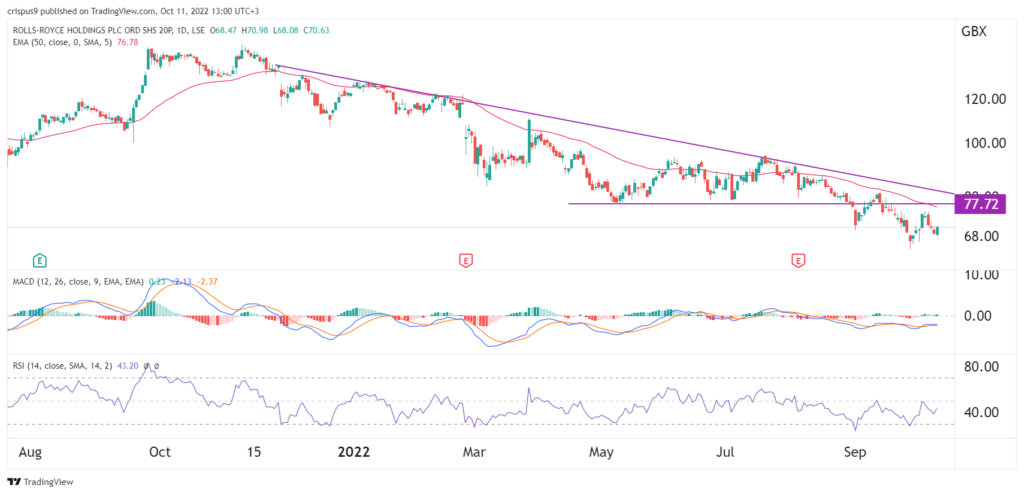 The price of the RR share has been in a significant bearish trend during the last few months, as seen on the daily chart. At 77.72p, the lowest point this year in May, it has fallen below a basic support level. In addition to being below the 25-day and 50-day moving averages, it has stayed below this support.
The MACD has moved from its neutral position. As a result, the stock will likely decline in October as sellers aim for the next major support at 60p. However, the stock is probably going to rise in the long run.
Read More: