Arista Networks (ANET) is a leading provider and distributor of cloud networking solutions worldwide. Their recent earnings report exceeded expectations and they also raised their forward guidance, indicating positive growth trends. ANET experienced record-breaking growth in both revenue and earnings, further highlighting the increasing demand for their services.
Their Extensible Operating System (EOS) offers a streamlined operating system across various hardware components, enabling efficient and high-speed performance that is crucial for artificial intelligence operations. With all these factors in mind, we feel optimistic about ANET's prospects, especially if it does remain above $155.00-$157.00 range. Our projected upside target for ANET is within the range of $220.00-$230.00.
US 100 Cash CFD (NAS100: FX)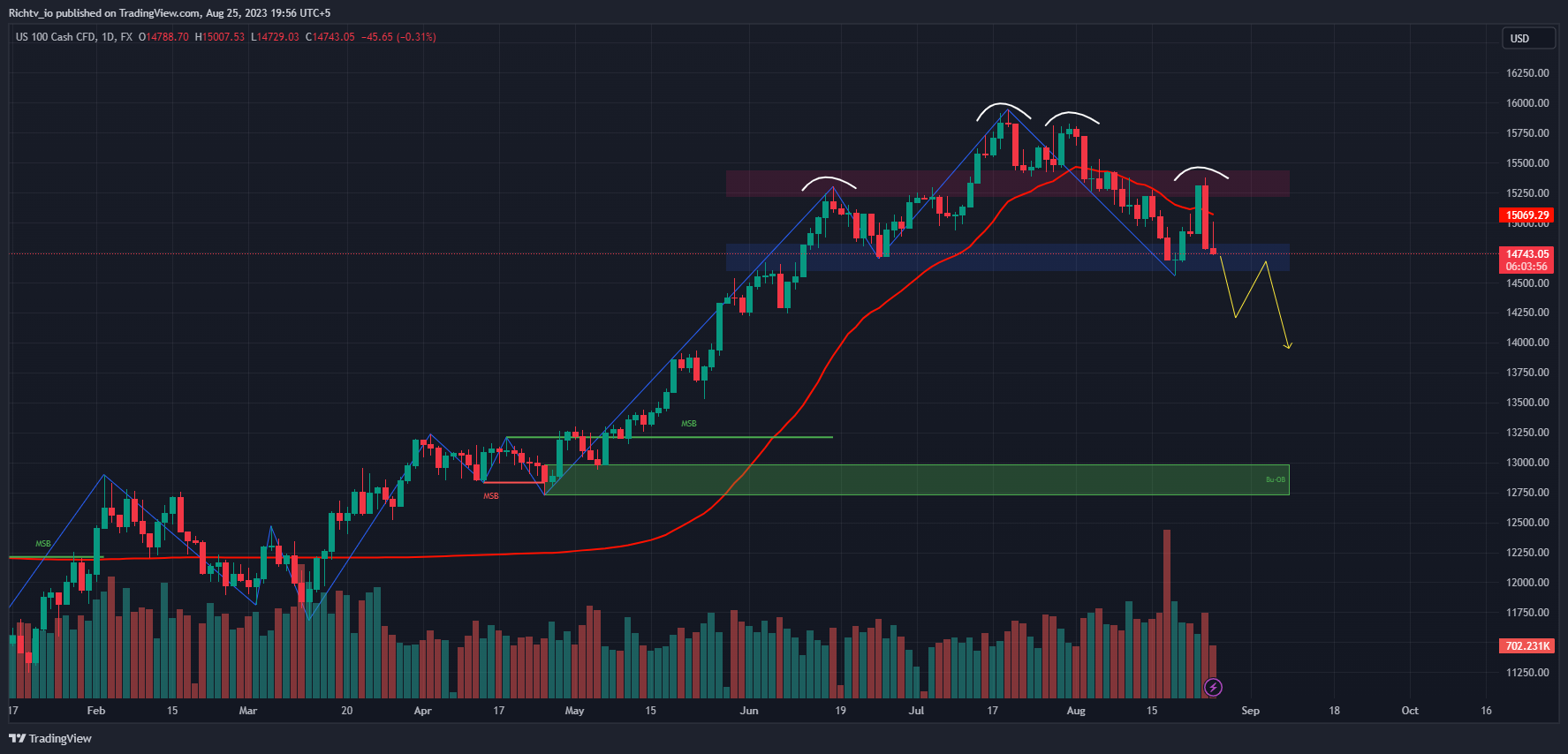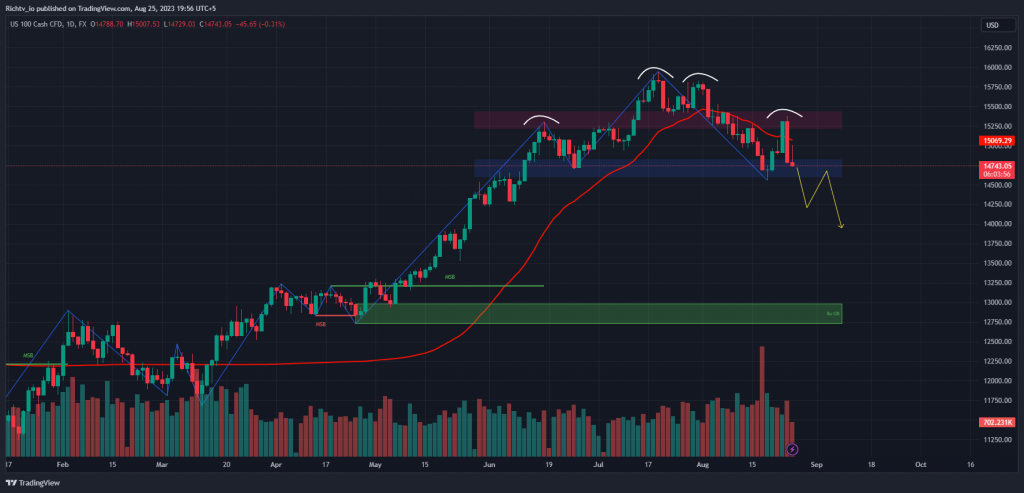 Hey there! Looks like Nas100 has recently experienced a significant rejection of its major previous structure zone. This gives a strong indication that it may break the current support level and continue its downward trend.
In fact, there's a chance that Nas100 might form a regular head and shoulders pattern, combined with a double top on the daily timeframe. For those familiar with trading patterns, this is a hugely bearish sign that suggests a substantial drop in value.
However, it's essential to keep a long-term perspective in mind. Don't get too caught up in short-term movements and remember that building wealth is a marathon, not a quick sprint. Stay calm and focused!
LINK/USDT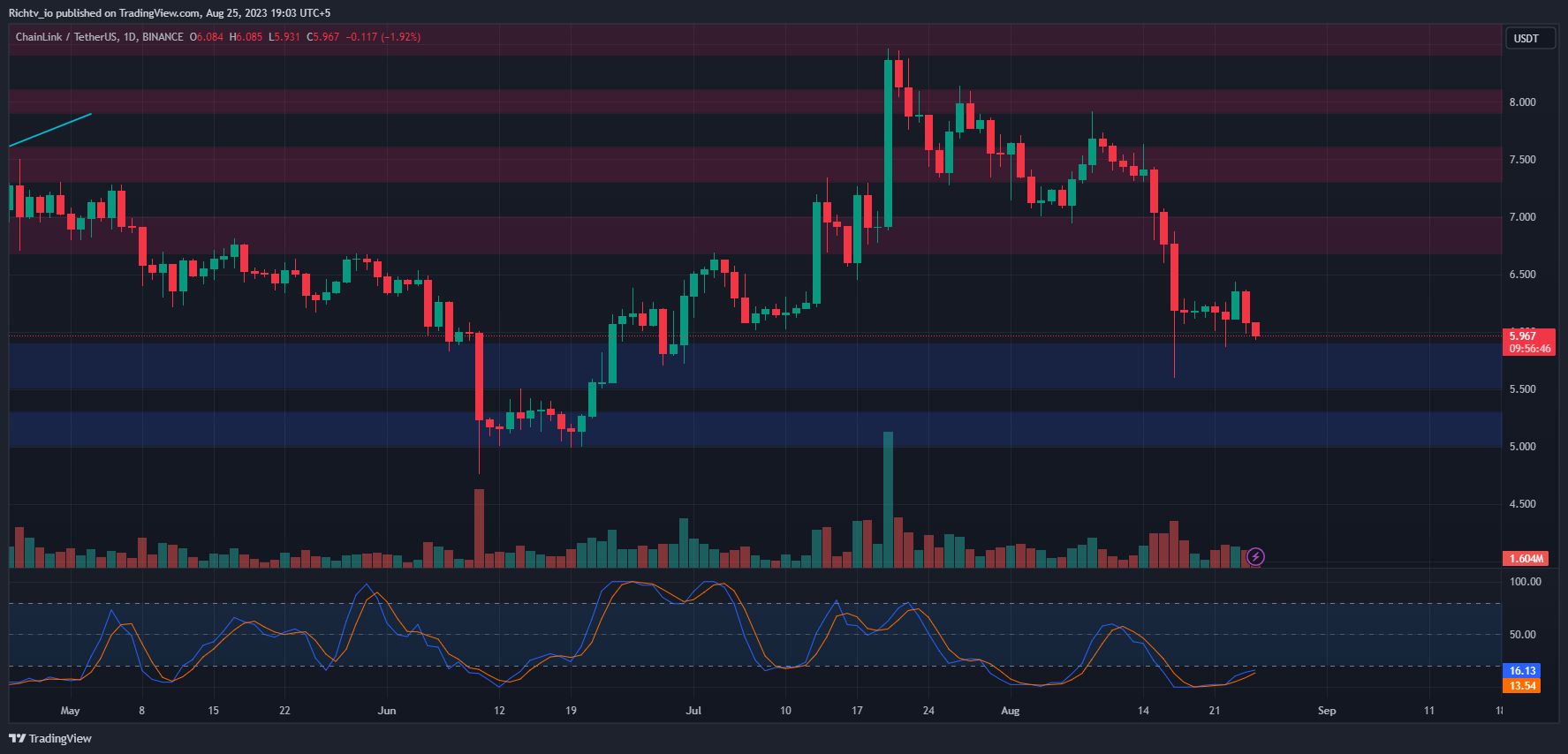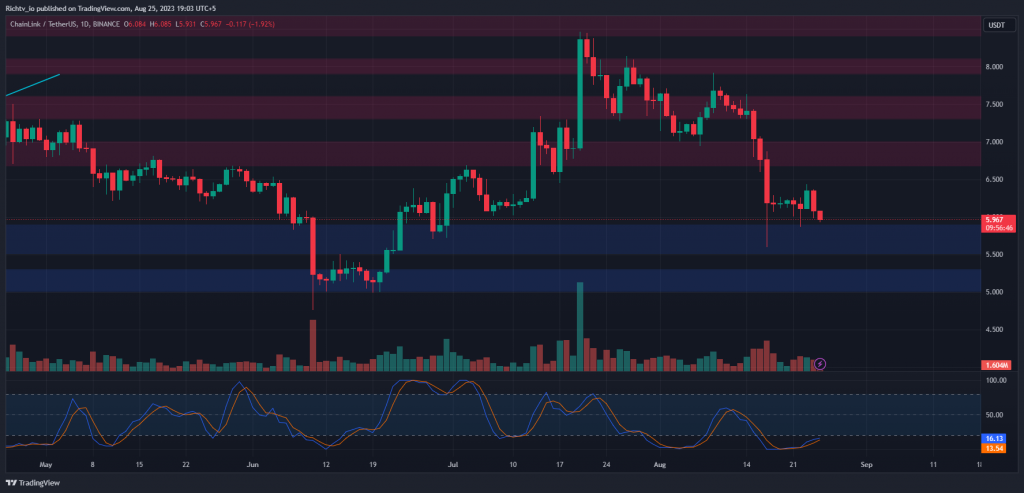 Just wanted to give you an update on the price of LINK. Currently, it's trading around the $6.00 level.
Over the past week, we've seen the $5.50 – $6.00 area hold as strong support, which is a positive sign. On top of that, the price is completely oversold on the daily time frame, indicating a potential rebound in the near future. Once BTC (Bitcoin) starts trending upwards again, we can expect LINK to test the next resistance level at around $6.70 – $7.00. Of course, if BTC continues to retrace and LINK loses the $5.50 support, we may see it find support in the $5.00 – $5.30 range, last tested in June this year.
 The general altcoin market has been under pressure in recent weeks, but since markets don't always move in a straight line, we anticipate relief bounces along the way. LINK, being completely oversold, is where we expect a bounce in price very soon.
THETA/USDT
Theta (THETA) is a token that has been facing some challenges in recent weeks. Its price has dropped by around 25% in the last four weeks, causing it to become oversold on higher time frames.
In recent days, the price has been consolidating between the $0.61 – $0.66 support range in recent days. If Bitcoin (BTC) starts trending up again, we can expect THETA to potentially reach levels between $0.71 – $0.75. However, there is a daily descending resistance line from mid-April that may act as an additional barrier in that zone. If THETA manages to break through, the next resistance levels are between $0.84 and $0.87.
On the other hand, should the crypto market's downturn continue and the $0.60 support level is breached, there is further support between $0.54 – $0.57. If THETA were to dip lower than that, there is significant support at $0.38 – $0.40, a level that was last tested in 2021. Overall, THETA's price movement will largely depend on BTC's direction and market sentiment.