FUBO, an emerging streaming player, strategically raised its North American ARPU from $71.43 to $76.79 in the latest quarter. With a focus on niche sports content, including local games unavailable elsewhere, FUBO stands out. Profits chiefly stem from the U.S., where ARPU outshines its international counterpart at $6.57. FUBO's calculated bet on the U.S. consumer leverages the Dollar's global supremacy, positioning it well for future growth.
With an analytical lens, we maintain an optimistic stance on FUBO, identifying a favorable range between $2.00 and $2.40. As the trajectory unfolds, our projections point towards an enticing upside target of $5.30 to $5.50. This anticipated journey underscores FUBO's potential to ascend within the streaming landscape, harnessing its innovative approach and strategic maneuvering to captivate a broader audience and potentially redefine the industry norms.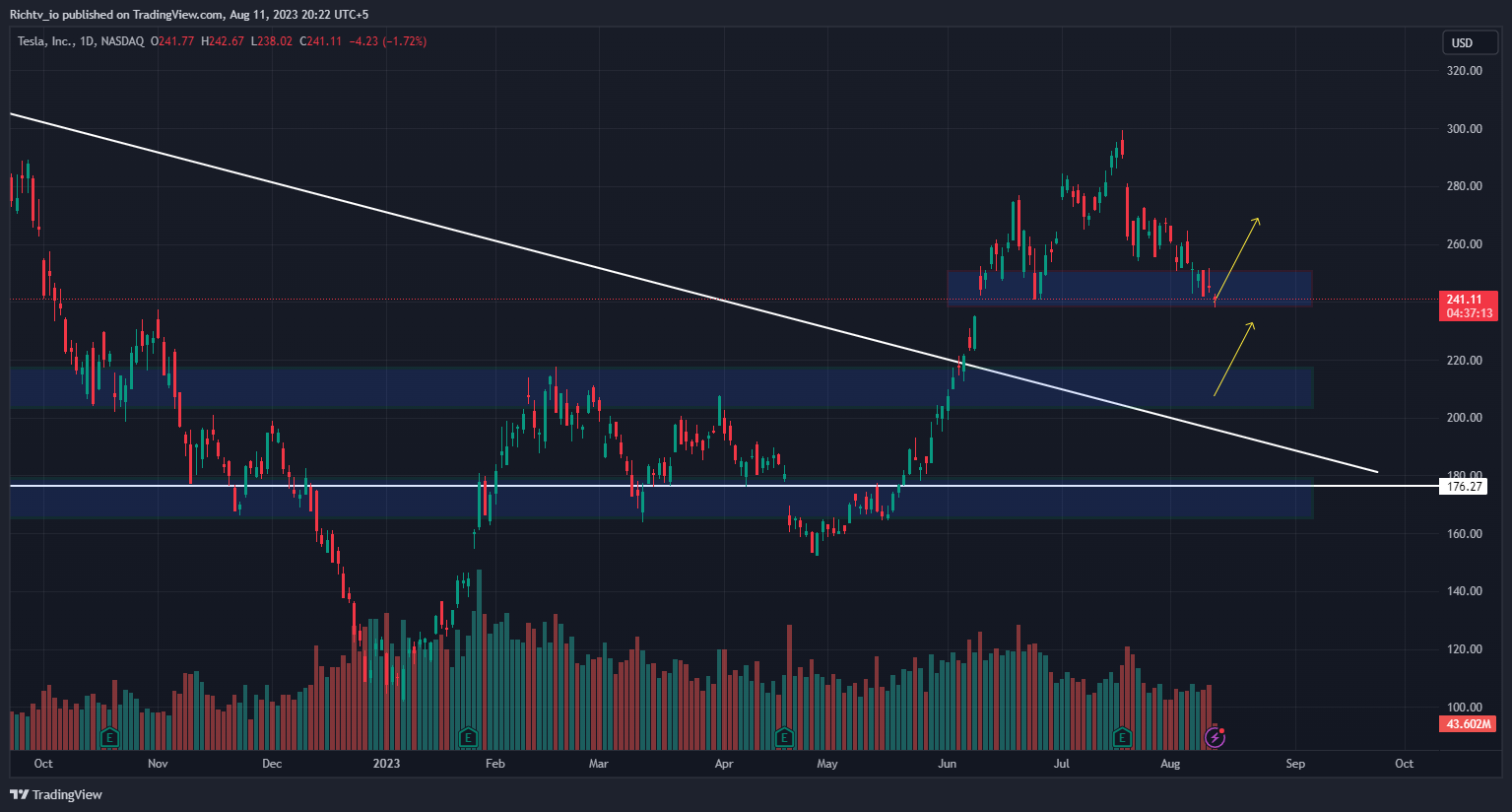 Currently, our attention remains fixed on the $245 support level, awaiting a bullish confirmation. Worth noting, amidst this context, is the latest news regarding TSLA (Tesla Inc.), which could potentially exert an influence on the broader market sentiment.
Should we descend beneath the $245 support, it's anticipated that the subsequent support at approximately $215 will likely elicit a rejection. It's crucial to retain perspective: avoid becoming entangled in transient fluctuations and consistently keep an eye on the broader, long-term panorama. Remember, the journey to amassing wealth is akin to a marathon rather than a fleeting sprint.
FTM/USDT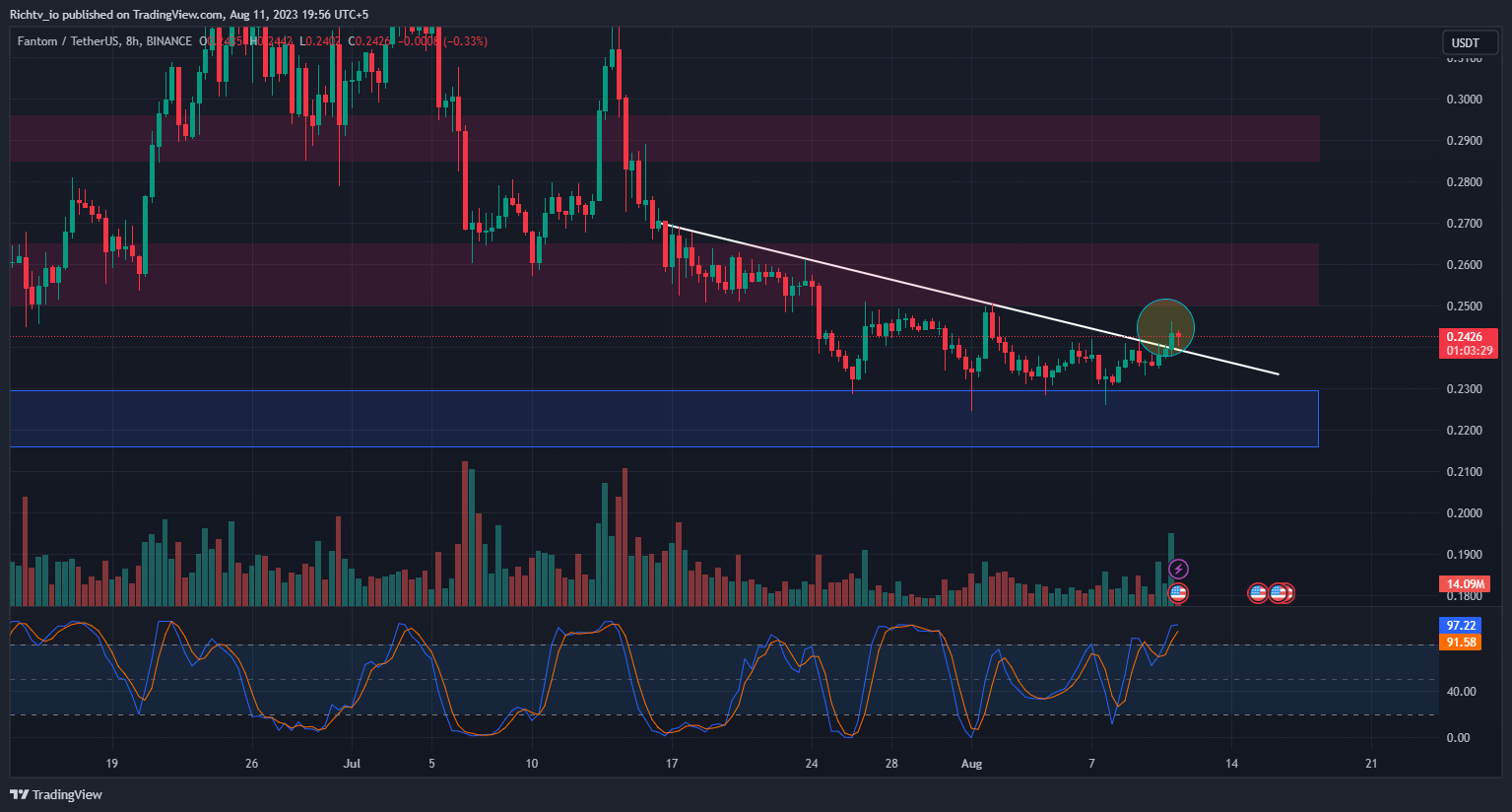 Earlier today, FTM experienced a significant development as it breached the descending resistance line that had persisted for four weeks on a daily basis.
Presently, the price rests at $0.2426 however; there is a possibility of an initial decline to assess the strength of the previously conquered daily resistance line, now transformed into a supportive barrier, positioned at approximately $0.24. Subsequently, an upward trajectory could ensue, targeting the range of $0.25 to $0.2650, which serves as the next resistance area.
Should this range be surpassed, the subsequent focal point lies within the span of $0.2850 to $0.2950, representing the ensuing resistance zone.
SHIB/USDT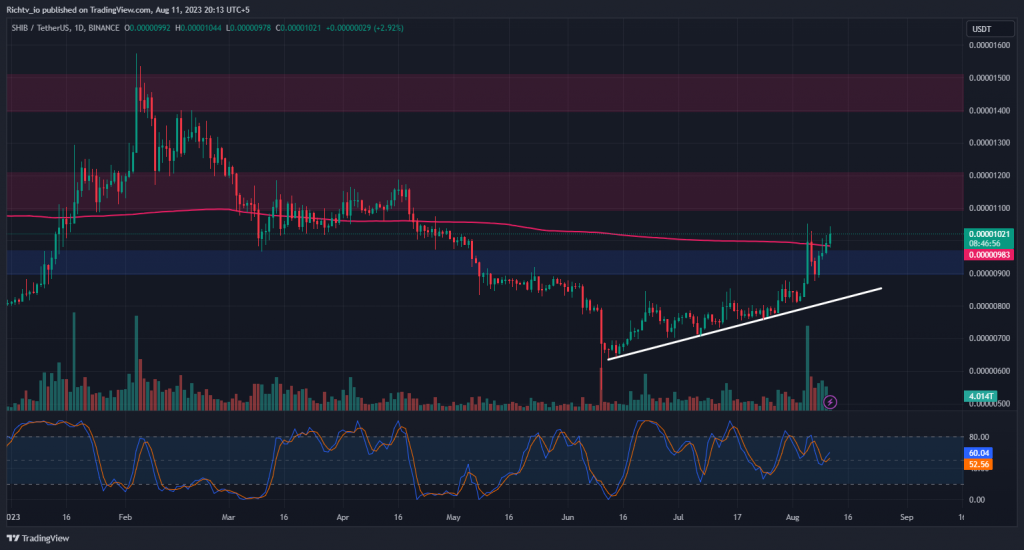 In the preceding forty-eight hours, SHIB has achieved a notable feat by not only breaching the resistance range of $0.000009 to $0.00001 but also overtaking the daily 200MA (red line), which had previously functioned as a resistance level in recent days.
Sustaining its position above this daily 200MA holds the potential for substantial upward movement. In this scenario, the initial target looms within the range of $0.000011 to $0.000012, representing the next resistance area.
Conversely, a downside contingency is secured by the $0.000009 to $0.00001 zone, now established as a pivotal support threshold.