Leonardo DRS (DRS), a military-defense contractor with operations in the United States and Italy, is experiencing positive growth in its order bookings. In the second quarter, the management saw a solid uptick as they secured nearly $7,000 worth of new business, showcasing their strong capabilities and market demand for their products and services. This impressive performance has also resulted in a 43% year-over-year increase in their backlog, which currently stands at $4.4 billion.
One recent achievement worth highlighting is DRS's success in securing a $94 million contract for advanced infrared weapon sights for the U.S. Army. Moreover, DRS is set to join the Russell 2000 and Russell 3000 indices, an exciting development that opens up new opportunities for the company. This inclusion means that DRS may start benefiting from passive dollar-cost averaging investments into these indices, potentially driving further growth and creating shareholder value over the long term.
Considering all these positive developments, our outlook on DRS remains bullish. However, it is important to note that the stock should remain above the $15.00-$15.50 range for our optimism to hold. In this case, our upside target for DRS is between $21.00 and $22.00, reflecting the potential for significant price appreciation.
S&P 500 (SPX)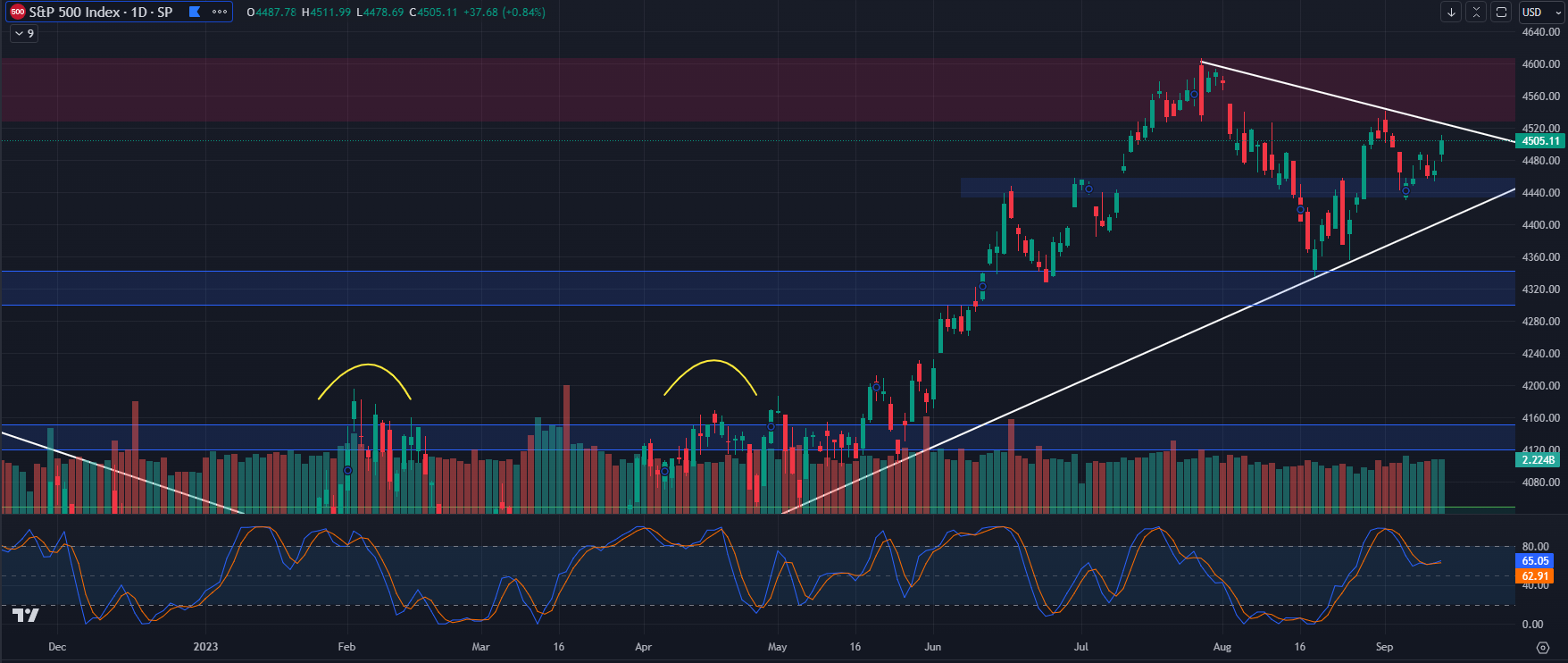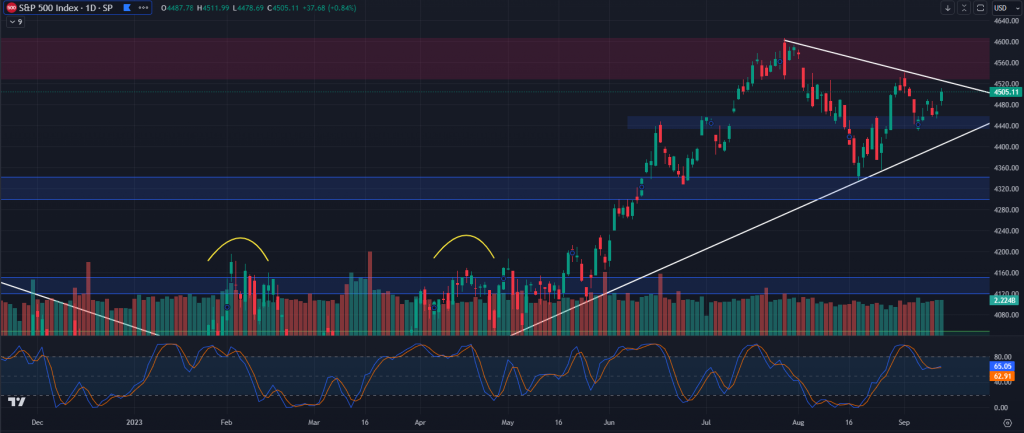 In the past couple of days, the SPX (S&P 500 Index) has made a strong rally from the support level of 4,460 to its current trading level of 4,505. The SPX is now approaching a descending resistance line that dates back to the end of July. Additionally, it is entering a significant resistance area ranging from 4,540 to 4,630. This particular zone has been tested by the SPX twice before, once in July and again in September.
If the SPX fails to break through this resistance, we may see a retracement in its price. In such a scenario, the next area of support for the SPX lies between 4,440 and 4,460. Just below that, there's a daily support line at approximately 4,425.
It's worth noting that the SPX is now within a two-week timeframe where it could potentially break through one of these major trend lines. This could signify a significant shift in its overall direction.
BTC/USDT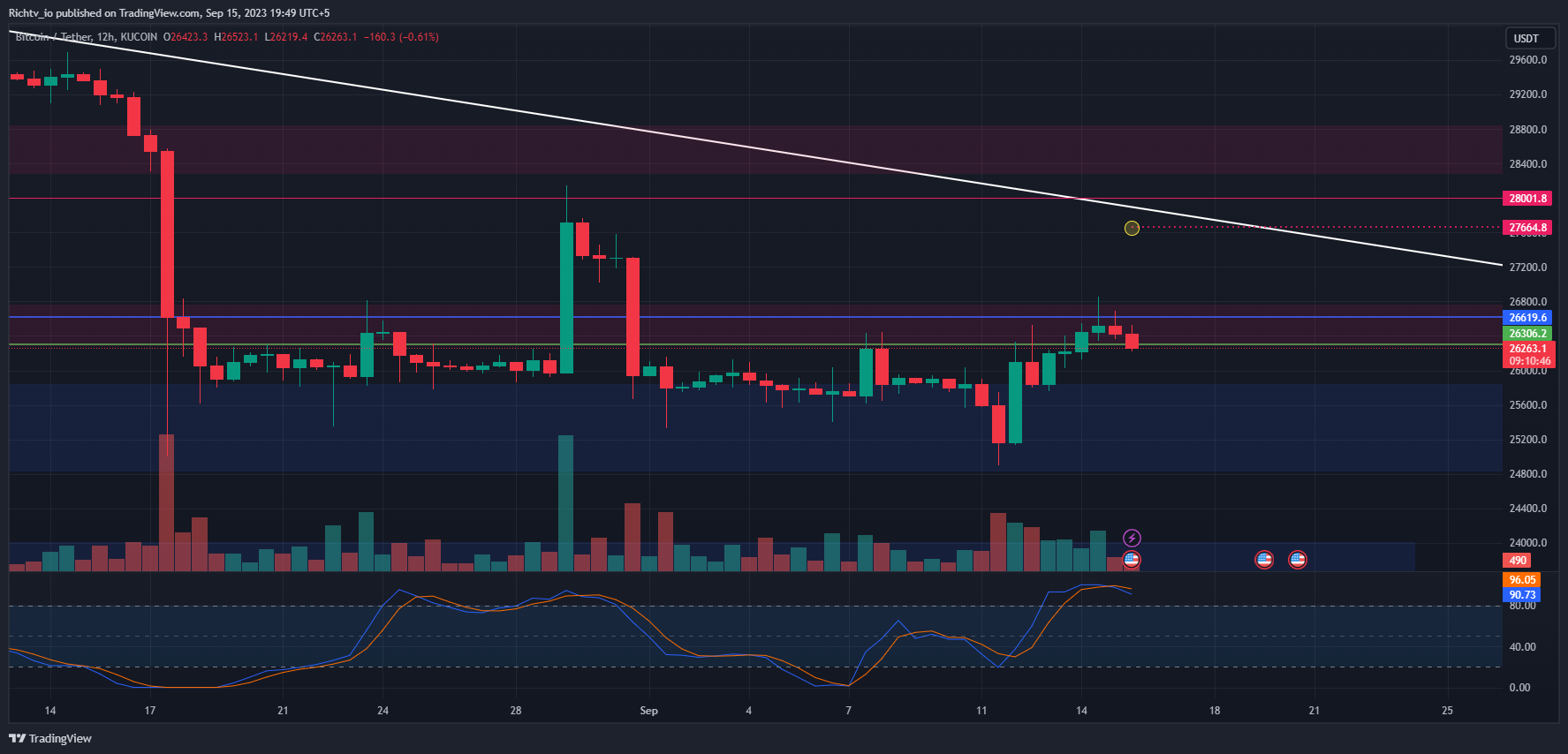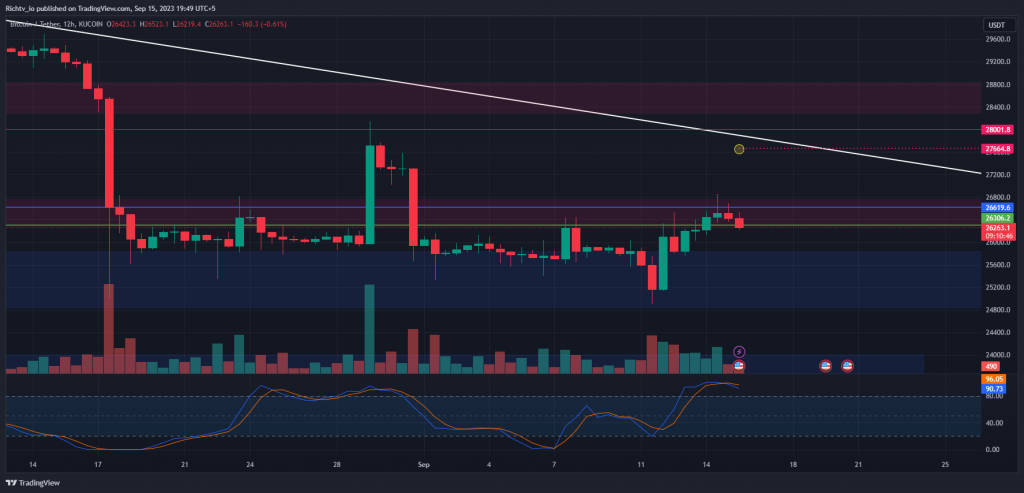 BTC has faced rejection at the $26,800 level, causing a retracement to $26,300. Over the past four weeks, there have been several attempts to break through the $26,800 mark, but unfortunately, all of them have been unsuccessful. However, it's important to note that each attempt weakens the level of resistance. If the price manages to surpass $26,800, we anticipate a short squeeze. As there are late short trades with stop losses just above this line, they would be forced to close their positions as the price continues to rise.
Looking ahead, the next significant resistance level is found at the 200 Moving Average on the daily chart and the daily descending resistance line from July, which is approximately at $27,660. Breaking through this level in a single attempt will undoubtedly be challenging.
On the other hand, the range low resistance at $26,300 currently acts as a crucial support level. In case of a further decline, the next major support area is expected to be between $24,800 and $25,800.
ETH/USDT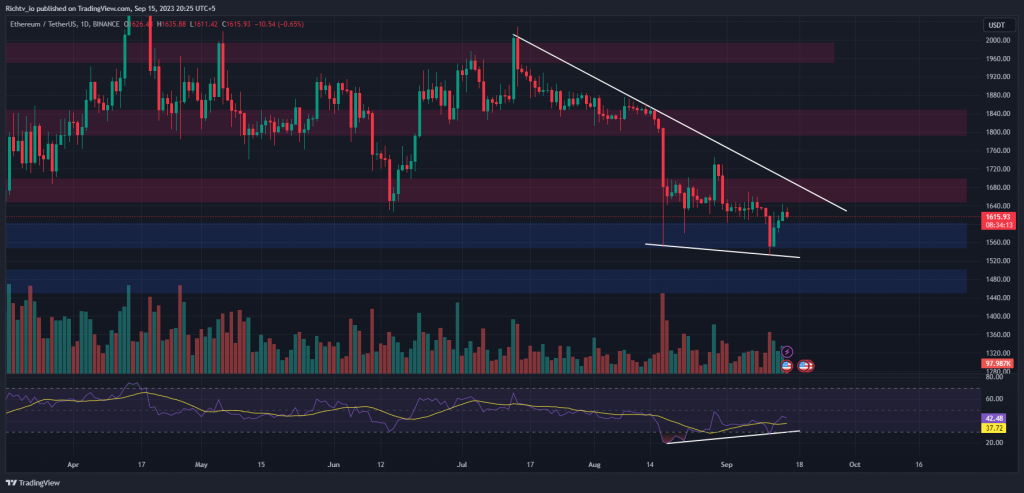 After reaching a low point at $1,531 on Monday, the price of ETH has rebounded and is now on an upward trend. It has successfully regained the support level ranging between $1,550 and $1,600, indicating a positive momentum. The next challenge for ETH will be to test the resistance level at $1,650 to $1,700.
An interesting observation is the bullish divergence that is occurring; Where the RSI on the daily time frame was higher compared to the 17th of August, even though the price was lower on the same date. This suggests that there is potential for further growth in the price.
As of now, ETH is trading at $1,615, which positions it right in the middle of the support and resistance levels mentioned earlier. If the upward momentum continues and ETH manages to break through the $1,650 resistance, there is a possibility for it to reach as high as $1,700.