Novavax (NVAX) is a well-established biotech company based in the United States that specializes in vaccine development, with a particular focus on influenza and Covid vaccines. One of Novavax's key offerings is their Nuvaxovid vaccine, which has been authorized for emergency use by the FDA along with three other shots.
While Novavax's prospects appear promising, it is essential to be aware of the financial risks associated with investing in NVAX. However, experts anticipate that a full approval from the FDA for their Covid shots this fall could potentially give the company's stock a significant temporary boost due to increased business revenue.
Despite these uncertainties, many investors remain optimistic about Novavax's future. In fact, analysts believe that NVAX has the potential to thrive, particularly if its stock price rises above the range of $7.15 to $7.30. The projected upside target for investors is an impressive $13.00 to $14.00.
SOL/USDT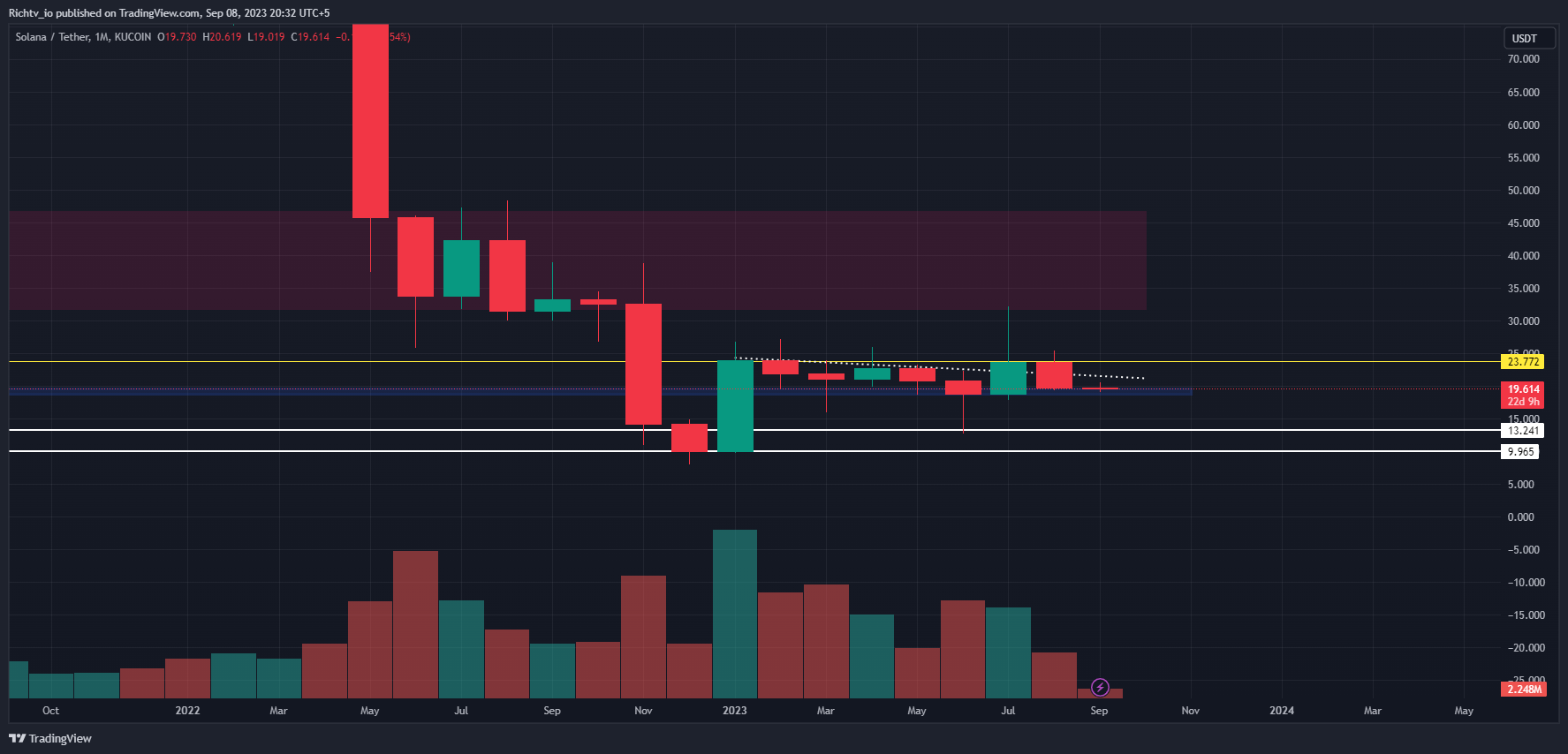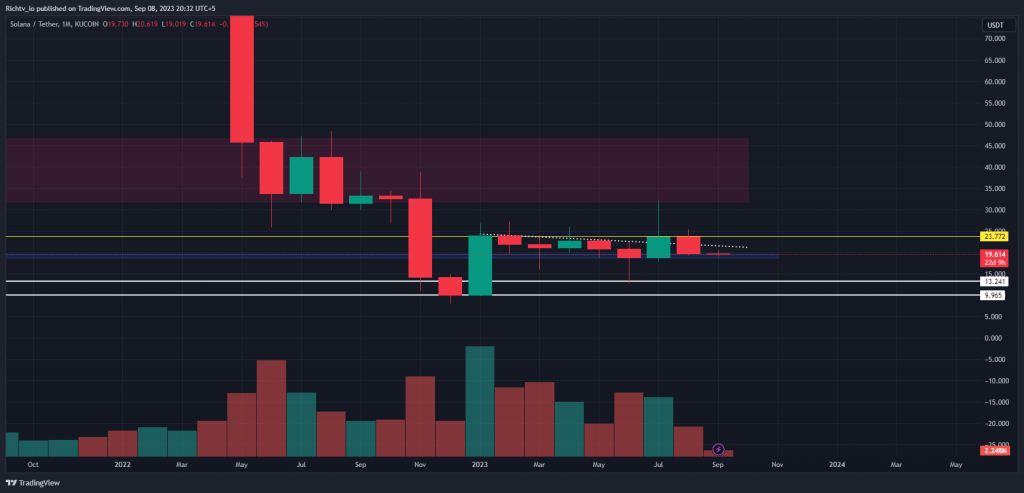 SOL made a significant upward rally in July after breaking through its white diagonal (dotted), but it was ultimately rejected at the former high-demand area (red), which appears to have changed into a new supply area.
Most crucially, even though new yearly highs were reached, the SOL Monthly Close below the yellow $23.77 level on that move effectively failed to break the 2023 yearly highs sustainably. In other word, the major 2023 resistance that was set earlier this year (yellow monthly resistance at $23.77) was not broken on the Monthly timeframe, July price action ended up as just a wick.
This yellow level is the most important level to see SOL rally back to the red region but price is struggling to do so. At the moment, SOL is forming a range here – blue Range Low support and the yellow 23.77 Range High resistance. As long as Range Low holds as support, there is potential for intra-rangebound behaviour that could cause SOL to once again test Range High resistance.
However, the next trend will emerge only once we see either the Range Low breakdown or the Range High breach sustainably, whereby price would reclaim the white level as new support to confirm the breakout.
It's worth noting however, that the longer this current range goes on for, the less likely it will be a range of re-accumulation. The chances of this range acting as a distribution range increases the more price moves sideways as time goes on.
GRT/USDT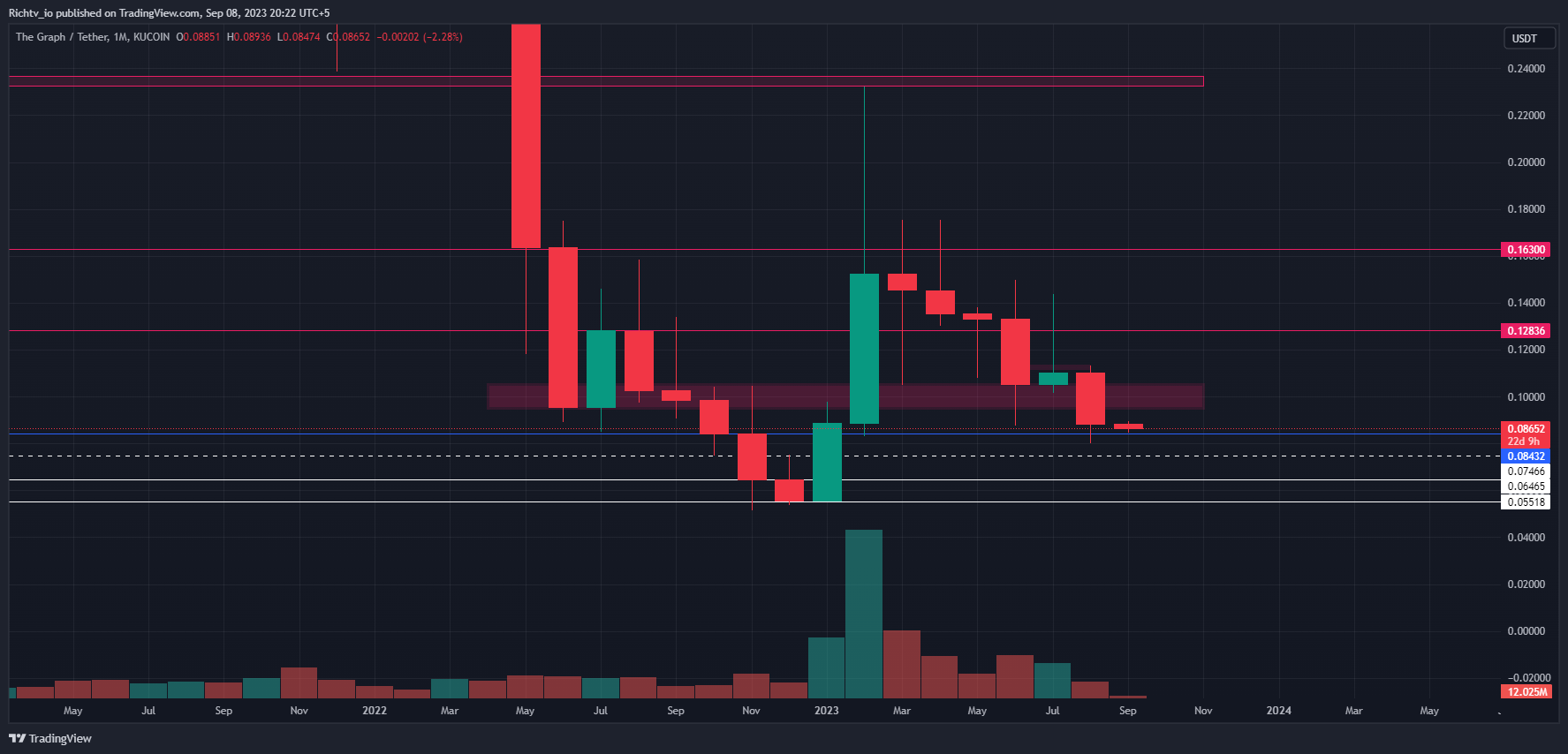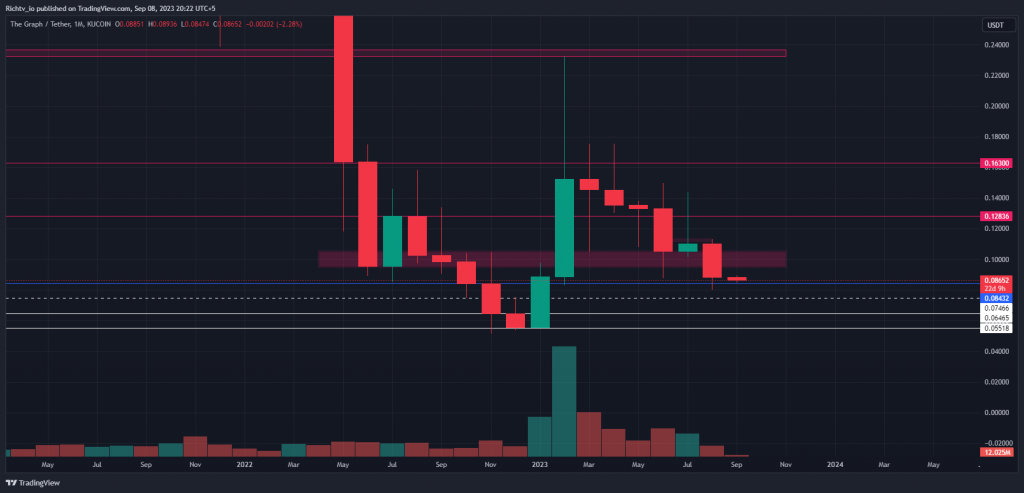 During this summer, GRT has shown some stability by holding onto the red boxed region as support. However, in August, the monthly close for GRT fell below this region, indicating a loss of support. Now the question arises, will this region turn into a new resistance?
If GRT manages to rebound and reach the red region again in the upcoming weeks, only to be rejected, then it will confirm that the old support has indeed become new resistance. Currently, GRT is finding support at the blue level of $0.08, which previously allowed for price growth towards 2023 highs. But if the rebound from here faces resistance at the red region, it is possible that the blue level may not sustain as strong support.
In fact, if there is a monthly close below the blue level, it could lead to a drop towards the dashed white level and even below it, as this level appears weak. All in all, GRT is currently in a range, where the blue level acts as the lower limit and the red boxed area acts as resistance. Therefore, we can expect some sideways movement in the price of GRT over the next few weeks.