Petroleo Brasileiro (PBR: NYSE)
Petrobras (PBR), the renowned Brazilian oil and natural gas company, is experiencing a surge in demand for its products due to its refineries operating at maximum capacity – a remarkable 97% of its rigs are currently in operation, reaching the highest level since 2014.
Moreover, Petrobras is actively expanding its operations into deepwater drilling. A recent strategic partnership with Oceaneering, a company specializing in ocean drilling, is expected to enhance Petrobras's production capacity significantly.
In a move towards sustainability, Petrobras recently made its first purchase of carbon credits. This initiative is essential as the company plans to expand its drilling operations into the periphery of the Amazon rainforest. Offsetting potential regulatory burdens, this approach showcases Petrobras's commitment to environmental responsibility.
We are bullish on PBR, particularly if the stock remains above the $14.00-$15.00 range. The optimistic outlook sets an upside target between $21.00 and $22.00.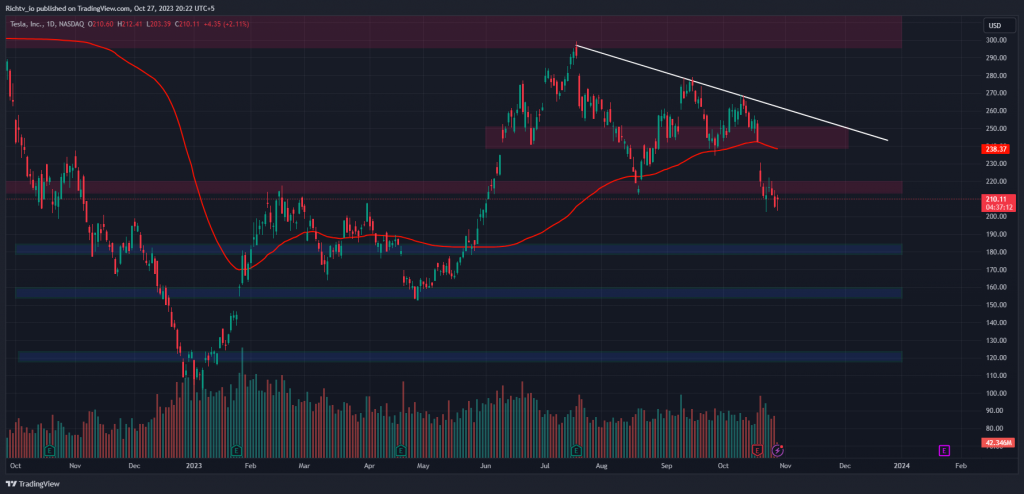 It's crucial to approach the current situation with Tesla (TSLA) carefully, given the recent breakdown from a strong support zone. This breakdown implies a potential larger bearish move in the coming days. Key support levels to watch include $180, $155, and $120, which might act as significant areas where the stock could find support in case of further declines.
The bearish move aligns with both Tesla's recent earnings report and technical analysis. Technical indicators and price patterns often provide valuable insights into market sentiment and potential future price movements.
Additionally, it's important to consider market dynamics such as volume. While Tesla has a history of strong bullish volume, it's essential to recognize that even in bullish markets, financial instruments may experience periods of liquidity release and corrective movements.
FTM/USDT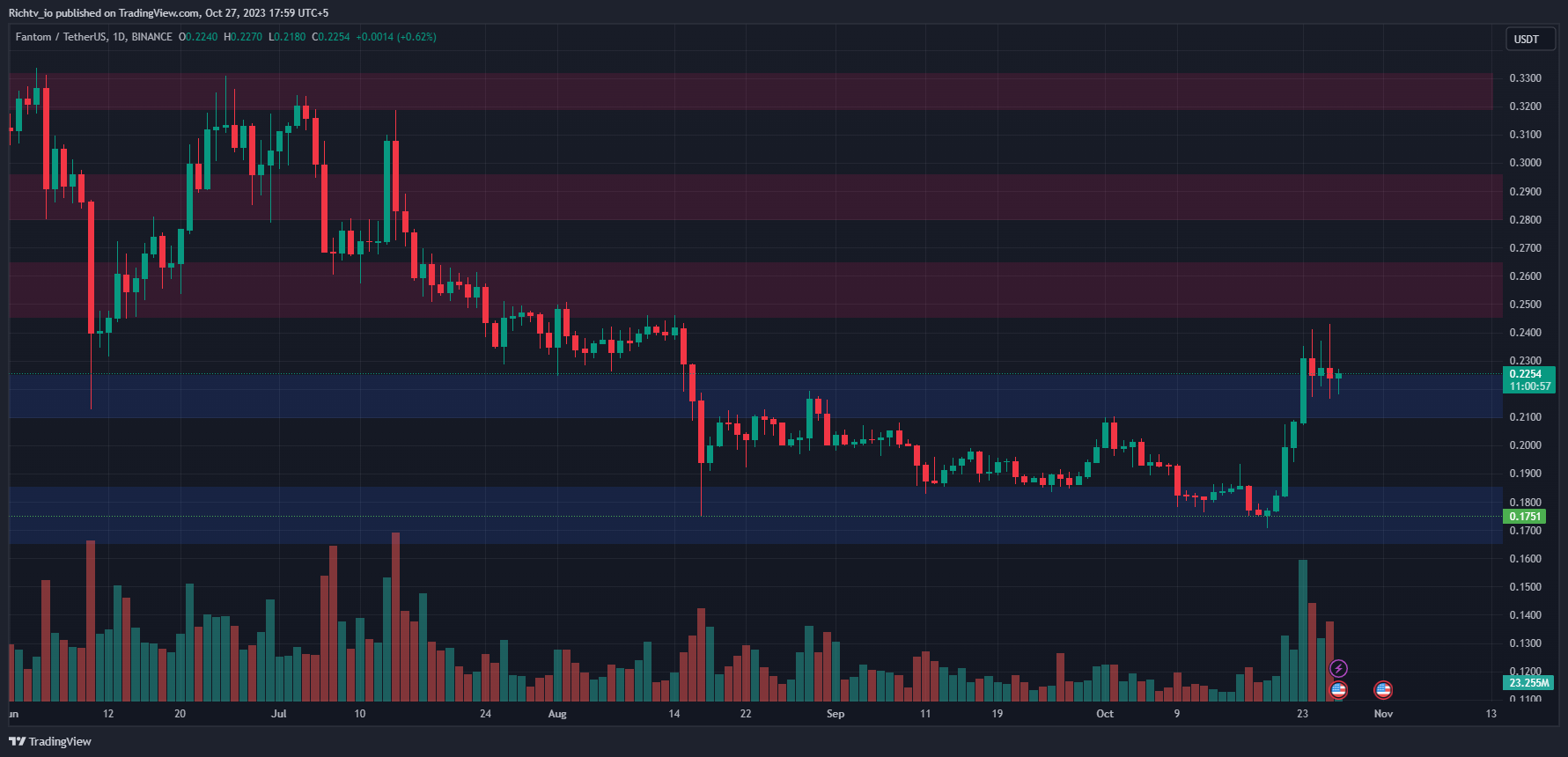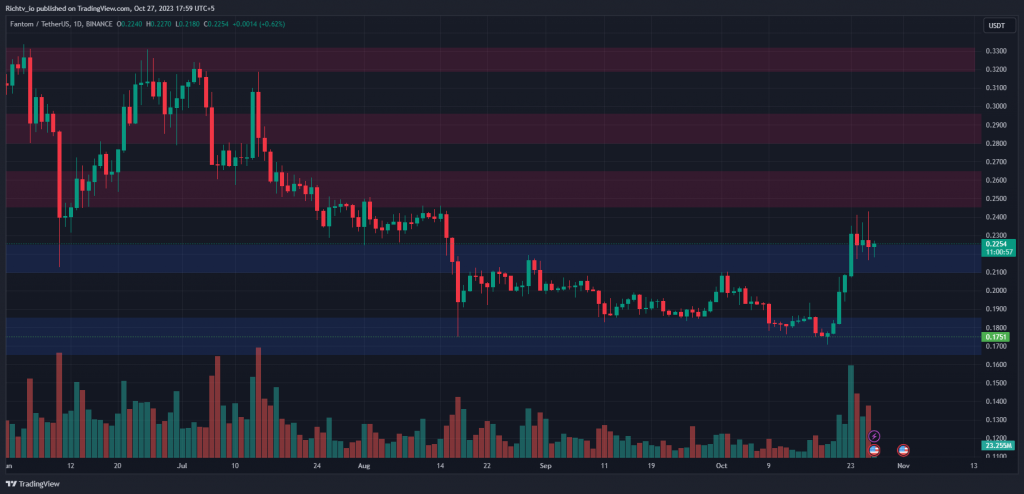 FTM has demonstrated a strong rally, surging by over 40% in the last two weeks from $0.17 to $0.24. Although it retraced to $0.22, it found support within the $0.21 – $0.225 range. If FTM stabilizes and maintains support in this area, there is a favorable possibility of testing the next support range between $0.2450 and $0.2650.
Furthermore, the anticipated pullback in Bitcoin Dominance (BTC.D) is expected to provide additional relief to altcoins including FTM. A decrease in Bitcoin Dominance typically implies a more favorable market environment for alternative cryptocurrencies, potentially leading to increased trading opportunities and positive price movements for coins like FTM.
Crypto Total Market Cap (TOTAL)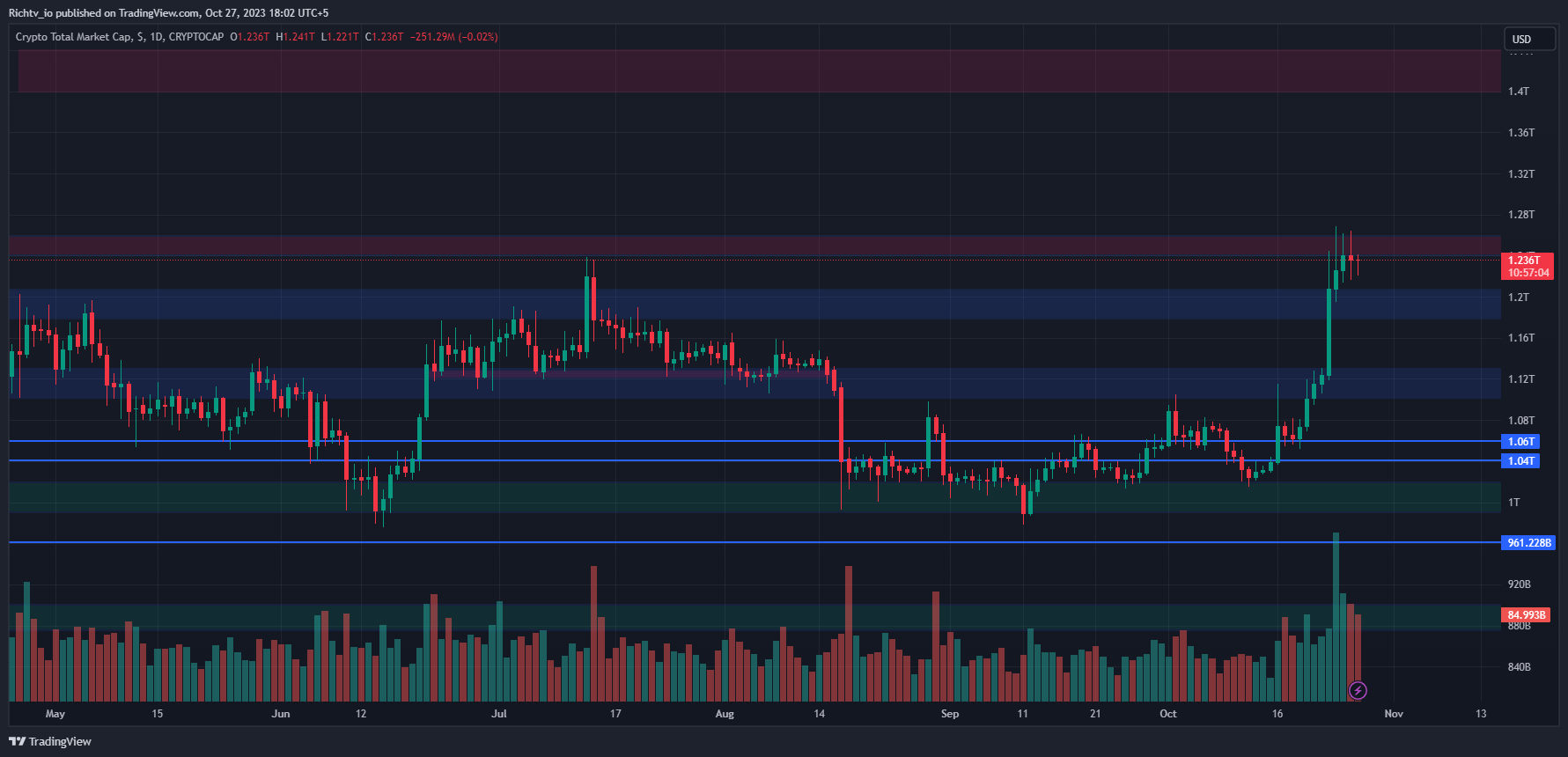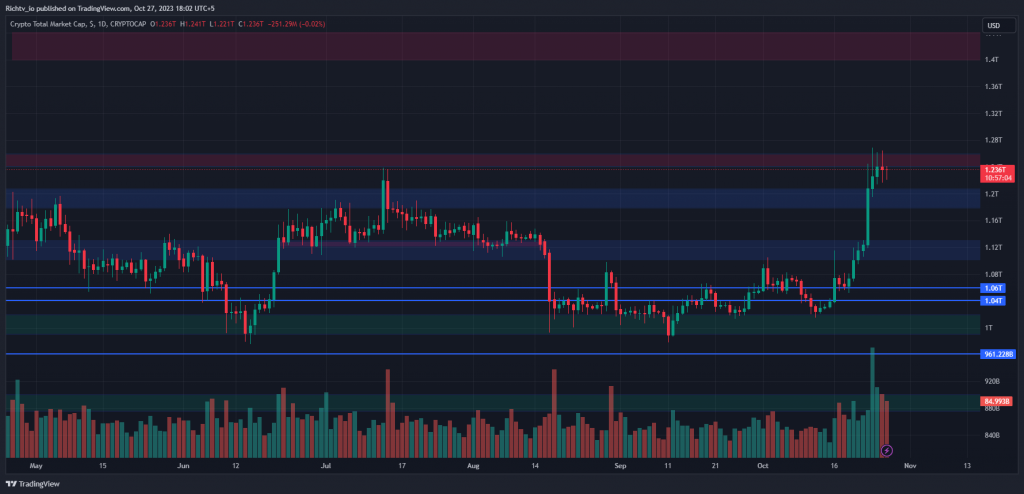 The total cryptocurrency market capitalization, often referred to as TOTAL, has encountered significant resistance in the $1.24 trillion to $1.26 trillion range over the last five days. This level has historically acted as a substantial barrier, having been tested in both April and July of the current year, resulting in rejections each time. Currently, there are indications that the market might experience a retracement from this resistance zone to test the next levels of support.
A healthy correction following a substantial market run is a natural part of market dynamics. If the market retraces from the current resistance area, the next significant support levels to watch are between $1.18 trillion and $1.2 trillion. A bounce from this support zone could potentially set the stage for the next upward movement in the market.
However, it's crucial to note that breakthroughs are always possible. If the market manages to breach the $1.26 trillion level of resistance, the next substantial resistance zone lies higher, between $1.4 trillion and $1.45 trillion.