QuikLogic Corporation (QUIK), a semiconductor company specializing in intellectual property solutions for smartphones and other devices, has recently entered a promising partnership with Yorchip to develop a low-power and low-cost UCle FPGA Chiplet device. This strategic move positions QuikLogic to tap into the rapidly growing Internet of Things (IoT) and Artificial Intelligence/Machine Learning (AI/ML) markets, aligning the company with emerging trends in the tech industry.
The company's unique position in the market is further strengthened by its anticipation of a significant revenue surge as it executes the next phase of the ePFGA contract announced last year. Additionally, QUIK is in the final stages of integrating its private label version of SensiML AI/ML solutions across its diverse product line, indicating a strong focus on advanced AI technology integration.
We are bullish on QUIK, particularly if the stock maintains its position above the $8.20-$8.40 range. The optimistic outlook sets an upside target between $12.00 and $13.00, reflecting confidence in QuikLogic's ability to capitalize on emerging AI trends and successfully navigate the evolving semiconductor landscape.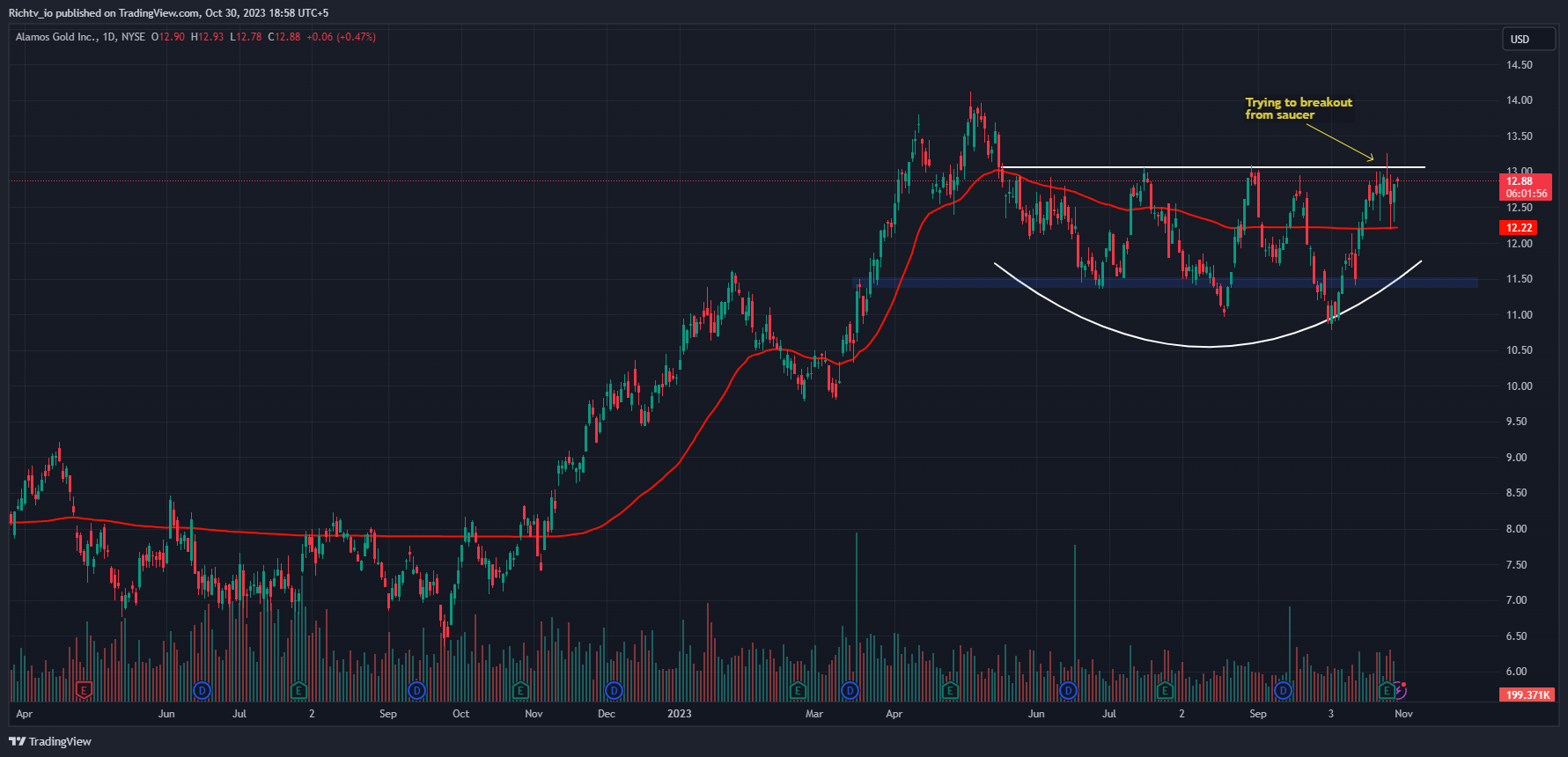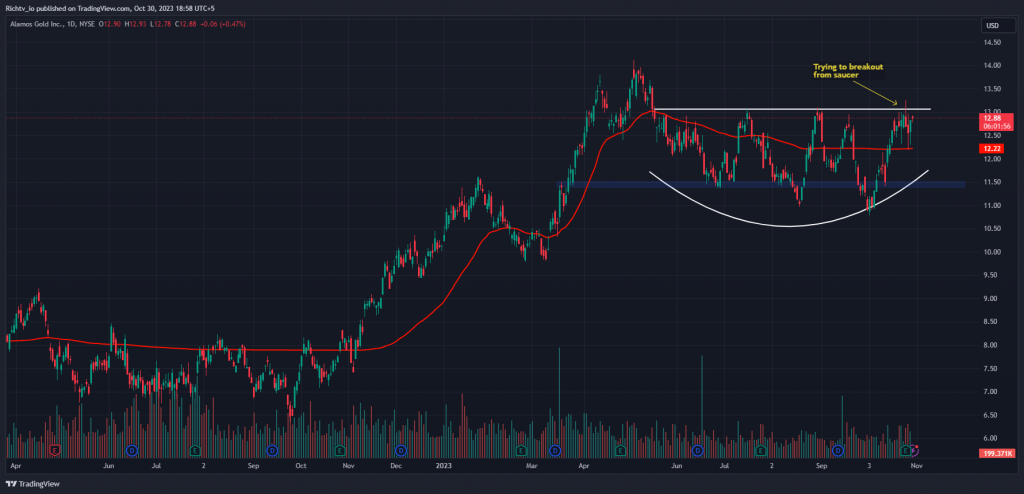 Alamos Gold Inc. (AGI), the Canadian gold and silver mining company, has recently reported outstanding earnings results that surpassed market expectations. This success was not only financial but also operational, with the company producing 135,400 metallic ounces above their quarterly guidance. AGI has demonstrated robust performance in the metals market, having sold 132,633 ounces of gold at a realized price of $1,932 per ounce, a significant margin above the London precious metals fix.
Notably, AGI's key mining locations, specifically Island Gold and Mulatos District, have consistently exceeded production expectations. This strong operational performance has contributed to the company's solid free quarterly cash flow, which stands at an impressive $91 million.
Given AGI's stellar financial and operational performance, we are bullish on the stock, particularly if it maintains its position above the $11.40-$11.50 range. The optimistic outlook sets an upside target between $17.00 and $18.00, reflecting confidence in AGI's ability to continue its robust performance and capitalize on favorable market conditions.
BTC/USD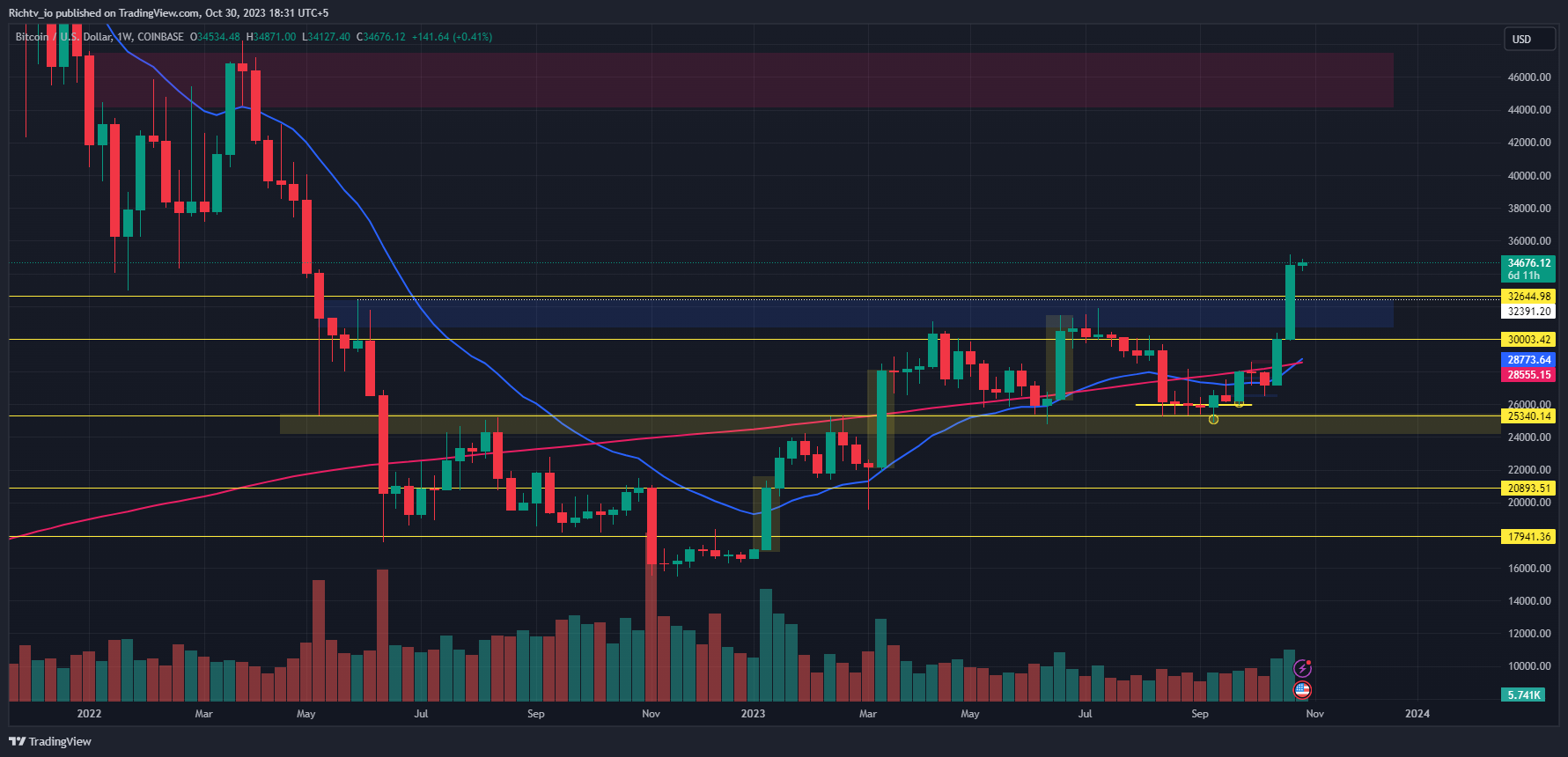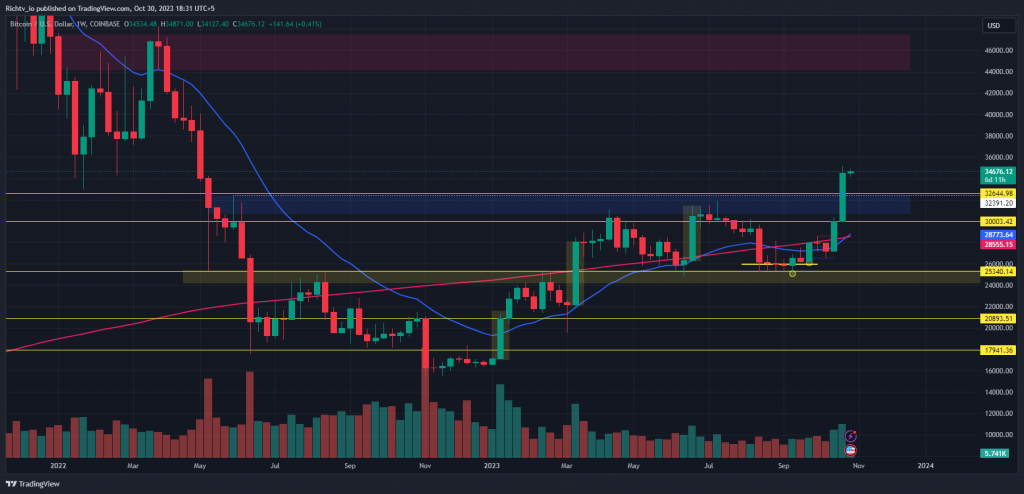 It appears that Bitcoin (BTC) has recently experienced a strong weekly close, indicating a potential shift into a new trading range between $30,800 and $47,000. This suggests a period of price fluctuation within these boundaries for the remainder of the year. Notably, both the 21-day Exponential Moving Average (EMA) and the 200-day Moving Average (MA) are trending upward in a promising bullish manner.
For traders and investors, pullbacks to these support levels at $30,800 could present robust buying opportunities, especially considering the upward trajectory indicated by the moving averages. It's important to stay vigilant and monitor the price action within this range, as it could provide valuable entry points for those looking to capitalize on potential bullish movements in the Bitcoin market.
ADA/USDT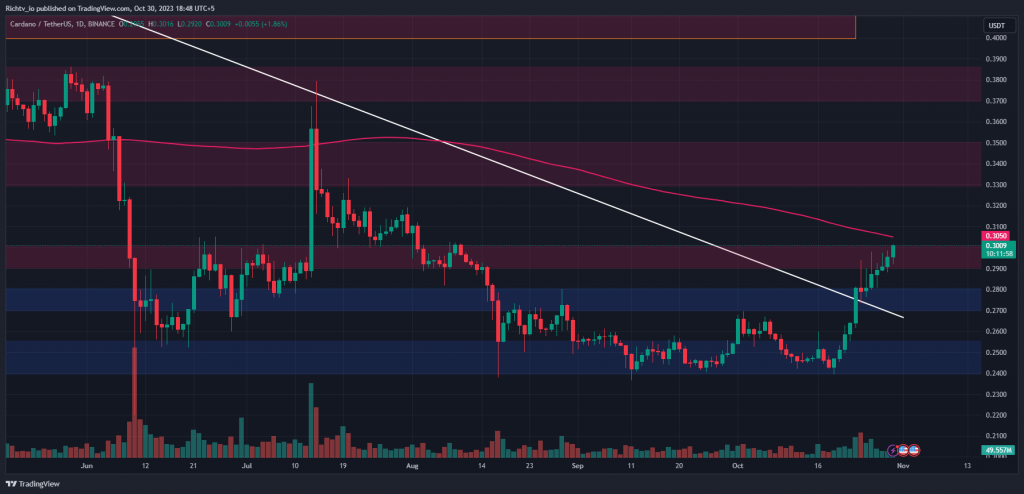 Cardano (ADA) has shown significant strength in the past two weeks, rallying from $0.24 to $0.30, representing a 25% gain. The current price is trading within the resistance range of $0.29 to $0.30, with the daily 200 Moving Average (MA) acting as additional overhead resistance. If ADA manages to surpass the daily 200 MA, the next resistance zone is situated between $0.33 and $0.35.
However, in case the price faces rejection within the current resistance area, it might retest the support levels around $0.27 to $0.28, where the previous daily resistance line is located. Traders and investors are closely monitoring these price levels, considering potential breakout or pullback scenarios, to make informed decisions based on the prevailing market conditions and ADA's price action.