ROCK's renewable business seems to be hitting its stride with bookings almost doubling in Q1 2023. The demand for the company's products appears to be growing steadily, leading to a 34% backlog increase and an overall positive outlook for the future. Homebuilding and infrastructure sectors, as well as Agtech, have all seen considerable growth, with ROCK being a major supplier to several cannabis grow operations.
With favorable market conditions and strong fundamentals, the stock seems poised for continued success. Given these factors, we remain bullish on this stock, particularly if it stays above the $53.00-$54.00 range and with an upside potential target of $78.00-$80.00.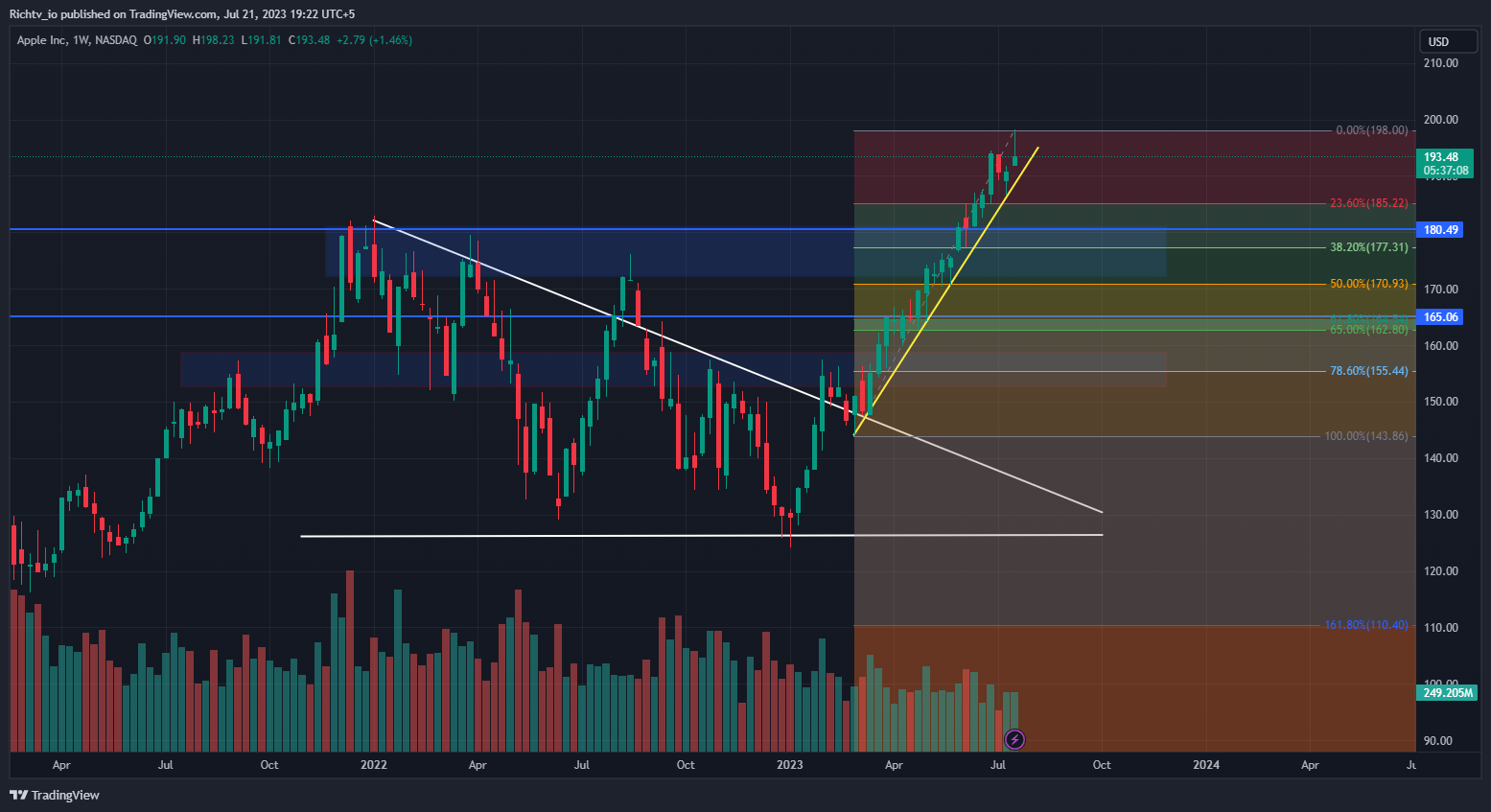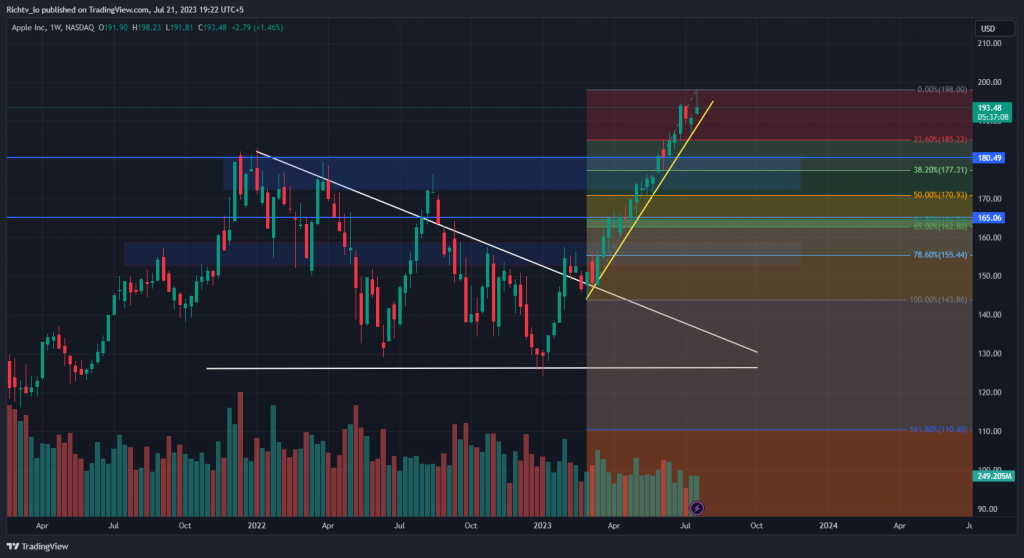 As investors and traders alike keep a close eye on Apple's stock, the weekly timeframe is showing some overextension towards the upside. This could mean that a short term pullback may be on the horizon for the tech giant. It's worth noting that Apple has yet to retest the 23.60% fib level, which could also contribute to a potential downturn.
Additionally, the daily timeframe is indicating the possibility of a double top formation. If Apple stock were to break below the uptrend line, it could be a signal for a short term move lower to retest the previous all-time-high level of $180. These are all important indicators to keep in mind for those invested in Apple's stock.
BTC/USD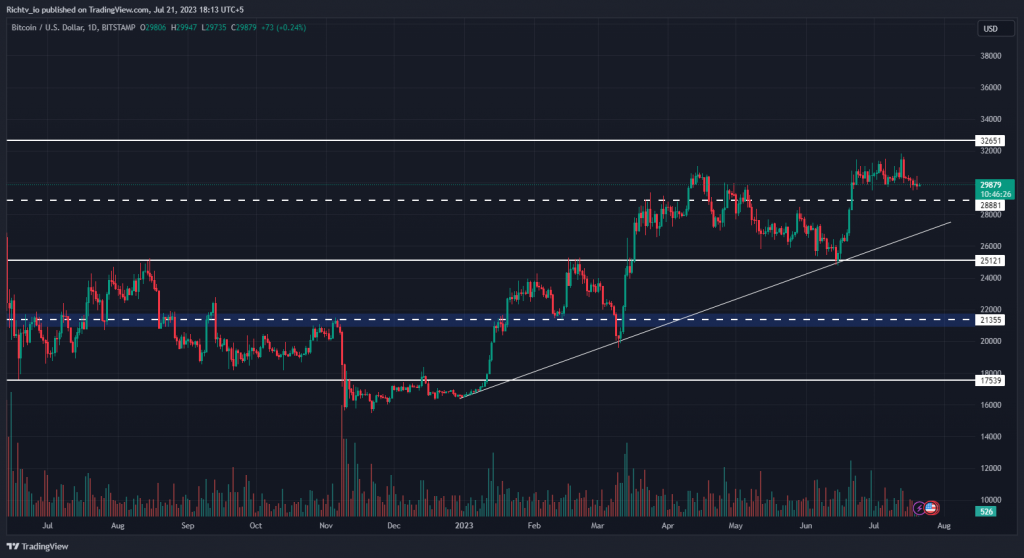 The world of Bitcoin can be a bit mysterious, but one thing is clear: BTC is currently stuck within a broader range. Despite fluctuations in the market, the coin has remained relatively steady in this confinement.
However, if it were to drop down further, there is something to look forward to. Support is likely to be found at the quarterly range level of $28,881, which would cause a sweeping motion before a direct push back up to clear the range high at $32,651. While some traders may be anxiously waiting for movement, this prediction offers a glimmer of hope for those invested in Bitcoin's future.
Bitcoin Dominance (BTC.D)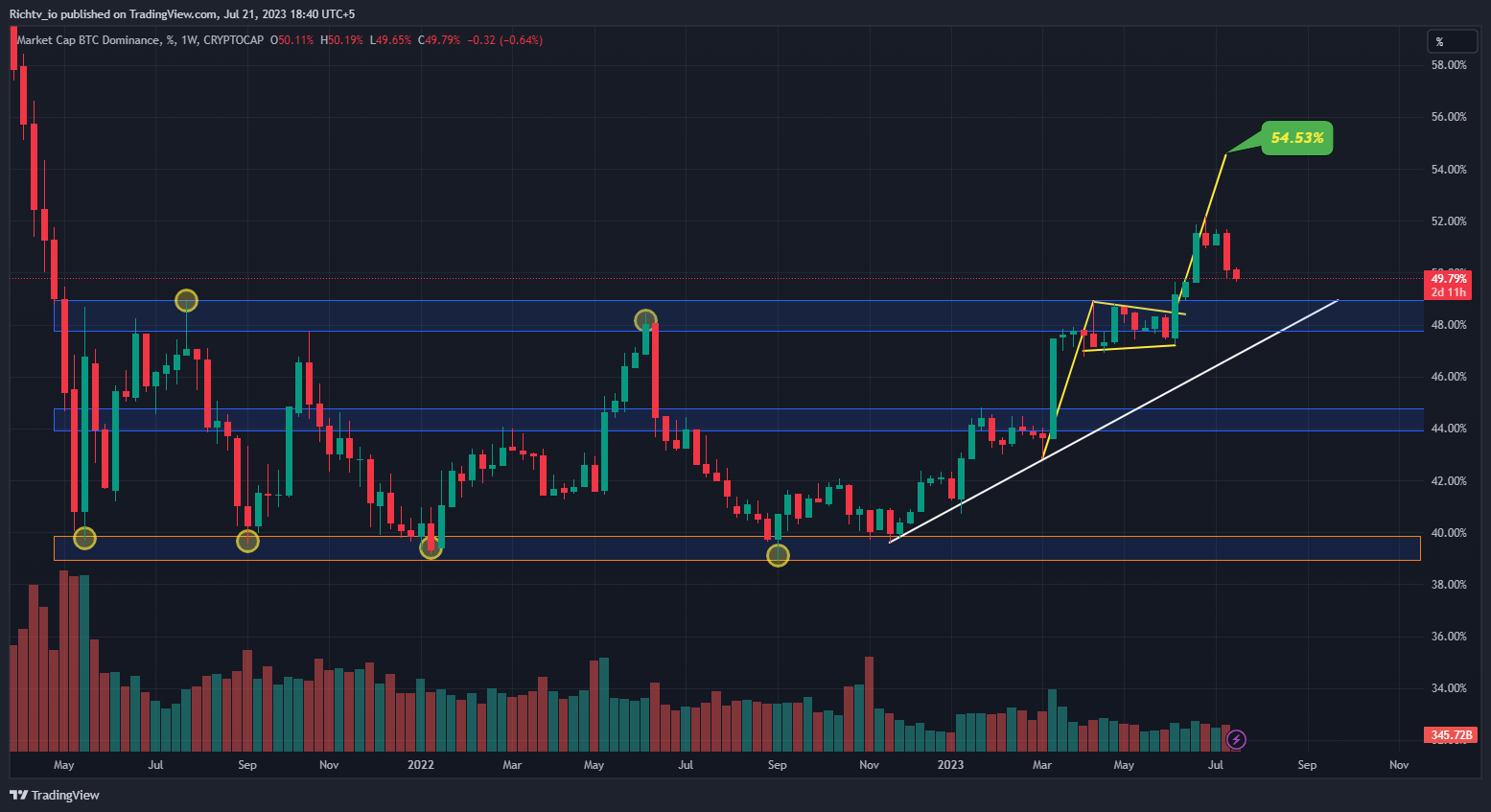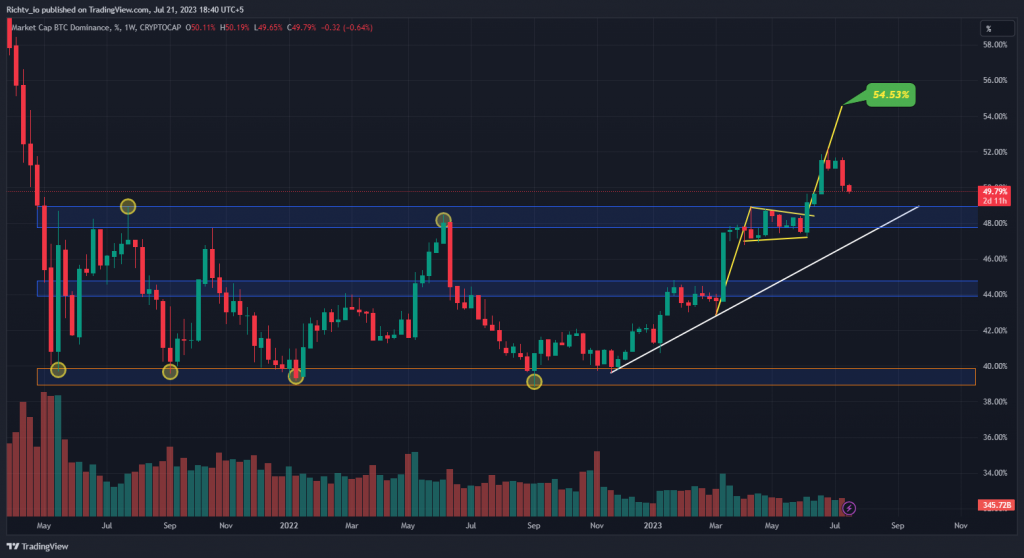 As Bitcoin's dominance continues to dip down towards the breakout level at 48.41%, many cryptocurrency traders are watching with bated breath to see what happens next. After all, this was the level at which the bull flag pattern broke out, ultimately leading to a measured move up to 54.53%. While it may seem like the pattern has failed, it's not truly over until Bitcoin dominance breaks back down into the range – in other words, until it loses the 48.41% level.
For traders keeping a close eye on the market, this is a moment of anticipation and uncertainty. Will BTC dominance continue its downward trend, or will it rise again to take the lead? Only time will tell.