Amazon (AMZN) is a global online retailer that needs no introduction. The company has undertaken a remarkable cost-cutting project since the outbreak of Covid-19 by transitioning from a national-based distribution model to a regional-based one. This strategic move has helped improve supply chain efficiency and mitigate systemic risk for Amazon.
By implementing a regional-based distribution network, Amazon has successfully reduced the miles driven per delivery by a staggering 19%. Currently, 76% of its U.S. supply chain operates within this system, which has made the company less prone to supply chain disruptions.
To further decrease delivery times, Amazon has strategically focused on driving customers towards signing up for Prime, their subscription service. Over recent years, the subscription cost for Prime has notably increased, and Amazon expects this shift to drive more revenue and earnings growth in the long run.
However, Amazon's ambitions go far beyond efficient supply chain management and fast delivery. The company is also making significant strides in the field of artificial intelligence (AI). Its existing AI products offer an extensive suite of cloud services, making Amazon a frontrunner in the AI-arms race.
Considering these factors, we maintain a bullish outlook on AMZN, provided that the stock remains above the $120.00-$125.00 range. Our upside target for Amazon's stock is projected to be $175.00-$180.00, reflecting the company's strong potential for growth and dominance in the e-commerce industry.
FIL/USDT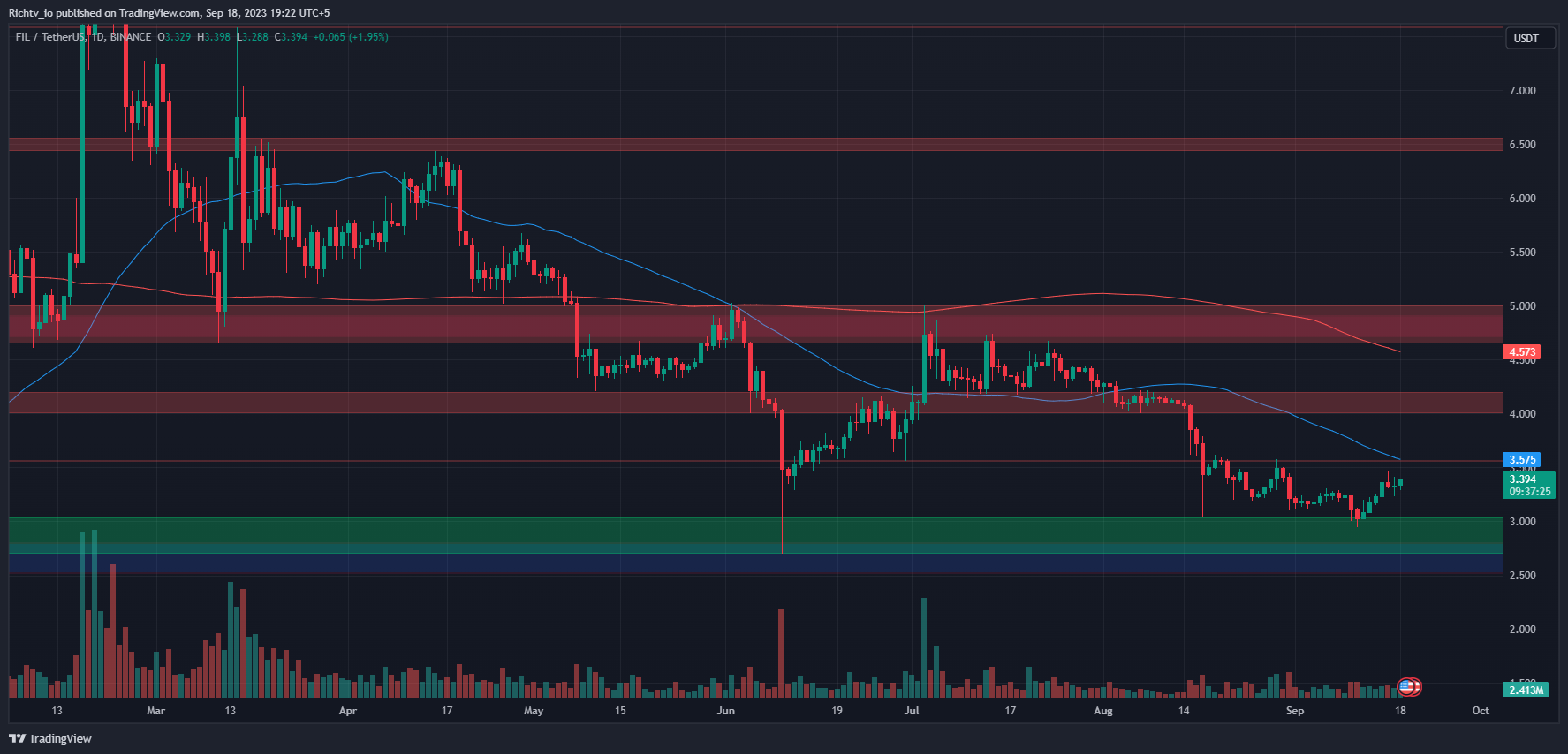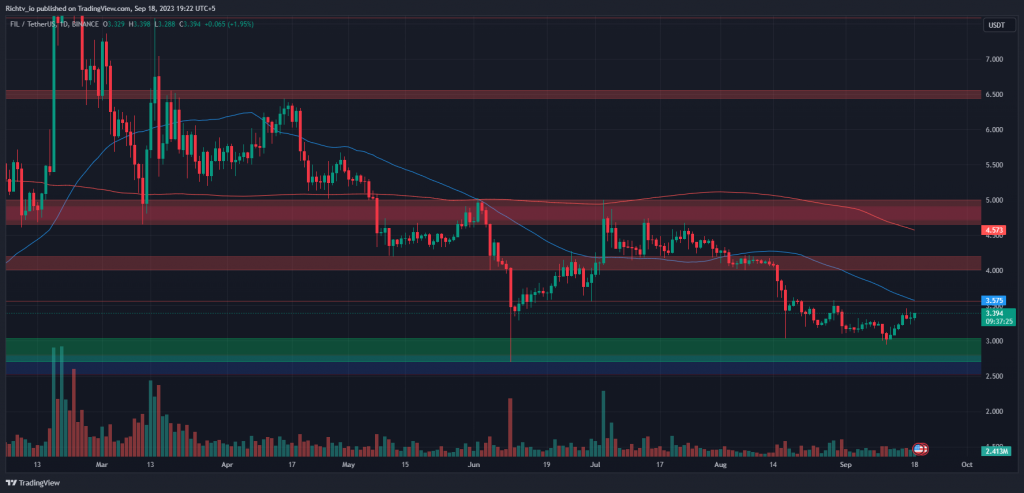 Prominent influencers in the cryptocurrency space have been creating a buzz around Filecoin, touting it as an upcoming dominant narrative. However, despite the hype, FIL has been following a sharp downward trajectory, suggesting that it may be heading towards a lower high around $4.50. There is even a possibility that it could decline further and touch its range lows, with a potential dip below $2.50. This potential drop in price could actually be viewed as a prime opportunity for investors looking to accumulate more FIL tokens.
While it may be concerning to witness FIL's current decline, it is essential to keep in mind that the cryptocurrency market is notorious for its volatile nature. Fluctuations in price are not uncommon, and they often present opportunities for savvy investors. The projected dip to $2.50 or below could be seen as precisely that: a favorable chance to accumulate more FIL tokens at a lower cost.
However, if you are a believer in the long-term growth potential of Filecoin and have been eyeing an entry point, the potential price drop to $2.50 could be an optimal time to consider accumulating this digital asset.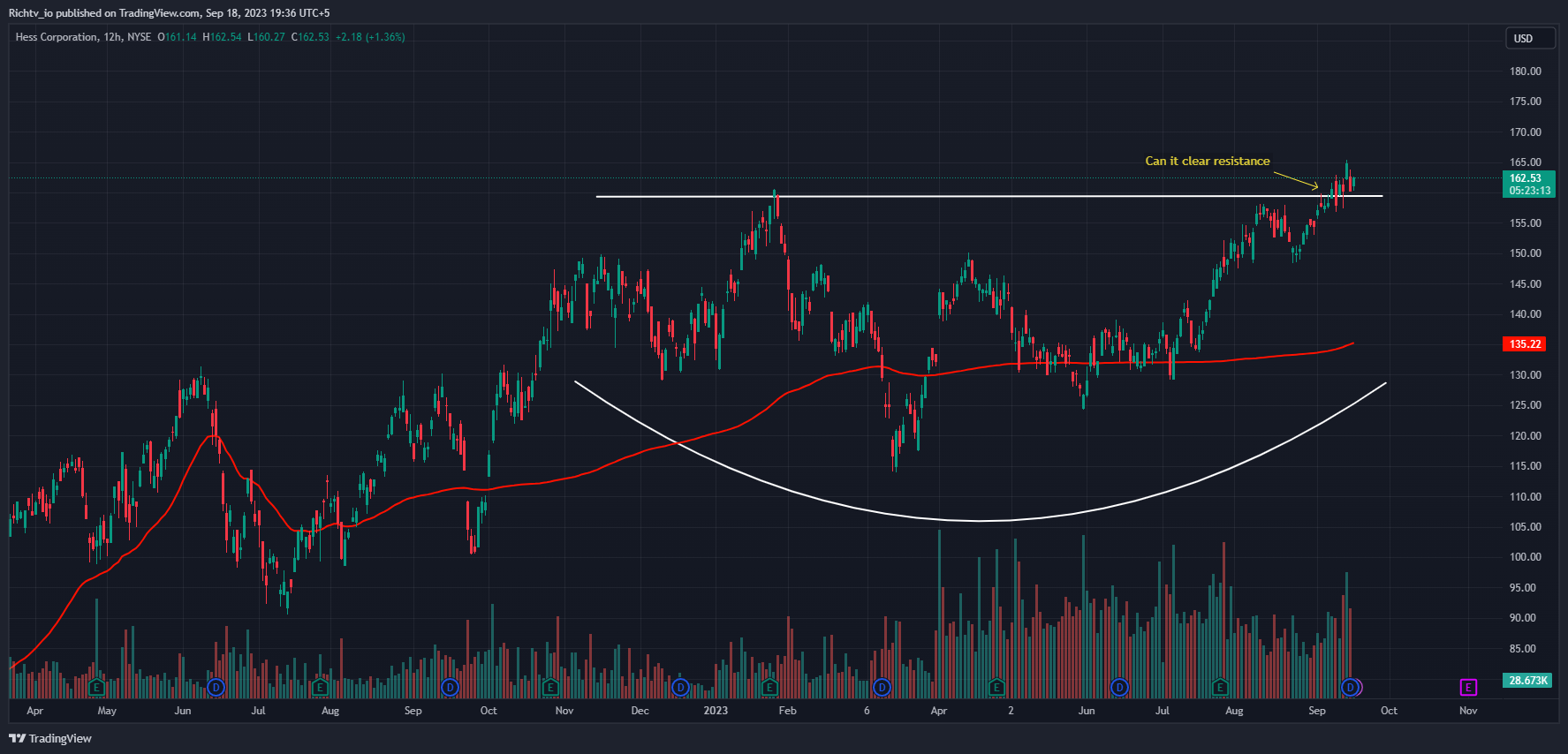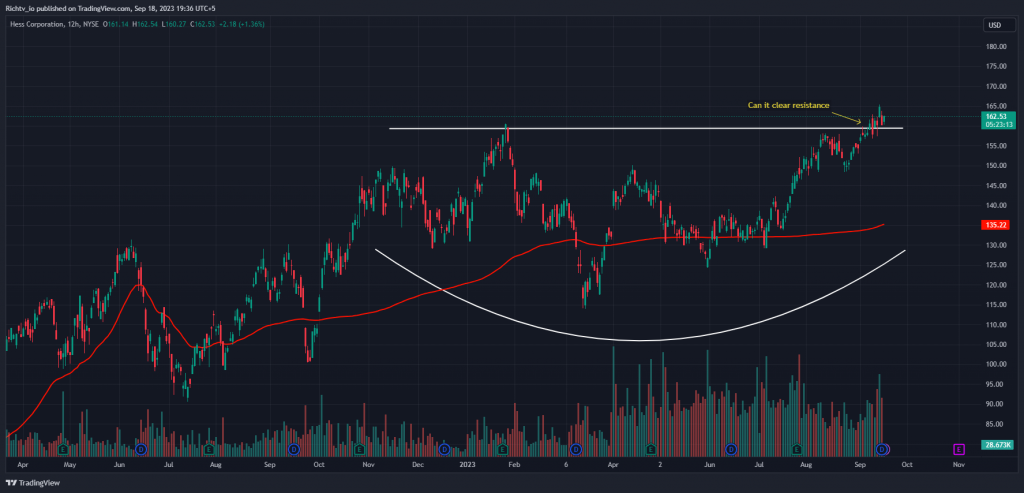 Hess Corporation (HES) is an energy exploration and production company that is making great strides in the industry. One of their most noteworthy achievements is the tremendous resource growth they have experienced, particularly in the country of Guyana. With ongoing developments coming back online, Hess is set to see even more success in the coming years. A key factor contributing to Hess's success is their robust inventory of high-return drilling locations in the Bakken region. In fact, Hess is projected to achieve a growth rate of over 10% annually through 2027.
Another significant advantage that Hess holds is its low-cost of supply. In Guyana, one of their main production areas, the breakeven rate for production is an astonishingly low range of $25-$35 per barrel. Moreover, management is confident that this breakeven rate could fall even further to $10 per barrel by 2027, solidifying their position as a cost-efficient energy producer. Since 2015, Hess has made remarkable discoveries in the Stabroek Block, with more than 30 oil sources found. These discoveries have the potential to generate an astounding 11 billion barrels of oil equivalent, marking a significant contribution to the company's resources.
Given the positive outlook for Hess, many investors are optimistic about the company's future. In fact, the stock is currently trading above $144.00-$145.00, and experts anticipate an even higher upside target of $200.00-$210.00. This serves as a testament to the confidence investors have in the company's performance and potential.
Crypto Total Market Cap (TOTAL)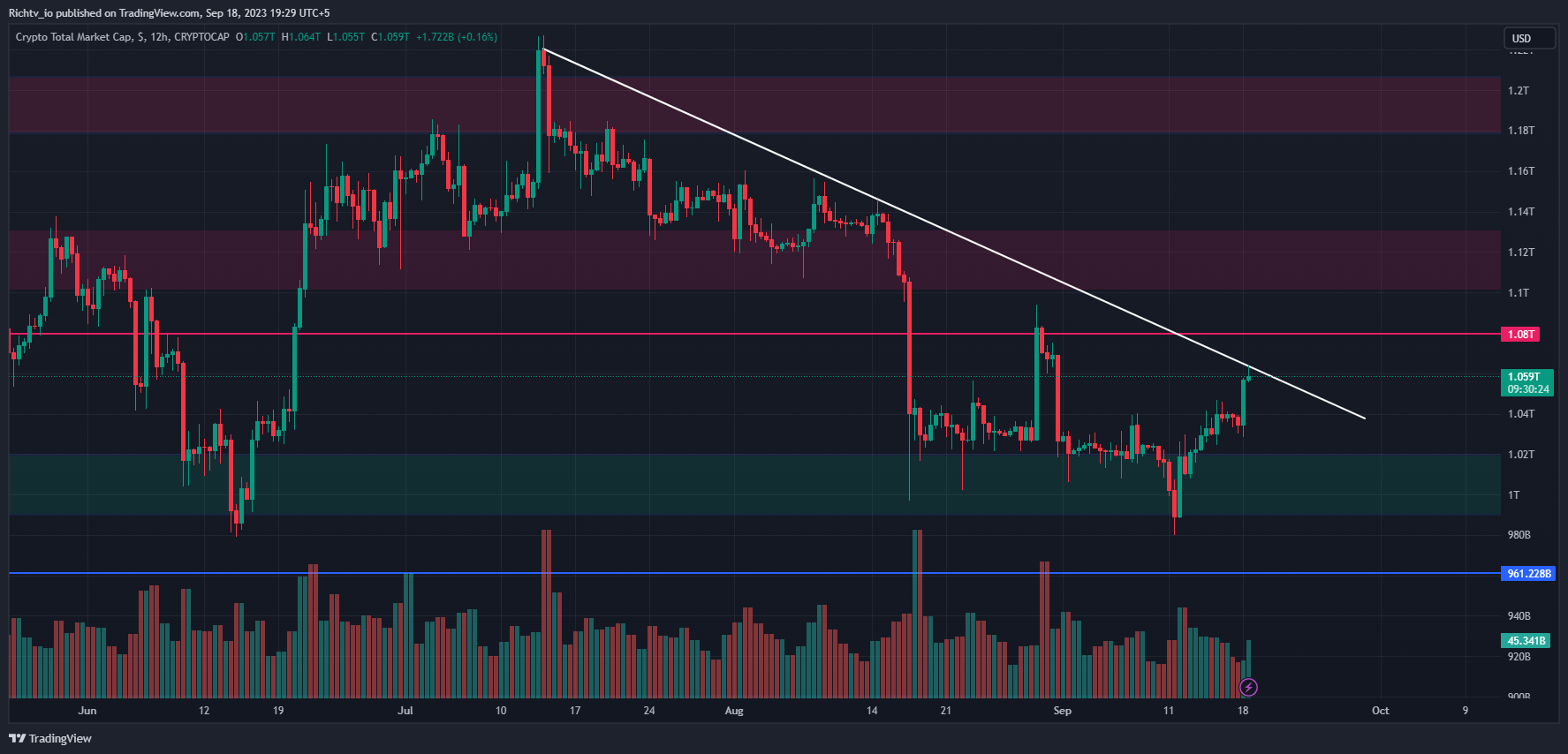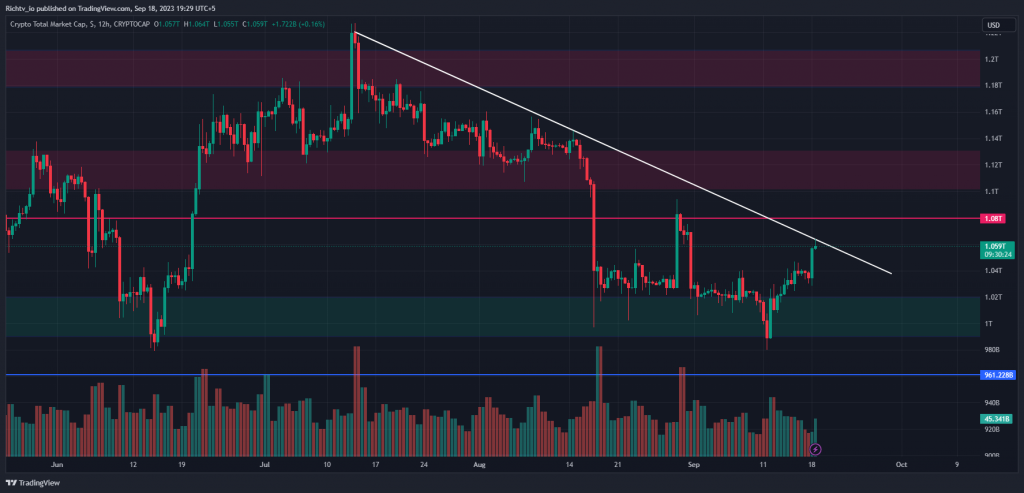 Over the past week, the TOTAL has experienced a considerable rise, reaching an impressive $1.05 billion. What's even more interesting is that it is now approaching the descending resistance line that was established back in July.
If the TOTAL manages to break through this resistance line, we could witness some truly remarkable outcomes. It may very well soar to the next level of resistance at $1.08 billion. Imagine the potential gains and the opportunities that could come along with it! It's definitely something to keep a close eye on.
However, we can't ignore the possibility of a rejection in this area. If that were to happen, the TOTAL might experience a slight dip and drop down to around $1.02 billion. Don't fret though, as this could potentially provide another opportunity for buyers who missed out on the initial rise. So, while it might not be ideal for some, others could see it as a chance to jump in before the next surge.