The oil and gas industry continues to thrive, despite growing concerns about climate change and reducing carbon emissions. TechnipFMC, a global leader in subsea production systems, has been at the forefront of this sector and was recently awarded a pair of lucrative contracts, including a major contract in Australia worth between $75-250 million, and a massive deal in Brazil worth over $1 billion. Investors have been closely monitoring TechnipFMC's performance, and the company's total company backlog increased by an impressive 13% to $10.6 billion in the recent quarter, indicating that there are still plenty of opportunities and demand for TechnipFMC's services.
Additionally, the company announced a significant 20-year partnership with Chevron Australia to modernize and upgrade subsea production systems, FTI bullish with stock remaining above $13.00-$14.00, Upside target of $19.00-$20.00 which further highlights TechnipFMC's commitment to innovation and safety in this rapidly evolving landscape.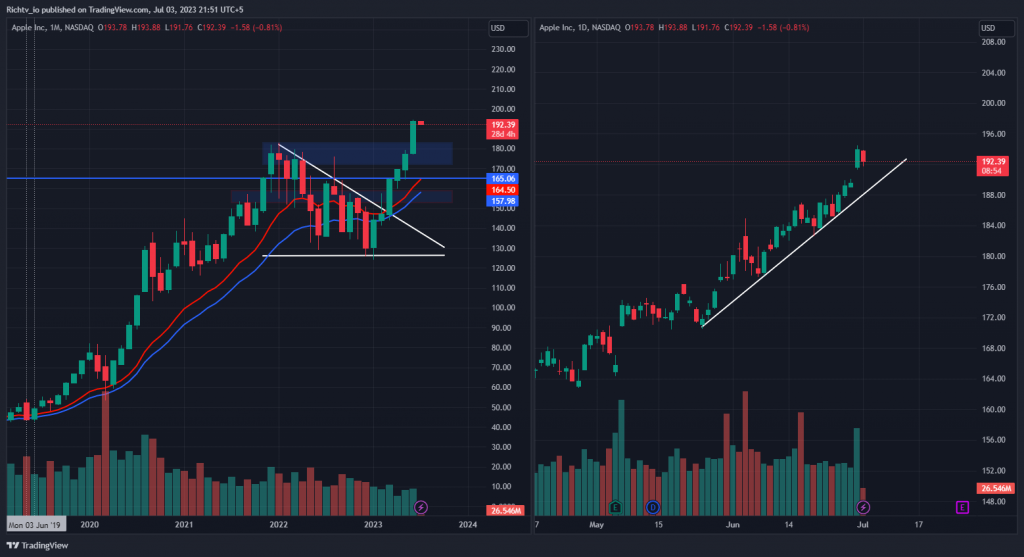 The movement of Apple's stock is something that has caught the attention of many investors. Looking at the monthly timeframe, it's clear to see that the breakout of the triangle formation combined with the bullish moving averages was a promising sign for Apple. Its subsequent rally of nearly 30% towards the upside only added to the excitement.
However, a short-term technical pullback is anticipated as the daily timeframe suggests after Apple's recent gap up on Friday. Despite this, many still believe that the next move for Apple will be towards the upside. The anticipation and speculation surrounding Apple's stock are sure to keep investors on the edge of their seats.
ETH/USDT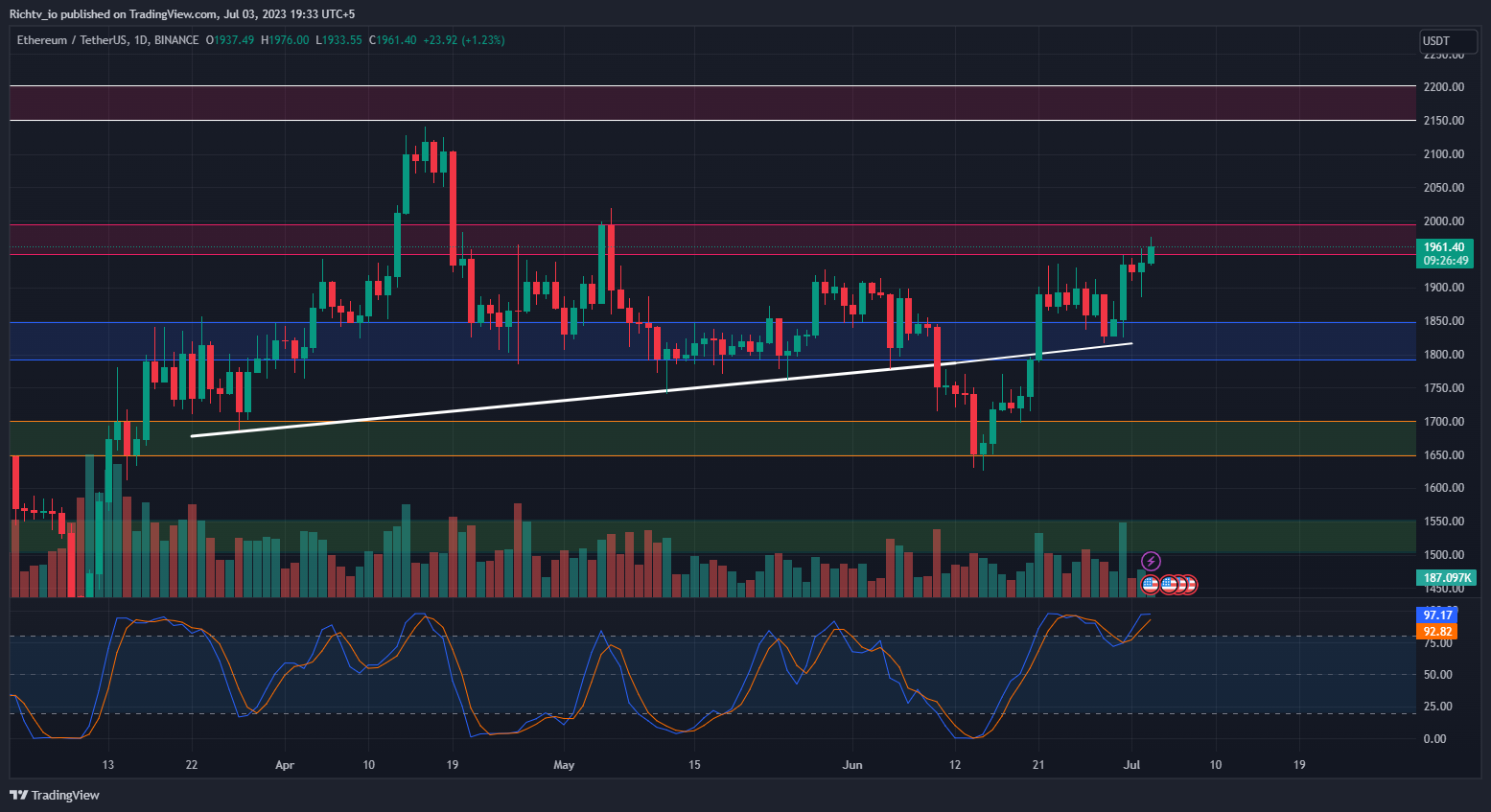 The cryptocurrency market is an ever-changing landscape, and traders and investors need to stay up to date on the latest developments to make informed decisions. Right now, one major player causing a stir is ETH, which is currently trading in the $1,950 – $2,000 resistance area. However, some experts warn that ETH may be overbought on higher time frames, which could mean a potential retracement is on the horizon. If that happens, we could see ETH heading to $1,800 – $1,850.
And if things take a turn for the worse, a failure to hold that support level could mean a drop to $1,650 – $1,700. But, on the flip side, if ETH continues its upward trajectory and manages to break through the $2,000 barrier, we could see it soar to $2,150 – $2,200 in no time. It's an exciting time in the world of cryptocurrency, and keeping an eye on ETH is crucial for traders looking to make gains in this volatile market.
SOL/USDT
Investors in SOL have certainly had a lucrative past couple of weeks. The digital asset has soared from $13 up to $20, depicting a significant increase in just a short time. However, as they say, "what goes up must come down," and the price of SOL is now facing resistance. With SOL being overbought on higher time frames, it could either find support in its current range of $19 and $20 or experience a deeper retrace to around $18, or even $16 if the $18 level is broken. On the bright side, if both the daily descending resistance line is broken, and the $20 to $21.50 area of resistance is successfully overcome, the price of SOL could skyrocket to $24 – $26.
The future may be uncertain, but it is vital to weigh all the different possibilities before making any trading decisions. We still think SOL has further upside in July, and a short-term retracement in the price could provide a good opportunity for a long entry – once the trend reverses to the upside again.