The programmers behind Avalanche (AVAX/USD) upgraded AvalancheGo, which is effectively the Go programming language's version of the blockchain, to what is currently known as Banff 5.
In essence, Avalanche is a blockchain platform that supports smart contracts and is well-known for its speed and scalability. The network offers multi-chain functionality and allows developers to build decentralized apps (dApps) on top of it.
The Banff 5 upgrade as a catalyst for growth
The Avalanche team revealed Avalanche Wrap Messaging in the most recent cryptocurrency news (AWM). Since the release of Banff 5 (AvalancheGo v1.9.5), developers may now quickly deploy high-performance, interoperable blockchain networks.
The latest version introduces Avalanche Warp Messaging, a new communication protocol designed for Avalanche-based blockchains (sometimes referred to as subnets).
This feature's major objective is to enable various subnets to seamlessly exchange native communications while also allowing them to share data and crypto assets. This allows them to transmit resources or data between various subnets.
With this improvement, individual subnet projects will no longer need to deploy or administer their own bridges. Additionally, the mechanism may enable new use cases, such as cross-chain staking.
Should you buy Avalanche (AVAX)?
On December 23, 2022, Avalanche (AVAX) had a value of $11.803.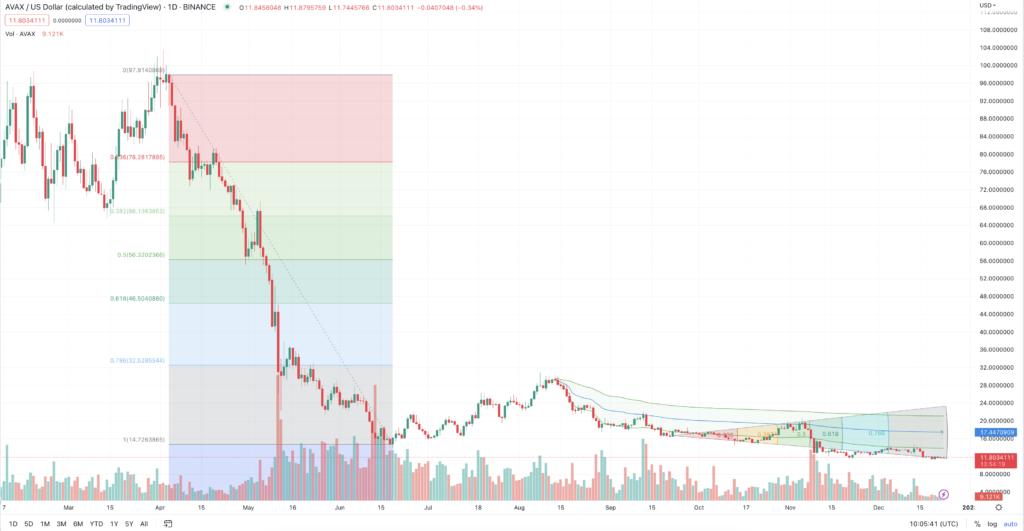 Avalanche (AVAX) reached its all-time high on November 21, 2021, when the price was $144.96.
Here we can see that at its ATH, the token was $133.157 higher in value, or 1,128% higher.
AVAX's seven-day performance showed that its high point was $12.61 and its low point was $11.32. Here, we can see a 10%, or $1.29, difference in value.
Regarding the cryptocurrency's 24-hour performance, Avalanche (AVAX) reached a high point of $1188 and a low point of $11.50. Here, we can detect a $0.38 difference, or 3%, difference.
With this in mind, AVAX can climb to $13 by the end of December 2022, so investors will want to take up the opportunity to buy AVAX.
Reading More: