Bitcoin is still in line for a breakout, analysis concludes, as short-term weakness sees BTC price fall below $22,500.
Bitcoin (BTC) $22,641 saw weakness at the Jan. 25 Wall Street open as United States equities fell.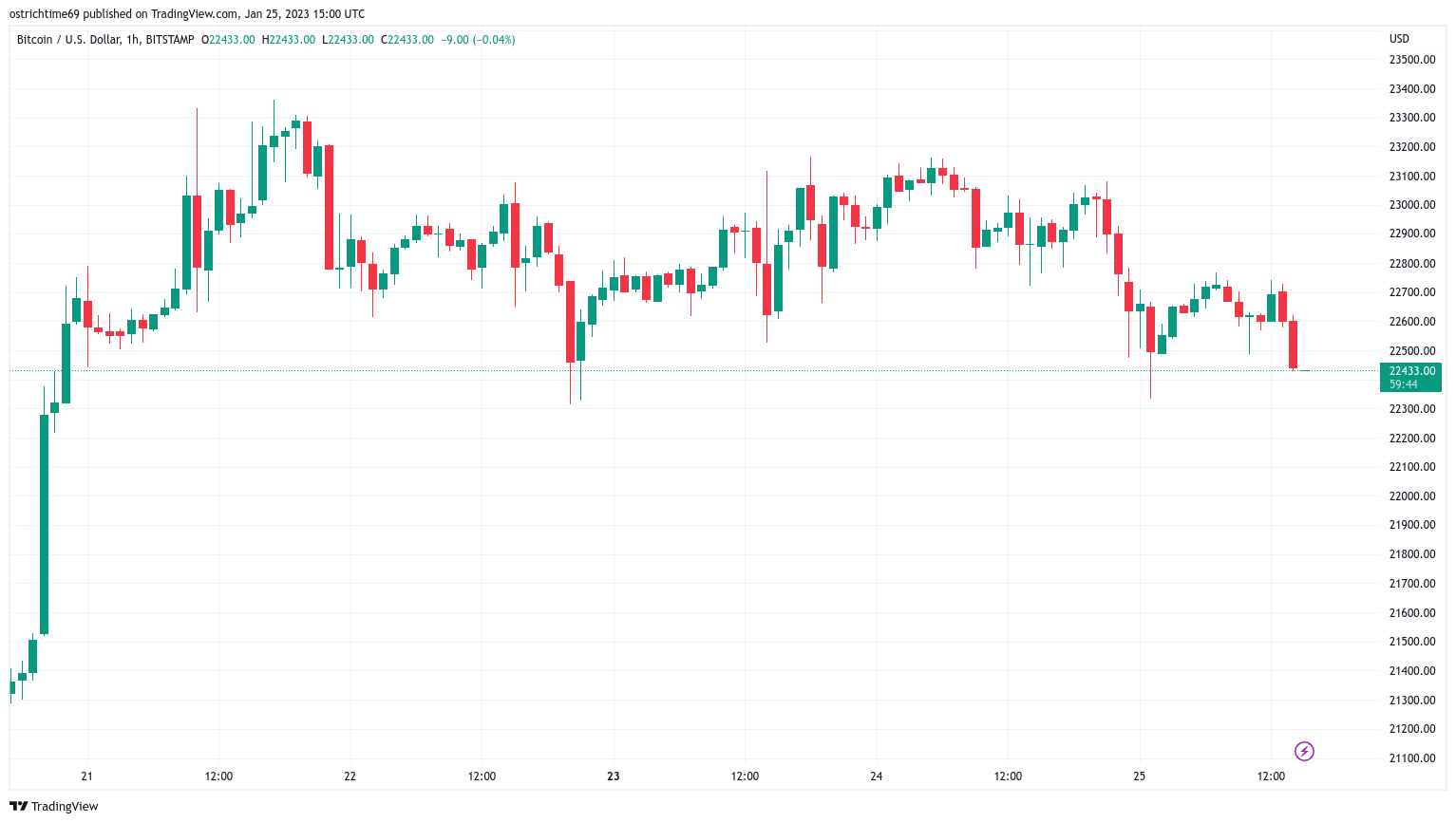 BTC price faces stiff resistance
Data from Cointelegraph Markets Pro and TradingView showed BTC/USD heading below $22,500 after failing to crack resistance near five-month highs.
U.S. stocks saw a weak start to the session, with the S&P 500 and Nasdaq Composite Index down 1.1% and 1.6%, respectively, at the time of writing.
Bitcoin bulls had themselves faced trouble, attempting to push into an area of liquidity above $23,400, remaining unchallenged and home to a significant number of would-be short liquidations.
Traders remained on the fence, hoping a clearer trading signal would come after several days of essentially sideways price action.
"This is what I am looking for on Bitcoin with a corrective wave now, followed by another leg up to my $25,000 overall," Crypto Tony commented alongside an explanatory chart.
"Invalidation is if we began to breakdown from here."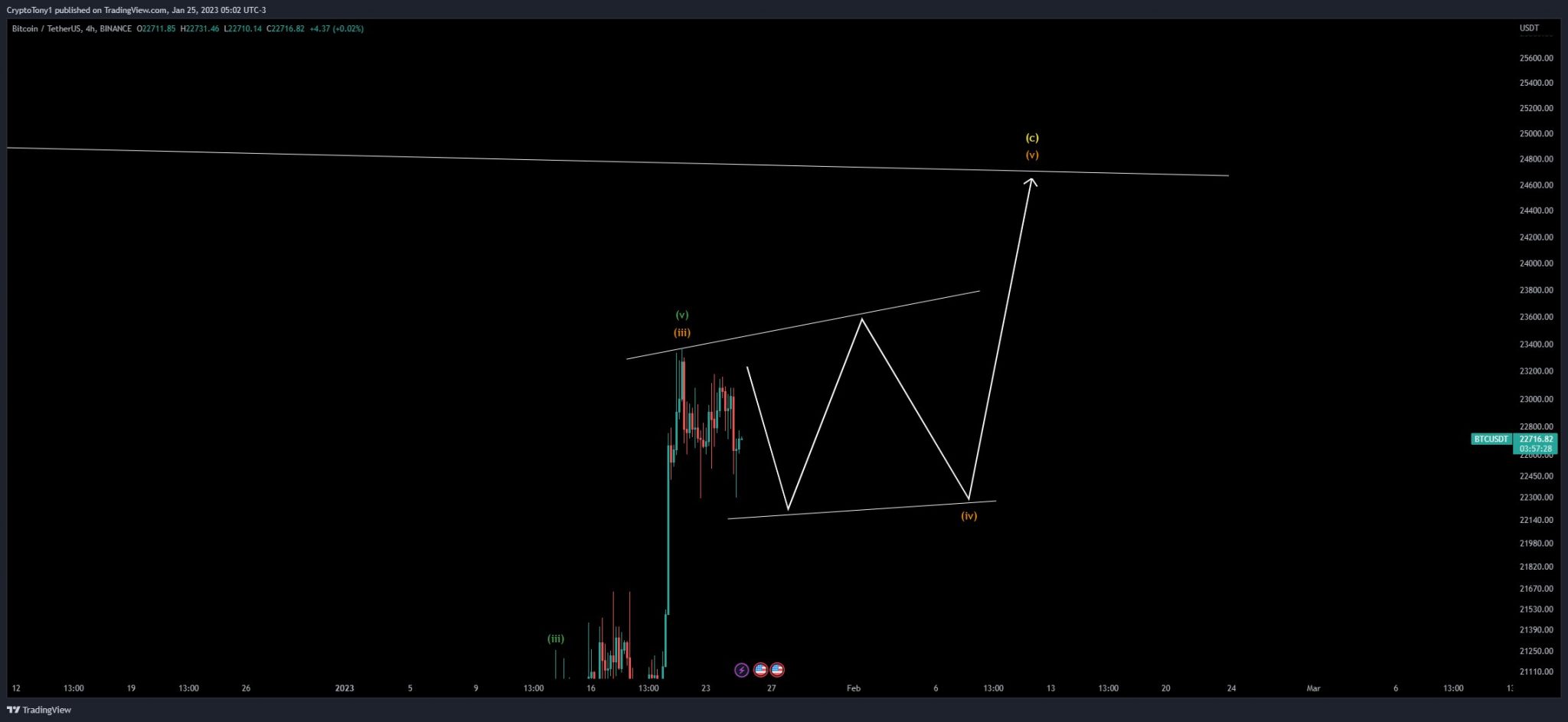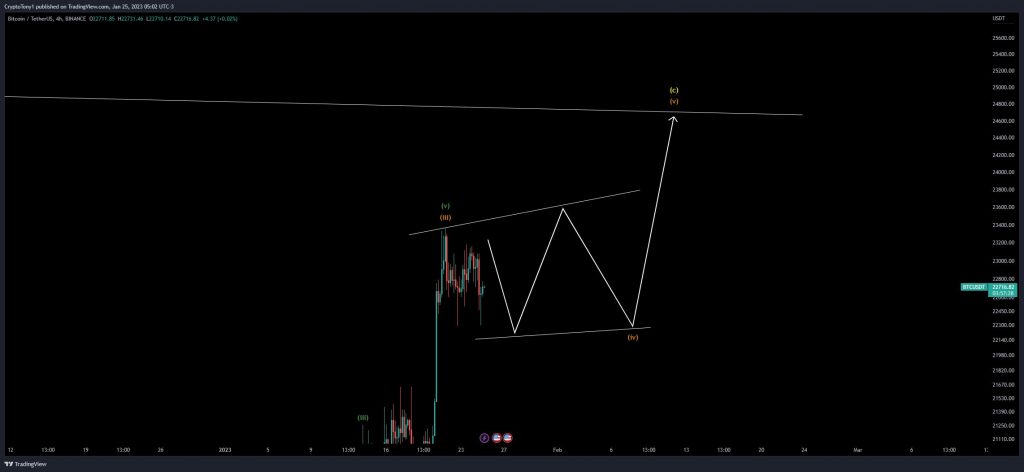 "Patiently waiting for Bitcoin to drop beneath $22.3K or break and reclaim $23.1K. In between, I don't see much of an interesting set-up," he told Twitter followers.
Some optimistic take remained, including that from Crypto Ed, who eyed a potential higher low for BTC/USD setting the stage for new highs.
Fellow trader Kaleo even suggested that $30,000 would be Bitcoin's next target.
Bitcoin correlation to gold surge
A topic of interest beyond price action focused on Bitcoin's correlation with gold and stocks.
Charles Edwards, CEO of crypto investment firm Capriole, noted that Bitcoin continued its historical tendency to play "catch-up" with gold.
"There is a relationship between Bitcoin and gold and gold is pumping," he wrote.
"When you lag the gold price, it's easier to see. Bitcoin tends to top between 0–6 months after gold and bottom 0–3 months after gold. This gap is approximate and will likely close with time."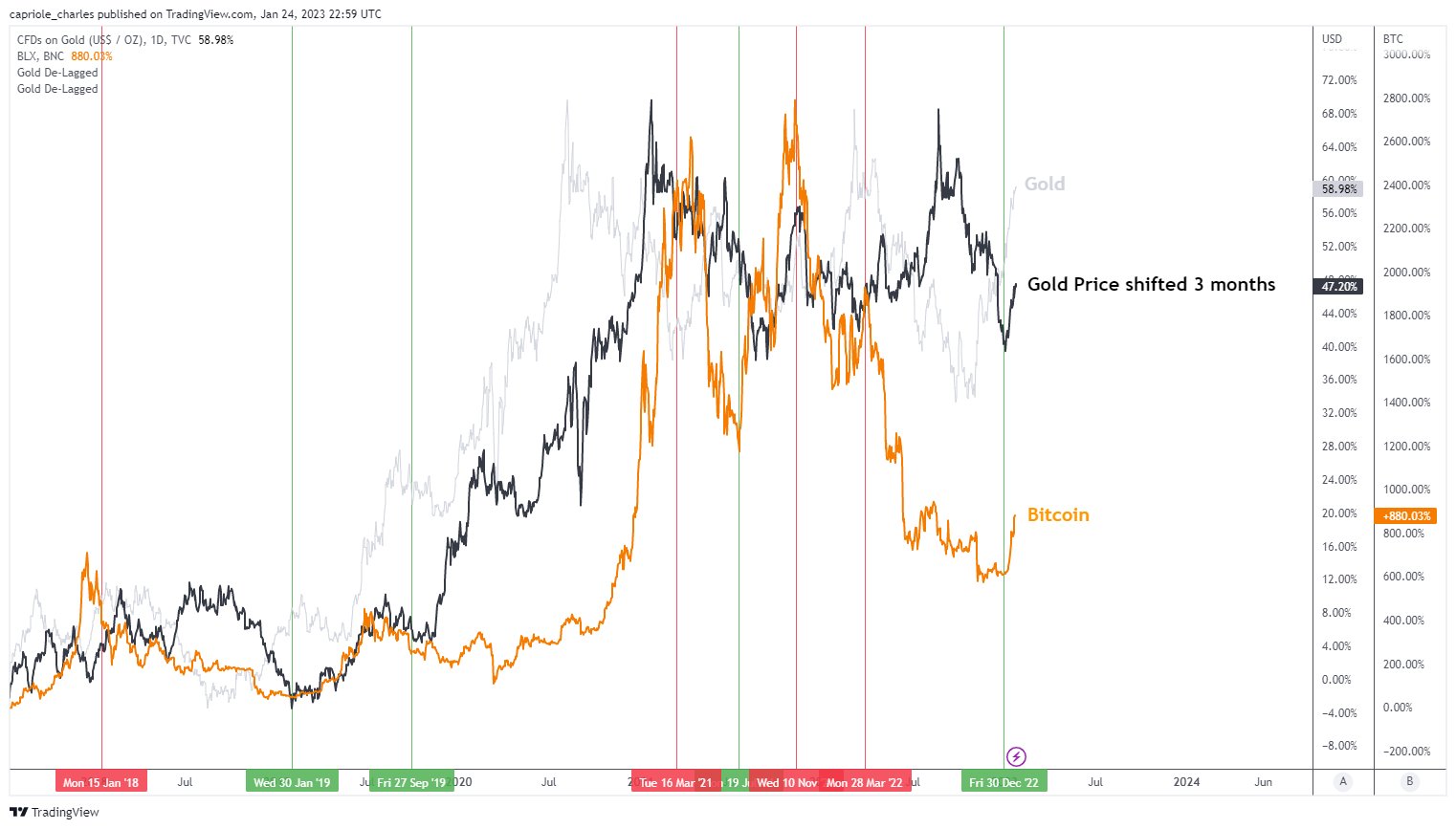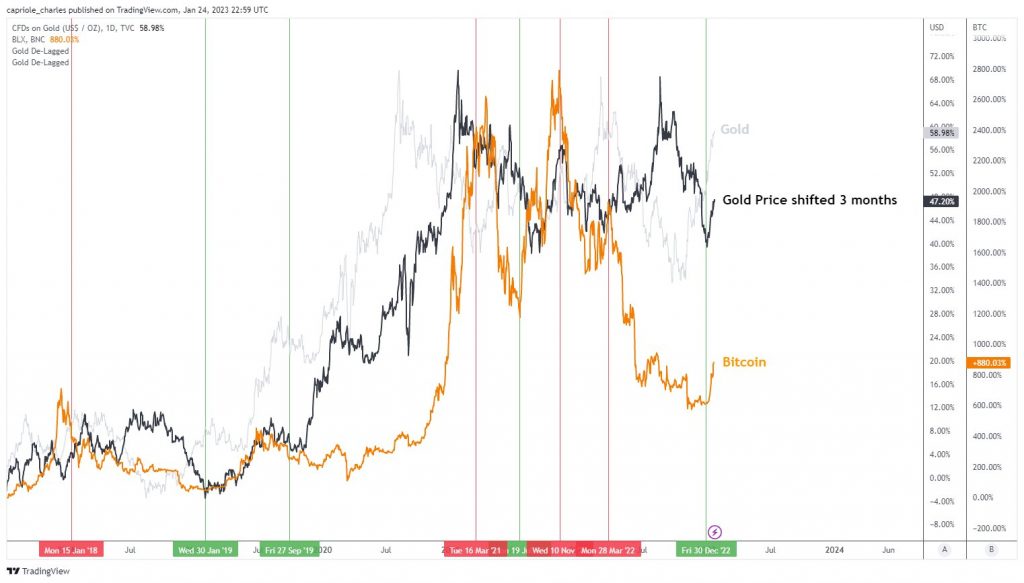 Bitcoin's correlation to gold stood at practically 100% on the day.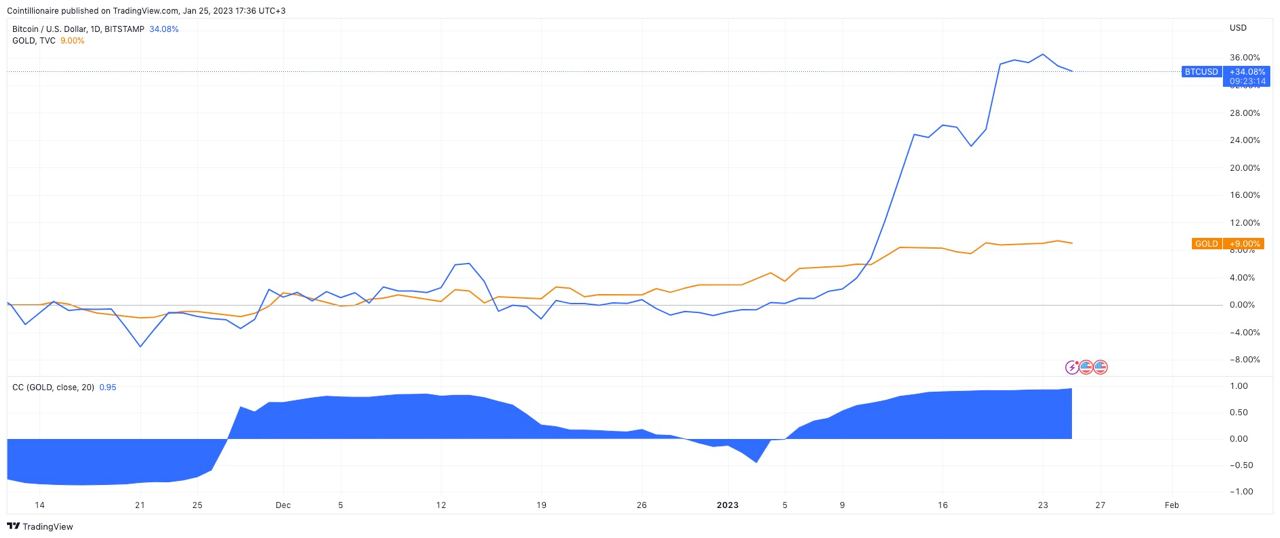 Conversely, Kaleo hoped for a "decoupling" from the S&P 500, with Bitcoin primed to break out to the upside.
"BTC broke out above HTF resistance dating back to the November '21 ATH ~two weeks ago," a further tweet stated.
"It looks like it's about to continue that trend, as it's currently on the verge of breaking out of a pennant it's been accumulating in above support."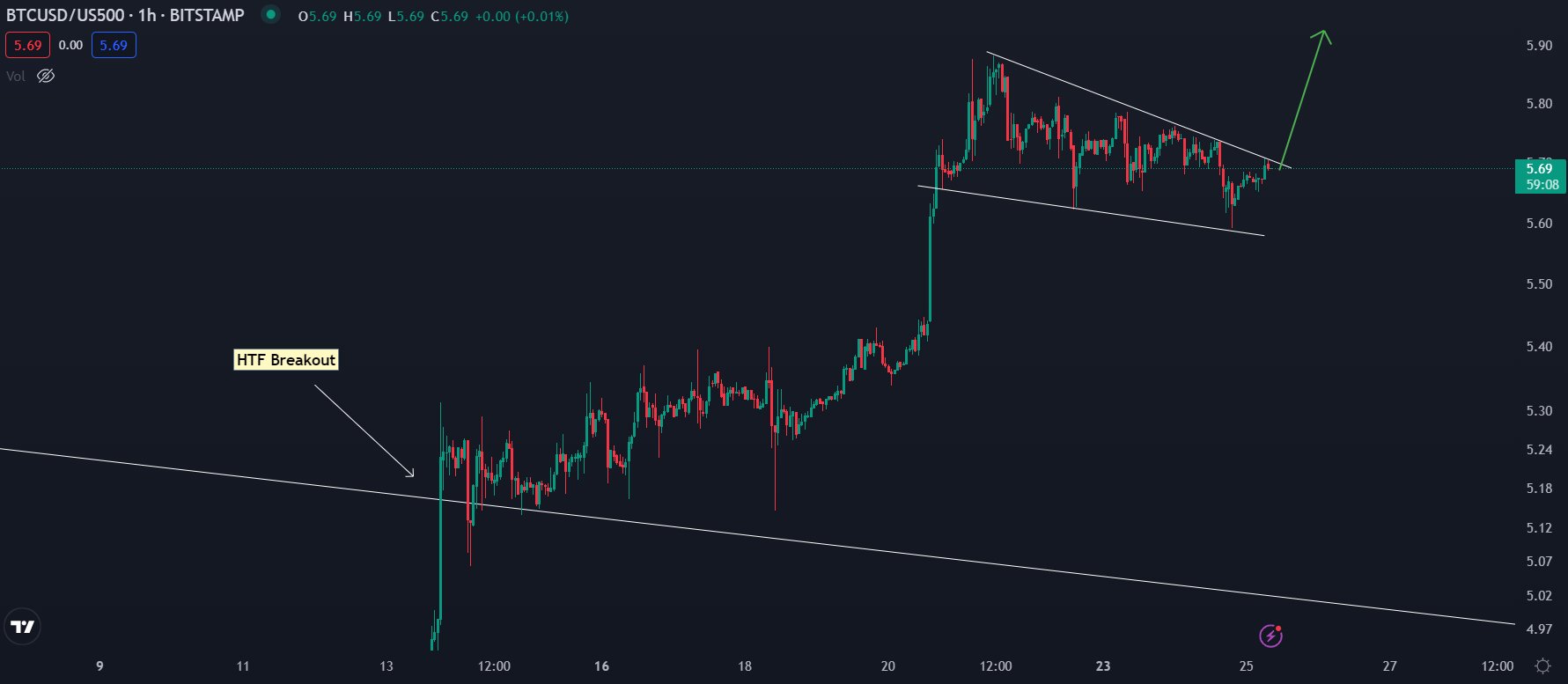 Reading More: