Bitcoins mining difficulty set a new milestone by increasing 10.26% to 37.73 trillion at block height 772,128 on January 15, 2023. The network is now experiencing the highest level of difficulties. This indicates that, on average, it requires 37.73 trillion hashes, or attempts, to locate and add a legitimate bitcoin block reward to the blockchain.
2023's First Bitcoins Mining Difficulty Increase Outpaces All but One of the Difficulty Increases in 2022
About 286.36 exahashes per second (EH/s) of hashrate are allocated to the Bitcoin (BTC) blockchain as of 8:15 p.m. Eastern time on Sunday, January 15, 2023. At 4:11 PM Eastern time, the block height had increased by 10.26% to 772,128, and the Bitcoin network encountered trouble retargeting.
Finding a BTC block is extremely challenging because the mining difficulty for bitcoin was about 34.09 trillion last week and reached an all-time high (ATH) of 37.73 trillion on Sunday. Before the difficulty increase on January 15, 2023, the greatest difficulty rating on the Bitcoin blockchain was 36.76 trillion on November 6, 2022.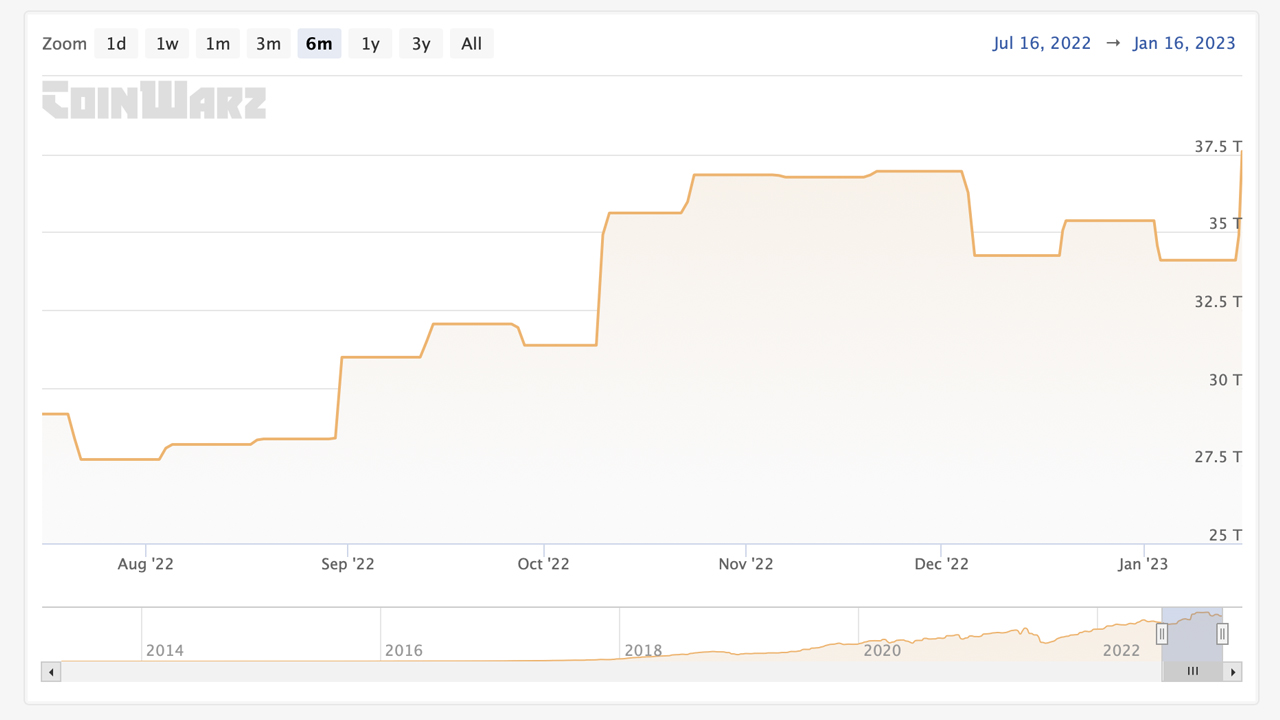 Bitcoins mining difficulty has increased by 2.63% from the previous peak. The difficulty increase as of January 15 is also greater than all but one of the increases from the previous year. The difficulty grew by 13.55% on October 10, 2022, at block height 758,016, which was the highest rise in 2022. Profits for Bitcoin miners have increased as the cryptocurrency price has increased by 22.7% over the past seven days. However, profits will be much tighter due to the 10.26% difficulty increase.
As the network's hashrate hit an all-time high of 361.20 exahashes per second (EH/s) on January 6, 2023, at block height 770,709, the new year started off strongly for Bitcoin. This was higher than the previous record of 347.16 EH/s, which was established on November 12, 2022. Faster block intervals and the Sunday afternoon difficulty increase resulted from the high hashrate.
Miners will remember 2023 since two records were set in the first month of the new year. BTC was selling at $20,876 per coin at the time of publication, whereas the cost of producing one Bitcoin was estimated to be $17,377 per unit, based on statistics from macromicro.me.
Additionally, the concentration of mining pools has increased dramatically over the previous three days, with two mining pools controlling more than 56.68% of the total hashrate. According to statistics, Foundry USA, the top mining pool, has a hashrate of 97.03 exahashes per second (EH/s), compared to Antpool's 55.92 EH/s.
The current block interval time for Bitcoin is roughly 8 minutes, 26 seconds, and the next change in the Bitcoin's Mining Difficulty is anticipated to take place on or around January 28, 2023. The average hashrate for the previous 2,016 blocks has been approximately 268.9 exahashes per second (EH/s), despite hitting an all-time high on January 6. There are currently 1,736,531.23 Bitcoin (BTC) waiting to be found, with 67,846 blocks still needing to be mined before the next reward halving.
What are your thoughts on the impact of the all-time high Bitcoins Mining Difficulty level? Share your perspective in the comments section below.
Reading More: