After experiencing all-time highs in cryptocurrency prices in 2021, going through the Luna implosion in 2022, and seeing countless cryptocurrency businesses fail, a newcomer to the meme coin BONK recently launched on the Solana network. With a market valuation of over $63 million, the cryptocurrency bonk inu (BONK) currently has a token supply of about 41.5 trillion.
BONK Sees Market Cap Soar to $204 Million Before Plummeting to $63 Million in 24 Hours
The sixth-largest meme coin asset today is a new meme token named bonk inu (BONK), a dogecoin (DOGE), and shiba inu (SHIB) want tobe. The BONK development team and its "one pager" claim that Bonk is the "first Solana dog coin for the people with 50% of the total supply airdropped to the Solana community."
The airdrop helped to increase the price of solana (SOL) recently after the project had been experiencing negative press because of its previous associations with Sam Bankman-Fried, Alameda Research, and FTX. The one pager for Bonk goes on to say that its creators "were sick of poisonous 'Alameda' tokenomics and wanted to build a joyful memecoin where everyone gets a fair shot."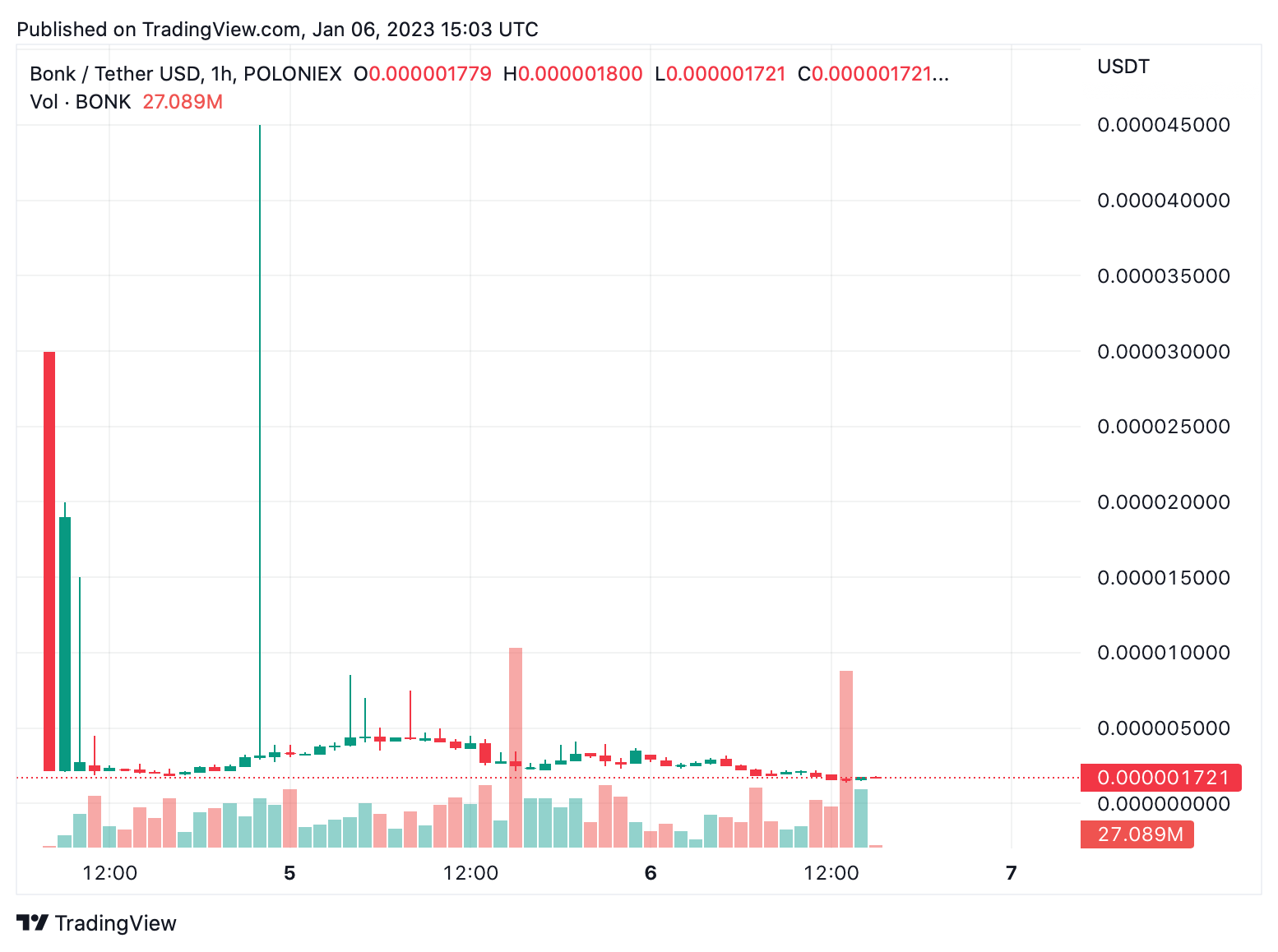 50% of BONK distribution was split into fractions, and 20% went to Solana-based non-fungible token (NFT) collectors. 15% was distributed to early OpenBook traders, 10% to Solana artists and collectors, and 5% to Solana developers. On December 29, 2022, BONK traded for $0.000000086142 per token, indicating real-world value. It rose to an all-time high (ATH) of $0.00000487 per BONK on January 5, 2023. But on January 6, 24 hours later, BONK had dropped 67.9% from its all-time high.
The market capitalization of the cryptocurrency was above $204 million as of the market price of about $63 million on January 6. According to an archive.org snapshot, the BONK's circulating quantity was approximately 56.02 trillion, but it is currently around 41.5 trillion. The BONK team claims that, like the shiba inu (SHIB), BONK tokens are burned to make them scarce.
The BONK team reported that 5 trillion meme tokens were destroyed on January 5. Additionally, there are 110,017 BONK holders, and according to data from coincarp.com, the top ten holders have 36.81% of the total supply. One hundred wealthiest bonk inu addresses control 58.32% of BONK, while 20 BONK holders control 46.31% of the supply.
What do you think about the Solana meme coin called BONK? Let us know your thoughts about this subject in the comments section below.
Reading More: