Cardano (ADA/USD) is essentially a Proof-of-Stake (PoS) blockchain that has undergone a lot of developments, all of which aim to make the network as efficient as possible.
The project goes through peer-reviewed research, and its native cryptocurrency is known as ADA.
ADA, as a cryptocurrency, is used for staking on top of the network, which allows users to earn rewards.
Every transaction is permanently, securely, and transparently recorded on top of the Cardano blockchain.
Cardano has since then become the home of numerous decentralized applications (dApps), which have fueled decentralized finance (DeFi) as well as non-fungible token (NFT) minting.
Numerous updates and developments as catalysts for growth
Aada Finance has been announced on the Cardano blockchain, which will be a lending and borrowing protocol.
The launch of V1 will take place on September 13, 2022, which will mark the first time that DeFi primitives come to the Cardano network, which is built on the foundation of Plutus smart contracts, which were first introduced in the Alonzo hard fork in September of 2021.
Aada Finance will utilize a novel DeFi primitive called NFT bonds to streamline the user experience.
Furthermore, Binance.US, which is a San Francisco-based subsidiary of cryptocurrency giant Binance, added support for Cardano (ADA) staking, based on an announcement on August 31, 2022.
Binance.US users can earn up to 6.1% APY at launch when they stake their ADA crypto.
Should you buy Cardano (ADA)?
On September 1, 2022, Cardano (ADA) had a value of $0.4422.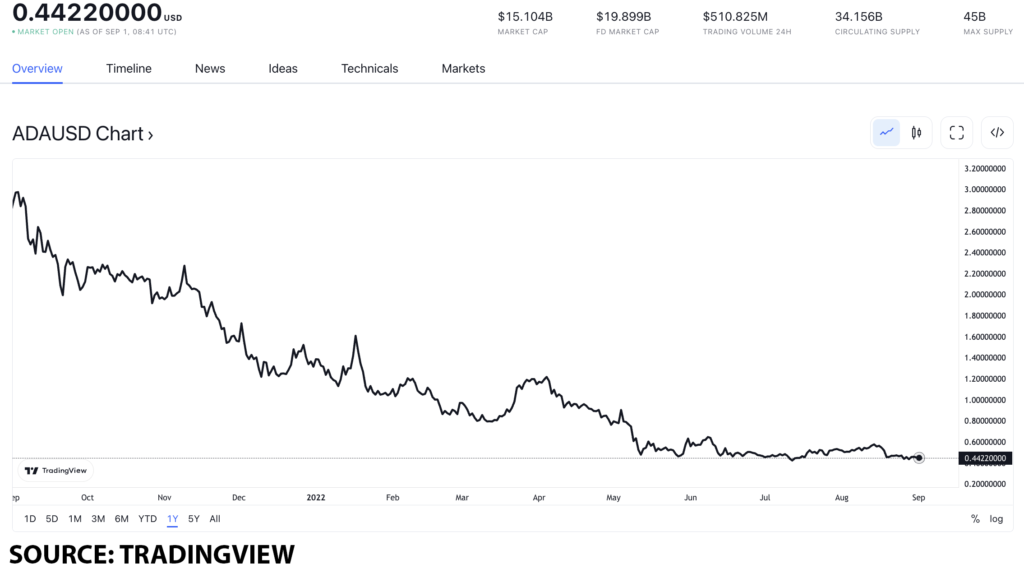 To get a better perspective as to what kind of point of value this is for the cryptocurrency, we will be going over its all-time high alongside its performance in August.
The all-time high of ADA was on September 2, 2021, at a value of $3.09.
When we go over its performance in August, ADA had its highest point of value on August 14 at $0.5919.
Its lowest point was on August 29. At $0.4285. Here we can see a decrease in its value of $0.1634 or by 27%.
As of September 1, it is trading at $0.4422. This means that the cryptocurrency has increased in value by $0.0137 or by 3.2%.
With this in mind, Cardano can start getting back up in value, and investors might want to buy ADA as it can climb to $0.7 by the end of September 2022.
The post Cardano (ADA) has an optimistic future and growth ahead of it and this is why appeared first on Invezz.