According to new research by Crypto.com, Crypto Adoption achieved New Milestones in 2022, with 425 million owners by the end of the year. The survey also revealed that 219 million people had bitcoins in December, compared to 87 million people who owned ether.
Crypto Adoption Achieved New Milestones
Last week, "Crypto Market Sizing" analysis for 2022 was released by Crypto.com. According to the business, its analysis is based on a combination of data from the Ethereum and Bitcoin on-chains, survey analysis, and internal data.
The firm's Research and Insights team reported that "in spite of macro headwinds," including high inflation, the European crisis, supply chain disruptions, and residual consequences of the Covid-19 pandemic:
Crypto adoption achieved new milestones in 2022, with the number of crypto owners reaching 425 million (December 2022).
The overall number of crypto owners worldwide grew by 39% from 306 million to 425 million during the year, the report elaborates.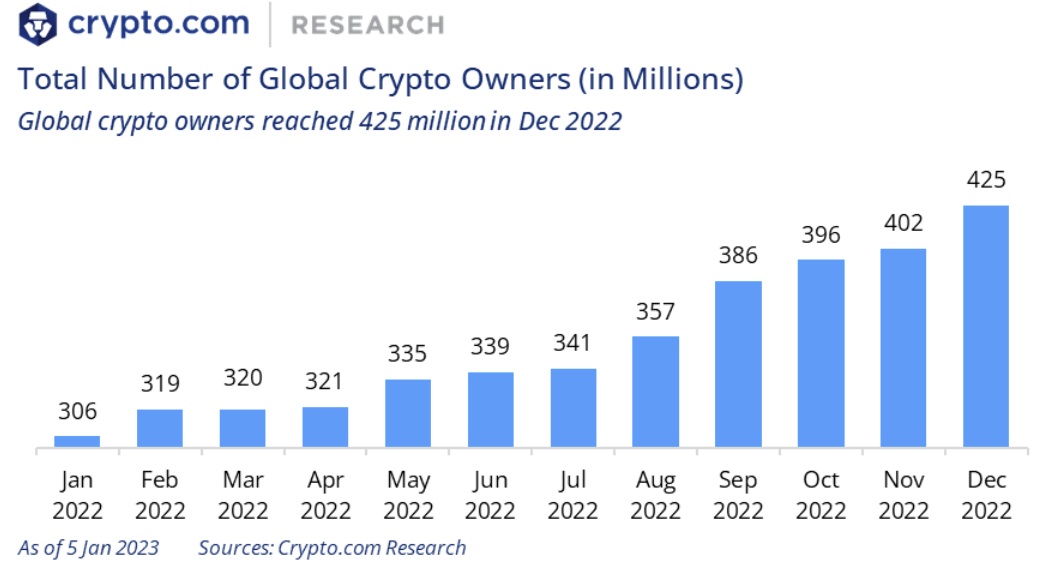 The report also highlights the number of bitcoin and ethereum owners, stating:
Bitcoin (BTC) owners grew by 20% from 183 million in January to 219 million in December, accounting for 52% of global owners.
The research states that in April, the Central African Republic (CAR) became the second nation after El Salvador to accept bitcoin as legal tender, which resulted in the biggest increase in bitcoin ownership in 2022. The multinational investment bank Goldman Sachs also offered its first Bitcoin-backed loan in the same month, which the Crypto.com research team described as "additional indicators of rising interest in crypto from Wall Street organizations."
The research adds that "the key trigger for Ethereum's strong adoption growth rate was The Merge," noting that "Ethereum (ETH) owners expanded by 263% from 24 million in January to 87 million in December, accounting for 20% of global owners." The research team also noted that "Except for April, Ethereum's monthly growth rates were higher than that of Bitcoin's for the whole year."
Another company that recently estimated the number of global crypto owners is Triple-A. The firm wrote: "As of 2023, we estimated global crypto ownership rates at an average of 4.2%, with over 420 million crypto users worldwide."
What do you think about global crypto owners reaching 425 million? Let us know in the comments section below.
Reading More: