Because whales have started transferring Ethereum (ETH/USD), both its value and network activity have increased.
Due to its support for smart contracts and extensive ecosystem of decentralized apps (dApps), which fuel the Decentralized Finance (DeFi) market, Ethereum is the second-largest cryptocurrency in capitalization.
Whale transactions of ETH as a catalyst for growth
Santiment, a cryptocurrency behaviour analytics tool, recently updated its coverage of the Ethereum cryptocurrency.
Santiment specifically highlighted how ETH recovered back above $1,260 for the first time in the previous three weeks and that investors are once again expressing interest in the cryptocurrency.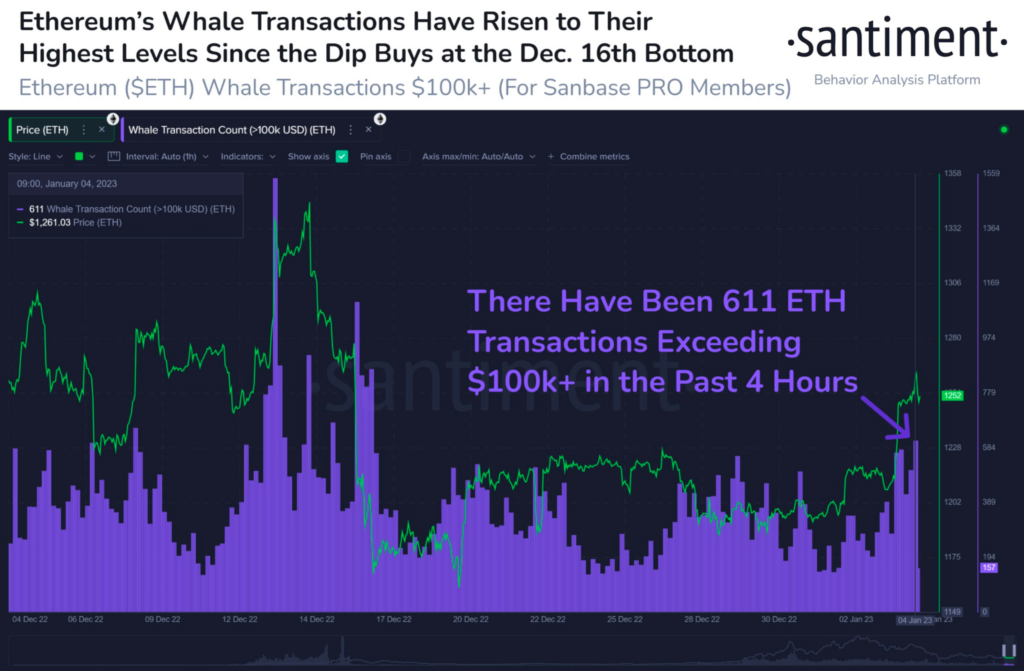 According to the statistics, 611 transactions total more than $100,000 took place 4 hours before and throughout the volatility of the ETH price.
Additionally, Genesis Dormant-labeled accounts transferred $64K in wrapped Ethereum (WETH/USD) and deposited 54.99K in MakerDAO, according to an update by PeckShiedlAlert.
The wallet then sent 4 million DAI to Coinbase and 1 million DAI to Kraken after borrowing 25 million DAI (DAI/USD) from MakerDAO (MKR/USD).
The CEO and Founder of the Eight trading platform and Ethereum analyst Michal van de Poppe stated on Twitter that Ethereum needs to rise above $1,200 before things become painful.
Should you buy Ethereum (ETH)?
On January 5, 2023, Ethereum (ETH) had a value of $1,245.80.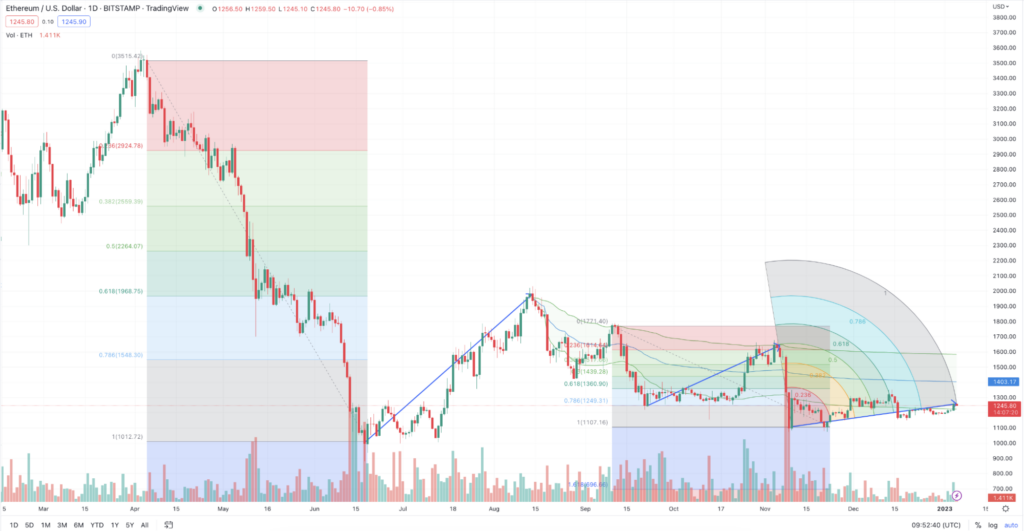 The all-time high of Ethereum (ETH) was on November 10, 2021, at a value of $4,878.26. Here we can see that the value was $3,632.46 higher at its ATH, or 291% higher.
When we examine the cryptocurrency Ethereum's (ETH) seven-day performance, we can observe that the lowest point was $1,188.34. But at $1,264.50, it reached its peak. Here, we may see a $76.16 (6%) difference.
Ethereum (ETH) experienced a 24-hour performance with a low point at $1,247.16 and a high point at $1,264.50. Here, the difference is $17.34, or 1%.
With this in mind, investors will want to buy ETH as it can climb to $1,370 by the end of January 2023.