After the exchange rate between the two currencies dropped to just about C15:$1, Ghanaian currency continued to decline against the dollar. At the same time, the government awaited a financial bailout from the International Monetary Fund (IMF). The cedi has now lost more than 55% of its value in 2022 due to this latest decline, making it the worst-performing currency in the world.
World's Worst Performing Currency
The cedi, the devaluing currency of Ghana, has hit a new low against the dollar on the forex parallel market after allegedly falling 12% in just four days. Shortly after the cedi's 3.3% decline on October 17 secured its new title as the world's worst-performing currency, reports of the Ghanaian currency falling to a new low against the dollar surfaced.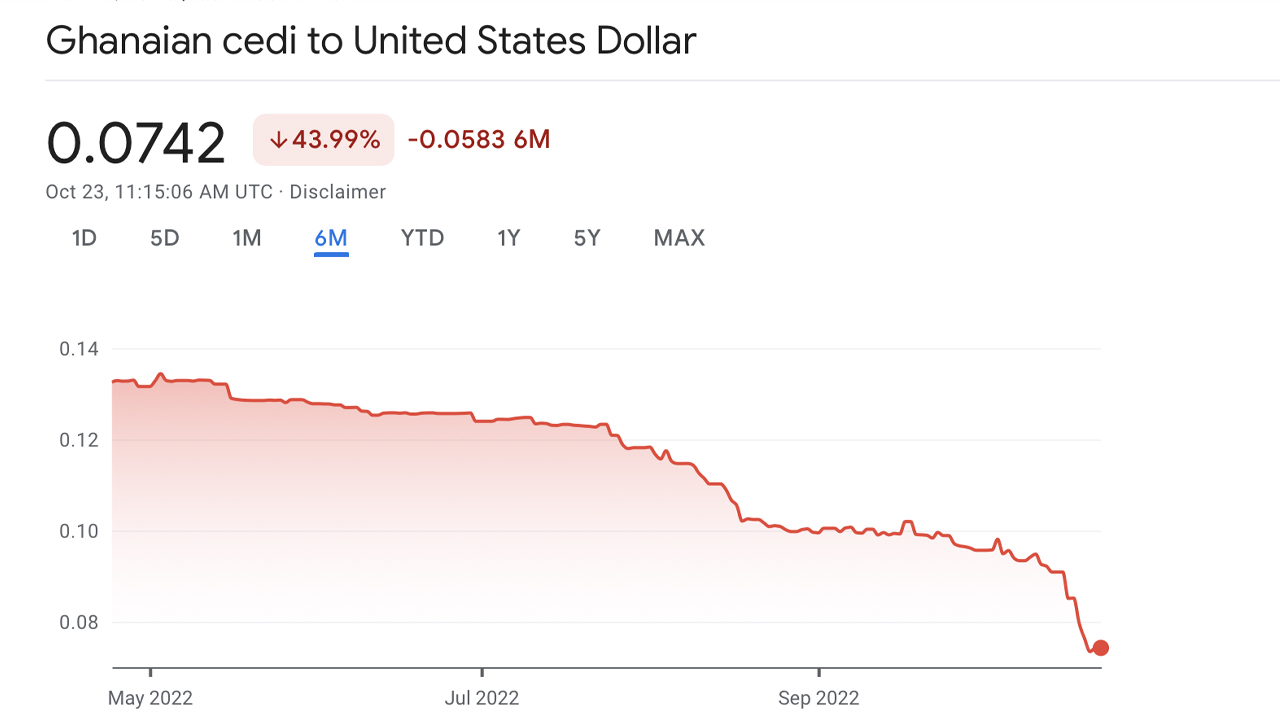 According to the Myjoyonline article, the fundamental cause of the cedi's current decline of more than 50% since the beginning of 2022 is the severe lack of U.S. dollars among banks and bureaux de change. This claim is supported by evidence from an unnamed banking executive who pleaded with the monetary authorities to act swiftly and forcefully to stop the currency's fall. The problems facing the cedi may be made worse by people stockpiling dollars, according to a different anonymous banking executive.
Ghanaian Eagerly Awaits IMF Bailout
Myjoyonline reports Ghana's Finance Minister, Ken Ofori-Atta, who expressed surprise at the cedi's quick depreciation in a different story. He asserted that some of the fault for the currency's devaluation lies with Ghanaians who are purchasing commodities for the forthcoming Christmas holidays.
"It's extremely confusing to see where it's headed. Naturally, there is a demand for the dollar in October as people import goods for Christmas, but Ofori-Atta reportedly stated, "My anticipation is that if we also finalise with the Fund (IMF), it would lead to the fund's disbursement early next year to do so.
Additionally, the Finance Minister seemed to hint in the article that the cedi will stabilise once the IMF's rescue monies are distributed. Additionally, Ofori-Atta urged Ghanaian not to panic because doing so tends to "place pressure on the currency." Additionally, he claimed that Ghana's economy is "in terrific form."
At the time of writing, some media sources claimed the cedi had fallen further against the dollar and was currently trading at less than C15:$1. This exchange rate between the two currencies, according to a Myjoyonline report, indicates that the cedi's decline versus the dollar has reached more than 55%.
Register your email here to get a weekly update on African news sent to your inbox:
What are your thoughts on this story? Let us know what you think in the comments section below.
Read More: