Following the Bank of England's explanation that it would interfere with UK affairs. The Hong Kong Monetary Authority (HKMA) disclosed it interfered in currency markets on Wednesday, after last week's defense of the yen by the Bank of Japan and the bond markets. The Hong Kong central bank stated that on September 28 it intervened in the foreign exchange market to support the Hong Kong dollar (HKD) when it began to show signs of weakness against the US dollar.
HKMA Interferes in Forex Markets to Defend the HKD From Capital Flight to USD Assets
There has been a substantial amount of capital flight to the dollar over the past six months, despite the fact that the euro and pound sterling has lost 12–17% of their value against the dollar. However, the Hong Kong dollar (HKD) has performed better against the US dollar than a wide range of fiat currencies globally.
The HKMA was forced to intervene and protect the HKD in forex markets on Wednesday, September 28 as a result of a "flight of capital from the Hong Kong dollar market". According to South China Morning Post (SCMP) reporter Enoch Yiu, the HKMA announced on Wednesday that it intervened to "support the peg as the local currency hit the weaker end of its HK$7.75 to HK$7.85 trading band".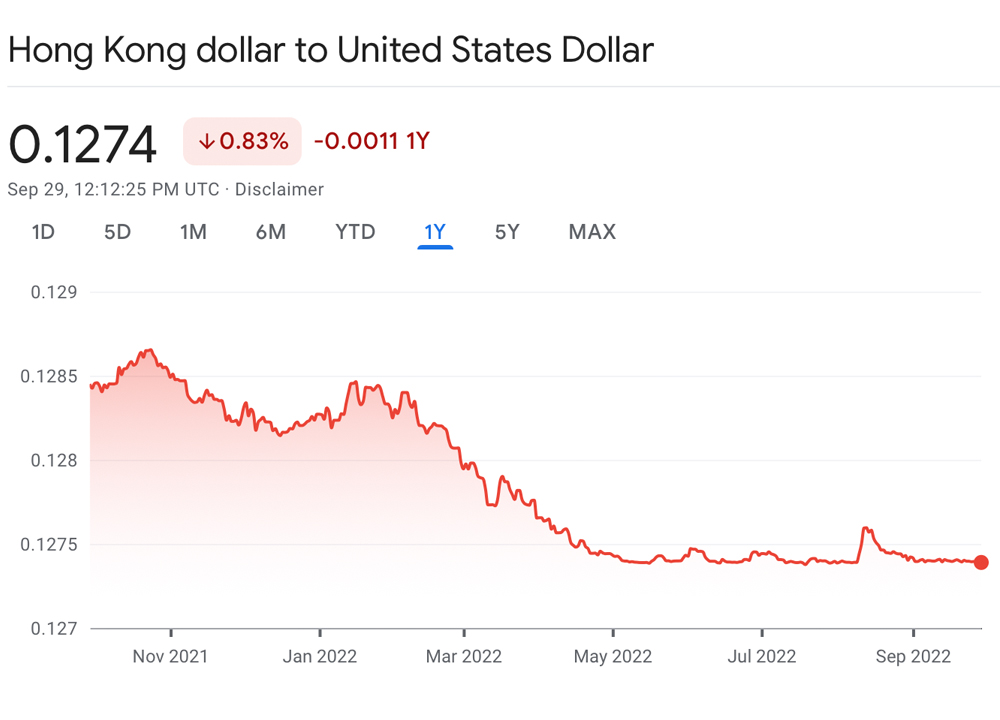 The HKMA has chosen to intervene in the foreign exchange market 32 times this year, according to SCMP, making this the first time in seven weeks that the central bank has done so. The de facto central bank has bought HK$215 billion this year, and the HKD/USD exchange rate is down 0.83% year to date.
The authority sold about $27.39 billion USD in 2022 and recent information shows that the central bank has purchased local dollars "at a record pace to defend the city's currency peg." Moreover, as Hong Kong and Japan recently interfered in the forex arena, India, Chile, South Korea, and Ghana have defended their currencies in foreign exchange markets.
Hong Kong's effort to protect its currency comes after rate increases by the HKMA, Indonesia, and the Philippines following the latest rate hike by the US Federal Reserve on September 22. The loan rate at the time was 3.5% after a 75-basis point (bps) increase by the HKMA.
The third and current chief executive of the HKMA, Eddie Yue, stated that he did not see a significant risk to the property market. The current rate on bad debt is roughly 1% and may slightly increase. However, compared to other international standards, it is still modest, Yue said last week.
What do you think about the HKMA intervening in the currency market to support the HKD? Please share your thoughts on this topic in the comments box below.