The non-fungible token NFT avatars from Reddit have significantly influenced the NFT market, with secondary market sales of the item reaching more than $5 million on October 24, spanning more than 20,000 sales. Over three million Redditors have used Reddit's Vault blockchain wallet as a result of the demand for the collectible NFT avatars that Reddit produces on Polygon.
Demand for Reddit's Collectible NFT Avatars Skyrockets — $5 Million in Secondary Sales Sold Across 20,000 Sales
Reddit claimed the firm had planned to launch blockchain-backed avatars that make use of the proof-of-stake (PoS) blockchain Polygon within the first week of July (MATIC). Reddit stated that Polygon's "low-cost transactions and sustainability pledges" were the reasons it was picked at the time. Reddit's chief product officer Pali Bhat said during a Techcrunch Disrupt panel on October 18, 2022, that the company has produced three million Vault blockchain wallets to date.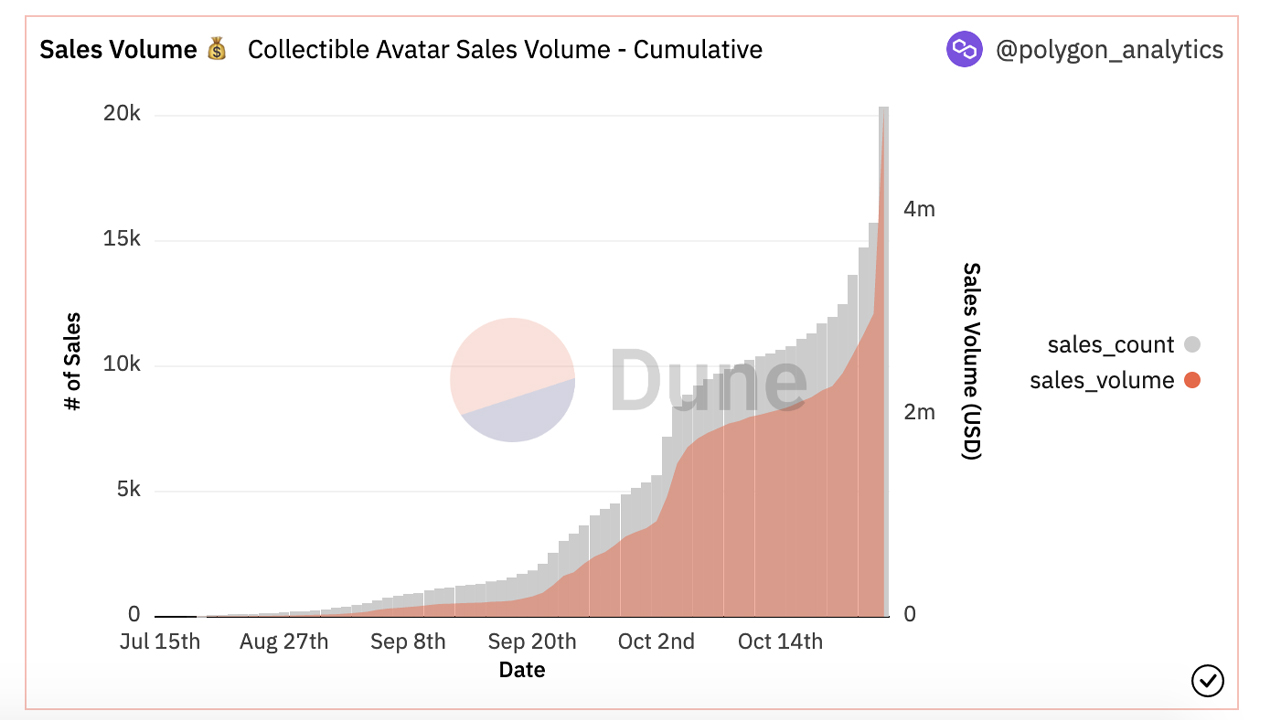 Bhat also informed those present at the occasion that 2.5 million new accounts were established to receive the newest NFT avatars. Statistics from the blockchain analytics portal Dune Analytics show that Opensea's Polygon daily sales volume has increased dramatically and that on Monday, secondary market sales totaling 20,375 transactions exceeded the $5 million threshold. Reddit NFT collectible avatar sales reached $1,951,860 on the previous day alone.
As of October 24, 2022, at 5 p.m. (ET), 4,708 Reddit NFT avatars were sold on secondary markets on the previous day, and as of this moment, 2,831,931 people owned collectible avatars. There were 32,730 owners of collectible avatars as of August 19, 2022, and ownership has grown by 8,552% since then. By September 2022, there were 2,919,501 Reddit collectible avatars available as the rate of ownership climbed dramatically.
According to Dune Analytics statistics released by the @polygon analytics team, whales own 3.82% of Reddit's collectible avatars. The new Reddit NFT avatar demand has benefited polygon's native cryptocurrency, polygon (MATIC), which has seen a 6.4% increase over the past day. In the past week, MATIC has been up 12.4%, and during the past month, MATIC has increased by 15.4% in relation to the US dollar. However, MATIC has lost 45.4% of its value versus the US dollar this year.
What do you think about the recent surge in demand for Reddit's NFT collectible avatars? Let us know your thoughts about this subject in the comments section below.
Read More: