Uniswap (UNI/USD), one of the most well-known decentralized exchanges (DEX), has successfully raised $165 million in a Series B funding round.
The investment firm Polychain Capital, which specializes in cryptocurrencies, raised this funding campaign.
Uniswap is an automated cryptocurrency exchange that uses its native currency, called UNI, and is built on top of Ethereum (ETH/USD).
$165 million investment as a catalyst for growth
In a press statement on October 13, 2022, the decentralised exchange Uniswap announced that it has successfully raised $165 million in a Series B fundraising round.
The value of these secured funds is $1.66 billion.
Other well-known venture capital firms, including Andreessen Horowitz (a16Z), Paradigm, SV Angel, and Variant investments, joined Polychain Capital in leading the funding effort.
The DEX plans to launch non-fungible tokens (NFTs), improve the online application and development tools, and even support mobile users with secured funds.
Moreover, Uniswap thinks these technologies can advance its ecosystem.
All of this has enhanced awareness of the platform, the native cryptocurrency, and the ecosystem, increasing value and trading activity.
Should you buy Uniswap (UNI)?
On October 14, 2022, Uniswap (UNI) had a value of $6.286.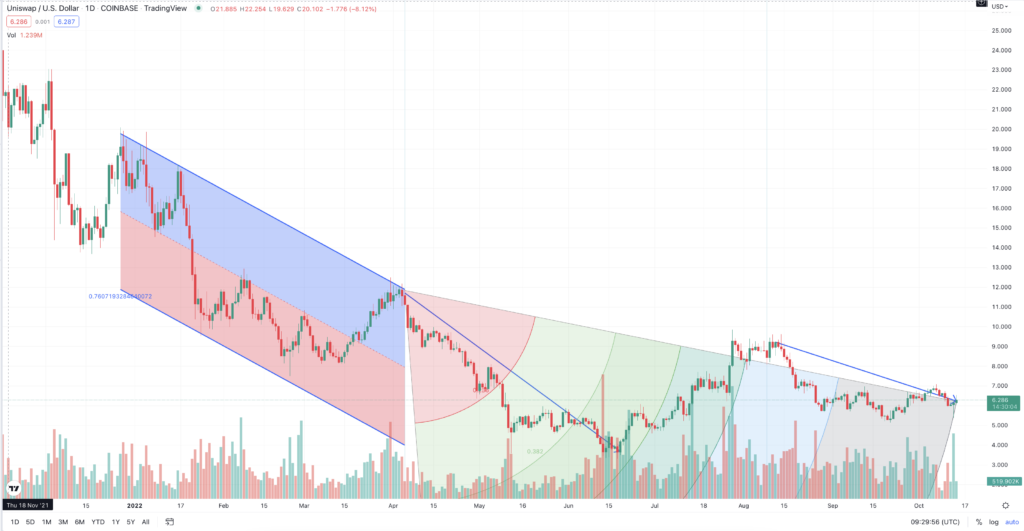 The Uniswap (UNI) cryptocurrency reached its all-time high on May 3, 2021, for $44.92. At its ATH, the token's price was $38.634 higher or approximately 614%.
When examining the cryptocurrency's seven-day performance, Uniswap (UNI) had a seven-day low of $5.57 and a seven-day high of $7. Here, we can find a $1.43 or 25% rise.
When we look at the token's performance during 24 hours, we can see that its low point was at $5.45, and its peak was at $6.51. Here, we may notice a $1.06 or 19% rise.
Considering that UNI can achieve a value of $8 by the end of October 2022, purchasing UNI is a wise choice for investors, especially following this investment round.