The extreme weakness seen in the US technology sector was one of the major topics in 2022. Investors in the sector received a cold wake-up call in 2022 when the top US tech sector index, the NASDAQ 100, returned -33.47%.
After a week of low liquidity, financial markets began the new year. However, important financial and economic data is due, so traders and investors shouldn't be worried by some larger-than-normal market movements.
The index, whose lowest yearly performance was in 2008, measures the top 100 non-financial stocks on the NASDAQ stock exchange. The NASDAQ 100 index fell by -41.89% in that year.
Investors pulled record funds out of tech stocks in 2022
Many stock market participants increase their holdings during market declines. Or to buy shares in a business whose stock price fell below where the investor thinks the intrinsic value lies.
But in 2023, IT investors will find it difficult to make investments for at least two reasons. The Fed is still boosting interest rates, which historically has been bad for stocks.
Second, according to Morningstar data, investors have pulled $18 billion from tech funds in 2022, the most on record since 1993.
The 2022 outflows are worrying because there is no precedent for such outflows; hence, the past returns become irrelevant. The best annual performance for the index was in 1999, when it generated +101.95%.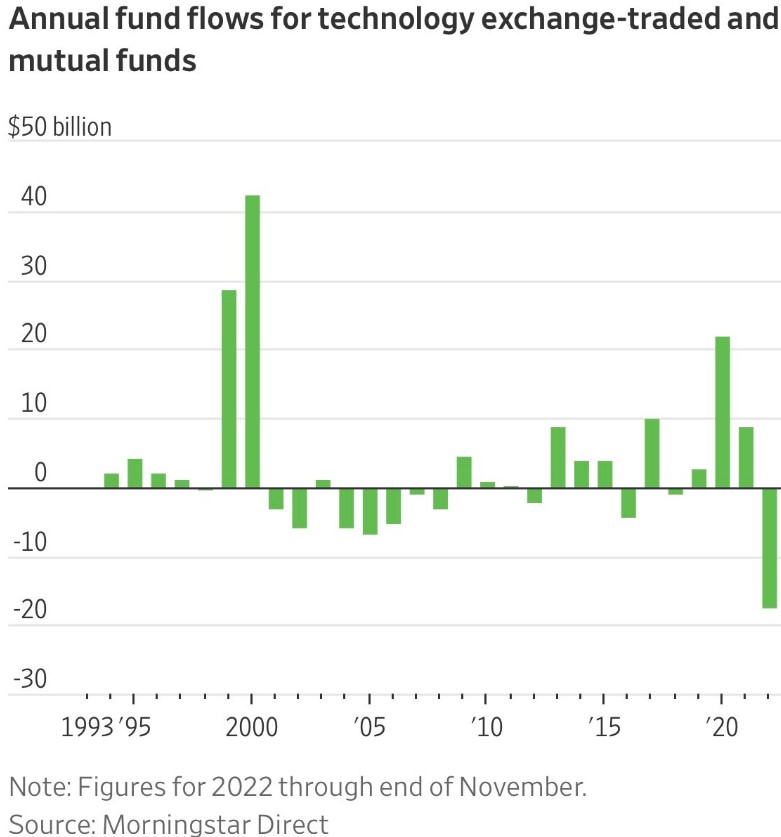 NASDAQ 100 sits at major horizontal support
The NASDAQ 100 index may still decrease despite its significant decline in 2022. According to the technical picture, the index has been holding above a substantial horizontal support level since the summer of 2022 and cannot move over it.
Technically speaking, the market shapes a descending triangle. Once broken, the index should go much below the 10,000 mark during the following move lower.
In conclusion, the IT industry struggled in 2022, and the technical outlook indicates that the weakness might persist in 2023. The damage won't stop if investors' money keeps leaving the tech industry.
Reading More: