As investors awaited the next UK inflation report and Bank of England (BoE) interest rate announcement, the FTSE 100 index was under pressure on Tuesday. It was trading a few points below this month's high of £7,630 at £7,460.
UK inflation and BoE decision
Due to the planned macro events, the FTSE 100 index will be in focus this week. The Federal Reserve will wrap up its two-day meeting on Wednesday, as I stated in this piece.
After raising rates by 0.75% throughout the previous four sessions, economists anticipate that the Federal Reserve will increase rates by 50 basis points. Jerome Powell is expected to give clues that the Fed will maintain high-interest rates in 2023. He thinks a dovish stance will encourage inflation during weak growth.
Fed actions tend to impact the FTSE 100 and other global indices like the Dow Jones and Hang Seng.
The most recent US and UK inflation figures, which are planned for release on Tuesday and Wednesday, will also impact the FTSE 100 index. According to economists, inflation in the two nations separated. The headline CPI in the US is predicted to have decreased from 7.7% in October to 7.3% in November.
However, researchers anticipate that UK inflation stayed in the double digits in November. Analysts anticipate that the Bank of England would raise rates by 0.50% or 0.75% as a result, as I noted in this report. Additionally, it will make a suggestion that rates will remain unchanged through 2023.
Before the BoE ruling, banks like Lloyds, NatWest, and Barclays will be the most important FTSE 100 components to monitor. If the BoE sounds hawkish, these banks will probably prosper. High-interest rate times are more profitable for banks.
FTSE 100 forecast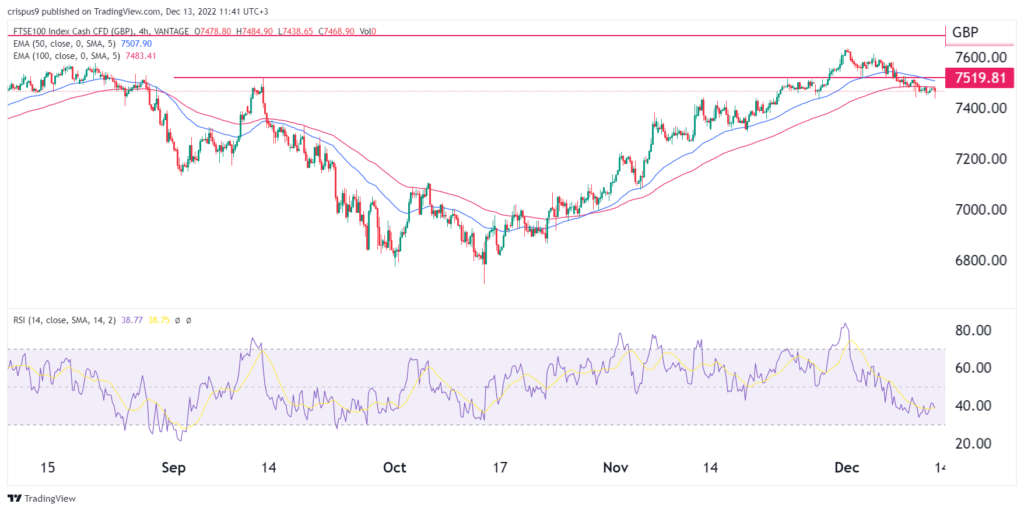 According to the 4H chart, the Footsie index has declined during the last few days. After reaching its peak on September 13 at £7,520, it has fallen below this crucial support level. While the Relative Strength Index (RSI) is getting close to oversold territory, the index has pulled back below the 25-day and 50-day moving averages.
Therefore, I suspect the index will retreat for a while and then resume the bullish trend. If this happens, the next key level to watch will be £7,600.
Read More: