For tech investors, 2022 has not been a good year. The large tech market cap has shrunk by $4.63 trillion, or around 41%, from its high, while the top tech index, Nasdaq 100, has fallen by -31.15% YTD.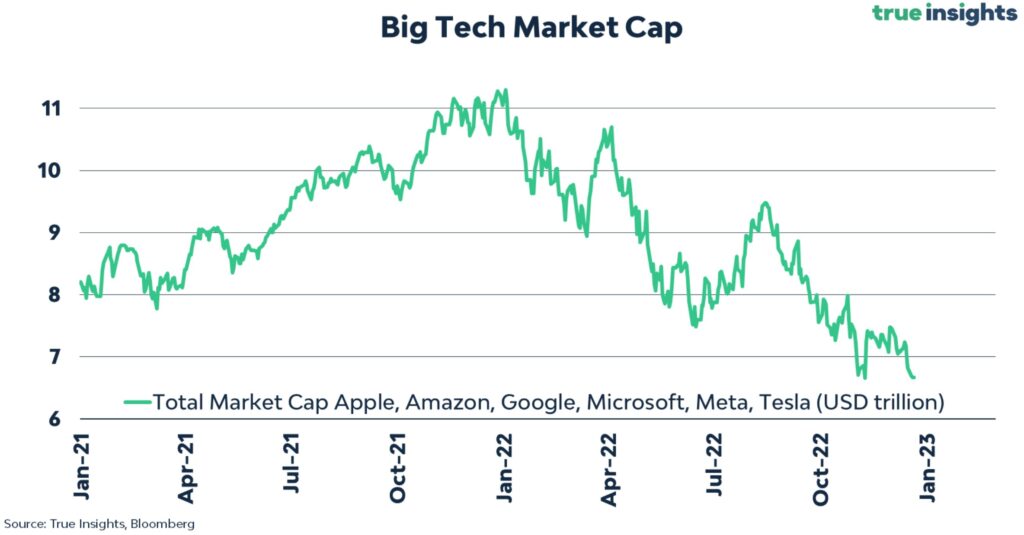 In this article, we discuss big tech companies like Apple (NASDAQ:AAPL), Amazon (NASDAQ:AMZN), Alphabet (NASDAQ:GOOG), Microsoft (NASDAQ:MSFT), Meta (NASDAQ:META), and Tesla (NASDAQ:TSLA). Some of them fell considerably more than the Nasdaq 100. For instance, Tesla is down -65.6% YTD, a startling loss for a stock that was once predicted to soar.
Is it safe to start constructing a portfolio of tech stocks when investors leave the stock market to park their money in the security of bonds and inflation remains significantly higher than the Fed's target?
NASDAQ 100 entered bear market territory after a double top pattern
The tech industry peaked in the final quarter of 2021. The index attempted to reach new highs immediately before the closing trade days but failed twice at the 16,500 level.
What came next was a sharp drop punctuated by a few bear market rallies. However, the overall tenor was negative, and the selling pressure persisted throughout the entire year.
The Fed's monetary policy and the rising interest rates were criticized by investors. A more accurate explanation, however, would be that the prior rally during the COVID-19 pandemic was not long-lasting.
Much of the market's focus in the second half of this year was on a potential Fed turnabout. The October low was brought on by the pivot.
However, despite the fact that stocks recovered and the Fed changed course by slowing the rate of interest rates, the tech sector is again back-testing the lows.
Technically, the bear market persists as long as it is below 13,750 points. Additionally, the 10,000 level appears to be a significant level for both bulls and bears. In between, keep an eye out for the market to move randomly.