The ITV share price (LON: ITV) dropped by more than 6% after the broadcaster released subpar results. The stock fell to a low of 68.66p, below its high for the week of roughly 73p. From their peak this year, the shares have fallen more than 40%.
ITV advertising revenue plunges
In the UK's media sector, ITV is a pioneering organization. Since businesses have been cutting their marketing budgets, the organization has been under much pressure.
The business reported that third-quarter advertising revenue fell by 14%. Additionally, it expects a 1% to 1.5% decline in ad income this year. The death of the queen contributed to the downturn. Even though there was an increase in views during that time, several advertisers suspended their campaigns.
In the first nine months of the year, the company's overall sales increased marginally to 2.52 billion pounds. The success of its Studios division was largely responsible for this increase. The business said in a statement that it was actively considering strategic options for the division. It can offer to sell all or just a portion of the company.
Is ITV share price currently for investment? ITV will continue to encounter a variety of difficulties. First, as inflation keeps increasing, the business faces significant challenges. The cost of doing business for the organization has dramatically increased due to this inflation.
Second, many businesses are reducing their marketing expenditures to conserve cash due to the growing cost of living. In addition, companies like Google and TikTok continue to present the industry with significant competitive hurdles. It is in competition with services like Disney+ and Netflix, for example.
ITV is also exposed to weak macroeconomic and geopolitical uncertainty. On the positive side, the upcoming World Cup event will likely boost the company.
ITV share price forecast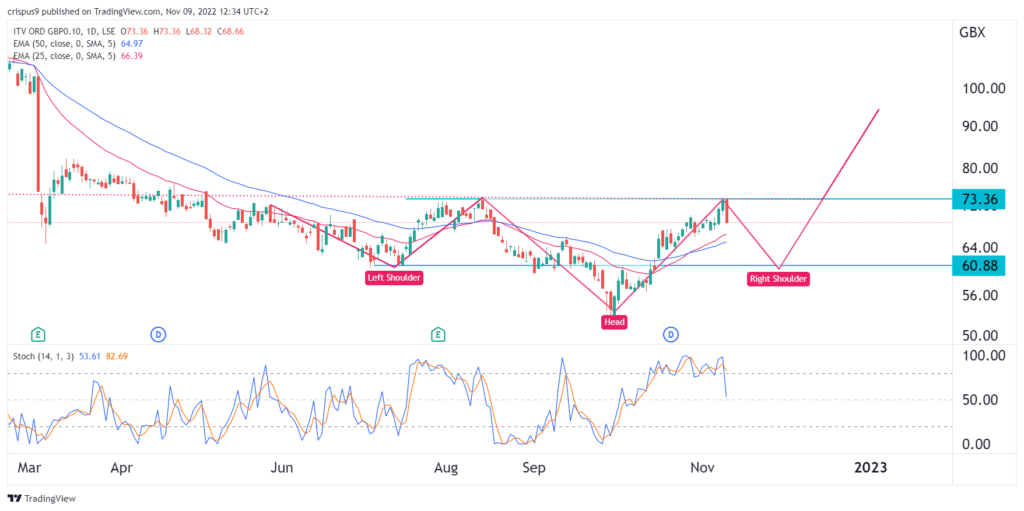 According to the daily chart, the price of ITV stock increased to 73.36p. Considering that it reached its maximum point on August 12, this price was significant. The 25-day and 50-day exponential moving averages were marginally overtaken by the stock (EMA).
It takes the shape of an inverted head and shoulders pattern (H&S). This pattern typically signifies a bullish trend in price action research. ITV, therefore, has a chance of experiencing a bullish breakout while facing numerous obstacles. The stock may soon decline to 60.88p, the right shoulder.
Read More: