After the business released its trading statement this week, the share price of Tullow Oil (LON: TLW) continued to consolidate. The shares decreased significantly from this month's high of 49.16p to a low of 46.42p. It has risen by roughly 30% from its October low.
Tullow Oil challenges remain
A relatively modest oil and gas business called Tullow Oil concentrates on developing nations like Ghana and Kenya. The company's market capitalization is roughly 664 million pounds.
Tullow has experienced a busy year. After Capricorn, another oil business, cancelled its merger arrangement, it was recently abandoned at the alter. Capricorn decided to combine with the Israeli business NewMed.
The company's trading statement had a minor impact on the price of Tullow Oil shares. According to the estimate, in 2022, the corporation would generate between 61,000 and 62,000 barrels per day. Comparing it to the prior estimate of 60,000 and 64,000, there was a slight increase.
Additionally, the company forecasted a free cash flow of roughly $250 million, or about 2% more than what it generated in 2021. The FCF will be significantly less than the $432 million it generated in 2020. Additionally, Tullow Oil anticipates spending around $360 million on capital projects, 37% more than in 2021.
Tullow Oil is currently dealing with extra difficulties in Kenya, where its operations have halted. For the development process, the company is in the process of finding a strategic partner. Additionally, they want the Field Development Plan review process to be prolonged. Whether the business will locate the partner is unclear.
The recent persistence of low crude oil prices poses another risk for Tullow Oil. The global benchmark, Brent, has fallen to $88, while West Texas Intermediate (WTI) has fallen to $79 in recent days.
Tullow Oil share price forecast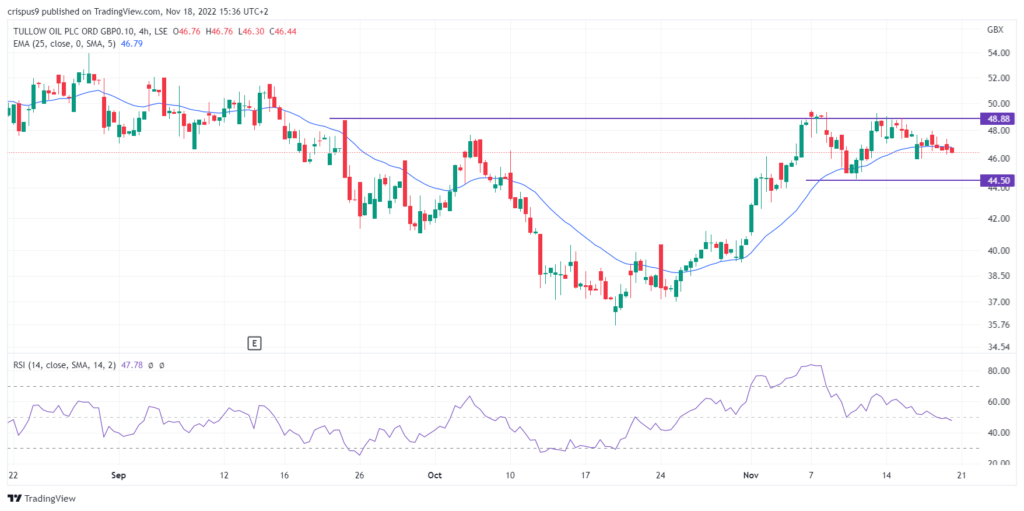 According to the four-hour chart, the TLW stock price has been in a bearish trend during the last few days. The price has fallen below the crucial resistance level of 50p, which was also the week's high. The Relative Strength Index (RSI) has declined while the stock has moved to the 50-day moving average.
Tullow created a double-top pattern with a 44.50p neckline. As a result, the shares will likely decline during the next several days. In this case, 40p will serve as the next significant support level.
Read More: