Stock prices for Blackrock (NYSE: BLK) and Blackstone (NYSE: BX) performed poorly in 2022 as each company faced distinct difficulties. Blackstone's total return in 2022 was -40%, whereas Blackrock's was -20.92%. So, in this Blackrock vs Blackstone comparison, we will determine which asset management company is better to use for investments.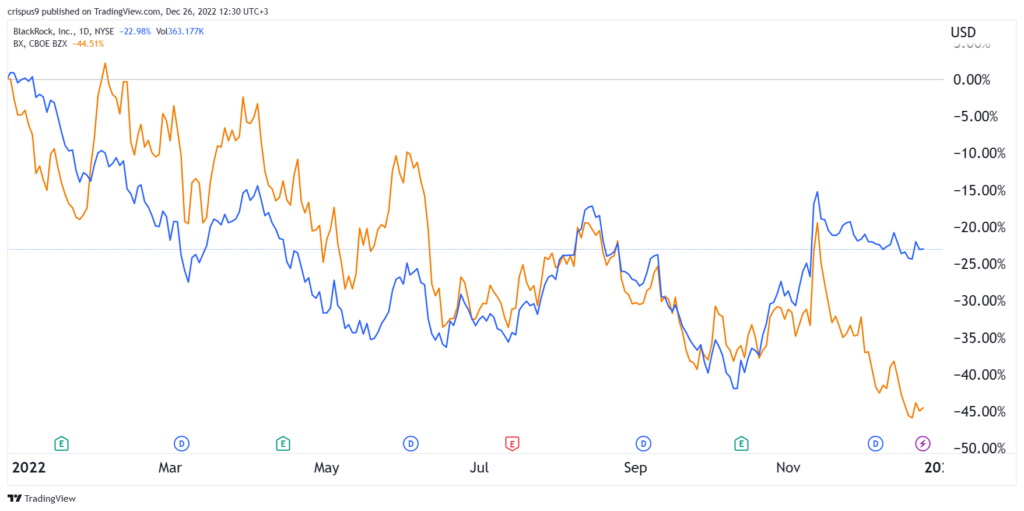 Blackrock vs Blackstone
Blackstone and Blackrock are the biggest finance companies in the world, with over $961 billion and $9 trillion in assets under management (AUM), respectively. The two firms have a similar heritage since Blackrock's Larry Fink left Blackstone to start his firm.
However, they work in several sectors of the economy. All of Blackstone's operations are real estate, private equity, hedge fund management, credit, and insurance. On the other side, Blackrock's business focuses on advice, cash management, multi-asset, alternatives, equity, fixed income, and alternatives. One of the largest investors in US publicly traded corporations is Blackrock.
In 2022, the two businesses faced significant difficulties. Conservatives attacked Blackrock for ignoring firms in the oil and gas industry. Florida's treasurer decided to take $2 billion out of business.
While Blackstone was impacted by rising interest rates and a lack of liquidity in its BREIT division. While publicly traded REITs lost more than 30% of their value, as we highlighted here, their BREIT returns increased by 5%. Many investors moved to redeem part of their assets as a result. Due to real estate's high level of illiquidity, the corporation set withdrawal caps.
Which is a better investment?
Blackrock is larger than Blackstone, with a market worth of roughly $105 billion versus $87 billion. Each company employs 19,900 and 3,795 people, respectively. Blackstone's dividend yield is 4.81%, compared to 2.77% for Blackrock. Compared to Blackrock, Blackstone has increased its dividend by 16% over the last three years. As a result, Blackstone succeeds in terms of shareholder dividend payouts.
Blackrock always trades at a premium valuation compared to Blackstone. It has a forward PE ratio of 20.59 compared to Blackrock's 20.59.
Both BLK and BX, in my opinion, are exceptional businesses in their respective fields. The difficulties with ESG and BREIT are also transient. Blackrock, for instance, continues to manage trillions of money for conservative states.
Both Blackrock and Blackstone are respectable businesses, but in my opinion, Blackrock is a better investment. For starters, the business manages $41 billion in assets for a burgeoning private equity division. Additionally, Blackrock has a more liquid business than Blackstone.
Finally, the financial sector offers further potential for expanding its Aladdin Platform. It is a piece of software that offers solutions for analysis and risk management, portfolio management, investment operations, and trade execution. It is used by thousands of financial experts worldwide.