Four significant US banks will begin the 2023 earnings season this week by announcing their quarterly results. It is interesting to observe how interest rate increases affect the profitability of US banks in light of the Federal Reserve's tightening of financial conditions.
JPMorgan Chase
The quarterly earnings for JPMorgan Chase (NYSE:JPM) are announced on Friday, January 13, during pre-market hours. For the fiscal year ending in December 2023, the market anticipates earnings per share of $3.12 and yearly revenue of $140.3 billion.
The dividend policy of JPMorgan is one of its appealing features. It pays a quarterly dividend with a forward yield of 2.9%, which has been increased for the past eight years.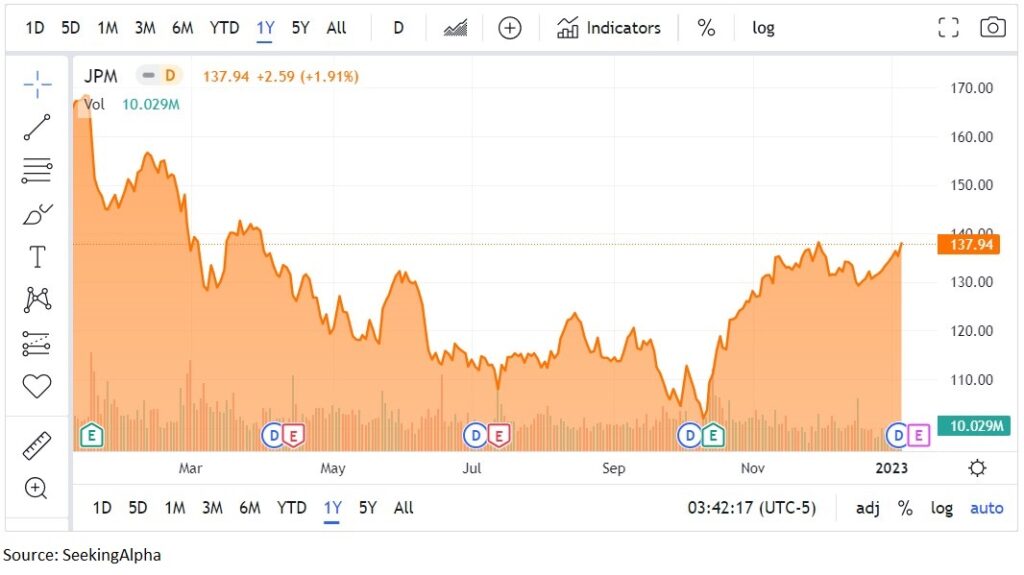 Bank of America
One of the world's largest and most diversified banks, Bank of America (NYSE:BAC) offers banking and financial services and products. It was established in 1784 and has about 210,000 employees.
The stock price dropped by -28.51% during the last year, and the corporation also distributes a quarterly dividend. The payout ratio is 26.90%, while the forward dividend yield is 2.56%.
Bank of America reports its Q4 2022 earnings on Friday, and the market expects EPS of $0.8.
Wells Fargo
The price of Wells Fargo's (NYSE:WFC) shares dropped by -20.19% during the past year before rising in October along with the rest of the US stock market. Investors anticipate EPS of $0.99 for the most recent quarter, and $81.54 billion in annual revenue is expected for the fiscal year that ends in December 2023.
The company has a market capitalization of $163.09 billion at the current market price. Additionally, Wells Fargo pays a quarterly dividend with a 2.80% future dividend yield.
Citigroup
Another significant financial corporation, Citigroup (NYSE:C), will release its Q4 2022 earnings next Friday, January 13. Investors anticipate quarterly earnings per share of $1.20, and they anticipate yearly revenues of $76.41 billion for the fiscal year ending in December 2023.