Vodafone (LON: VOD) share price made a strong comeback as the market reflected on the blockbuster merger proposal by the firm. On Tuesday, the stock increased by more than 3%, peaking at 108p. This price was around 7.2% higher than the month's lowest point.
Vodafone and Three merger
One of the largest technology and communications firms in the world is Vodafone. It operates in important nations, including the UK, Germany, and India.
Vodafone has experienced significant pressure in recent months, much like other telecommunications firms like BT Group. Concerns exist that when inflation takes a blow, a business may slow down. In addition, local currencies like the Kenya Shilling, euro, and British pound are all in decline, which is causing concern.
I mentioned that French billionaire Xavier Niel had acquired a sizable interest in Vodafone in my previous piece about the firm. This came after Patrick Drahi overtook him as the largest stakeholder in the BT Group and another significant French investment in UK telecoms.
Furthermore, activist investor Cevian said at the beginning of the year that it had bought a stake in the business and was seeking a radical makeover.
It appears that the management is now paying more attention to these actions. It was revealed last week that Vodafone and Three were discussing a merger. If the transaction is successful, a huge corporation with more than 27 million clients will be born.
Analysts remain pessimistic about the deal's prospects, though. For starters, CK Hutchison, a prestigious Hong Kong corporation, owns Three. The National Security and Investment Act is unlikely to accept the purchase, given the escalating hostilities between China and the west.
Vodafone has assured these worries that it will keep a 51% interest in the company. However, as we recently witnessed with Drahi's investment in the UK under consideration, the government may choose to obstruct minority ownership.
Vodafone share price forecast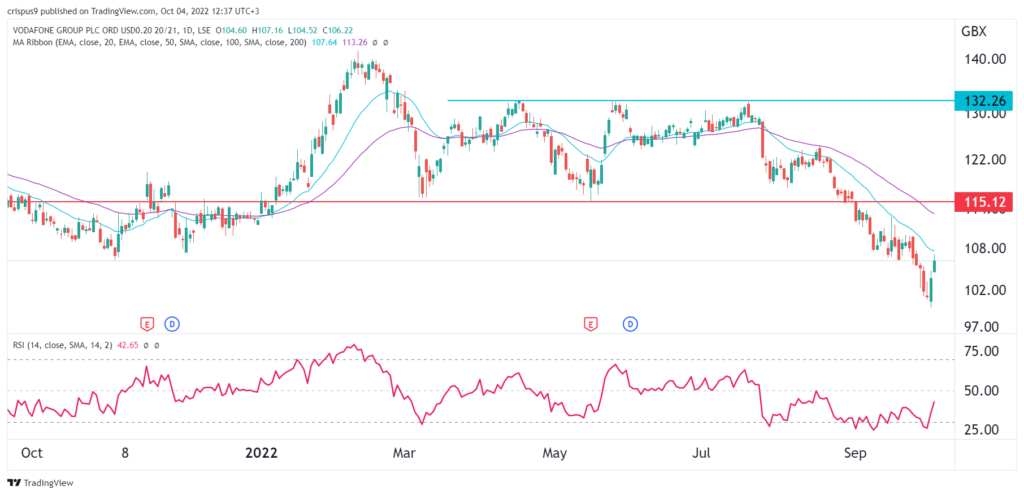 The VOD stock price has been in a significant bearish trend for the last few months, according to the daily chart. The crucial support level of 115p, which was the lowest point on May 17, was breached as it plunged.
While the Relative Strength Index (RSI) has risen above the oversold level, the stock has dropped below the 25-day and 50-day moving averages. In my opinion, this recovery is unsustainable, and the stock may soon revert to its previous low of 100p.