According to a post by André Cronje, a well-known Decentralized Finance (DeFi) developer and the creator of numerous cryptocurrency projects, Fantom (FTM/USD) displayed a thorough understanding of the project's finances.
The project holds millions in USD in its reserves in the form of FTM, stablecoins, crypto, and non-crypto assets.
Fantom is a directed acyclic graph (DAG) smart contract platform that was created to enable DeFi services for developers. Lachesis is the platform's consensus method, and the internal FTM coin powers it.
The reserves reveal as a catalyst for growth
According to Cronje's blog post, which revealed the most recent Fantom news, the company currently has over 450 million FTM tokens in addition to $100 million in stablecoins and another $100 million in cryptocurrency. Half of that is also held by Fantom in non-crypto assets.
The project also has a payroll of $7 million per year, which the developer claims allows it to maintain its operation for another 30 years without ever touching its FTM holdings. Fantom is earning $10 million per year, according to the report.
In February of 2021, 81.5 million FTM tokens were sold to Alameda Research, where the company refused to cooperate with the trading firm and pay the unnamed exchange $300 million to list FTM.
Should you buy Fantom (FTM)?
On November 29, 2022, FTM had a value of $0.2149.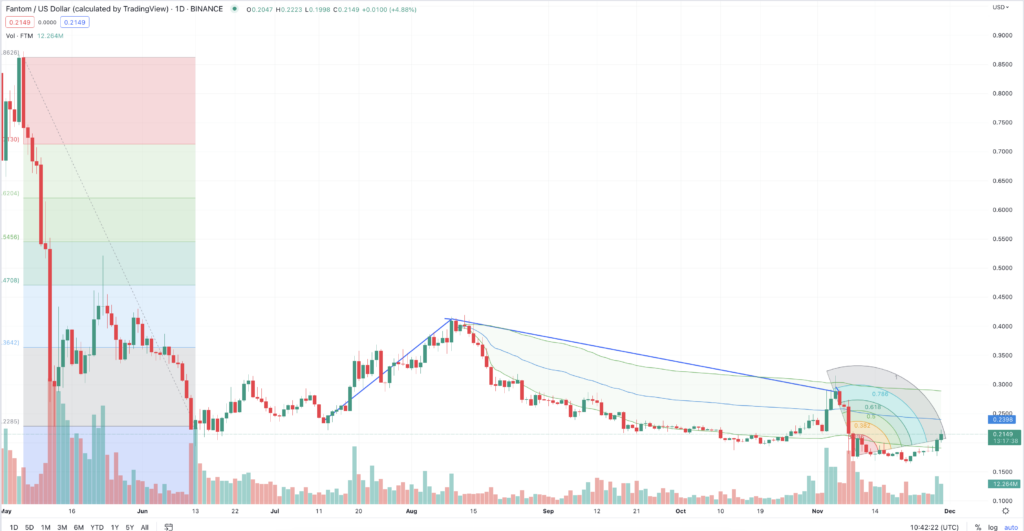 The all-time high of Fantom (FTM) was on October 28, 2021, at a value of $3.46.
We can see that Fantom (FTM) was $3.2451 higher in value, or 1,510% higher at its all-time high.
If we look at FTM's performance over seven days, its low point was at $0.165767, and its high point was at $0.217546. In this instance, the difference is $0.051779, or 31%.
However, when we look at Fantom's (FTM) performance over 24 hours, we can see that its low point was at $0.190301, and its high point was at $0.219541. Another $0.02924, or 15% price difference, was now present.
Investors will want to take this opportunity and buy FTM as it can climb to $0.32 by the end of December 2022.
Reading More: